Inspired by the Greek word "Oceanus" (an Ancient Greek God of the sea), it makes perfect sense for a luxury swimwear label to be christened with the name "Oséa". Pronounced Oh-say-ah and founded in 2013, the brand's maiden collection is filled with classic lines and a whole lot of sexy.
Stepping into the risky and unpredictable world of  entrepreneurship, Candy Favart took the leap, followed her passion and hasn't looked back since.  Beautifully packaged* and fabulously soft, each piece is flattering in fit and visually sensual.
In my first Sunday Session(s), I speak to the co-founder and designer, as she answers my "Who, What, When, Where, Why, How." questions in her own words, from her office in Hong Kong.
WHO.
"I'm a 26 year old Belgian designer who discovered a passion for anything art-related at a young age (I always favoured drawing and painting or making things over playing board games or sports when I was younger).
I attended university in Turin, Italy and obtained a degree in Product Design in July 2013. In September 2013, I started working in a Hong Kong-based company as a Product & Graphic Designer and as a Product Development Coordinator while also accepting freelance projects. In February 2016, I co-founded Oséa Group Ltd. and the first collection "The Essence" was officially launched in July 2016."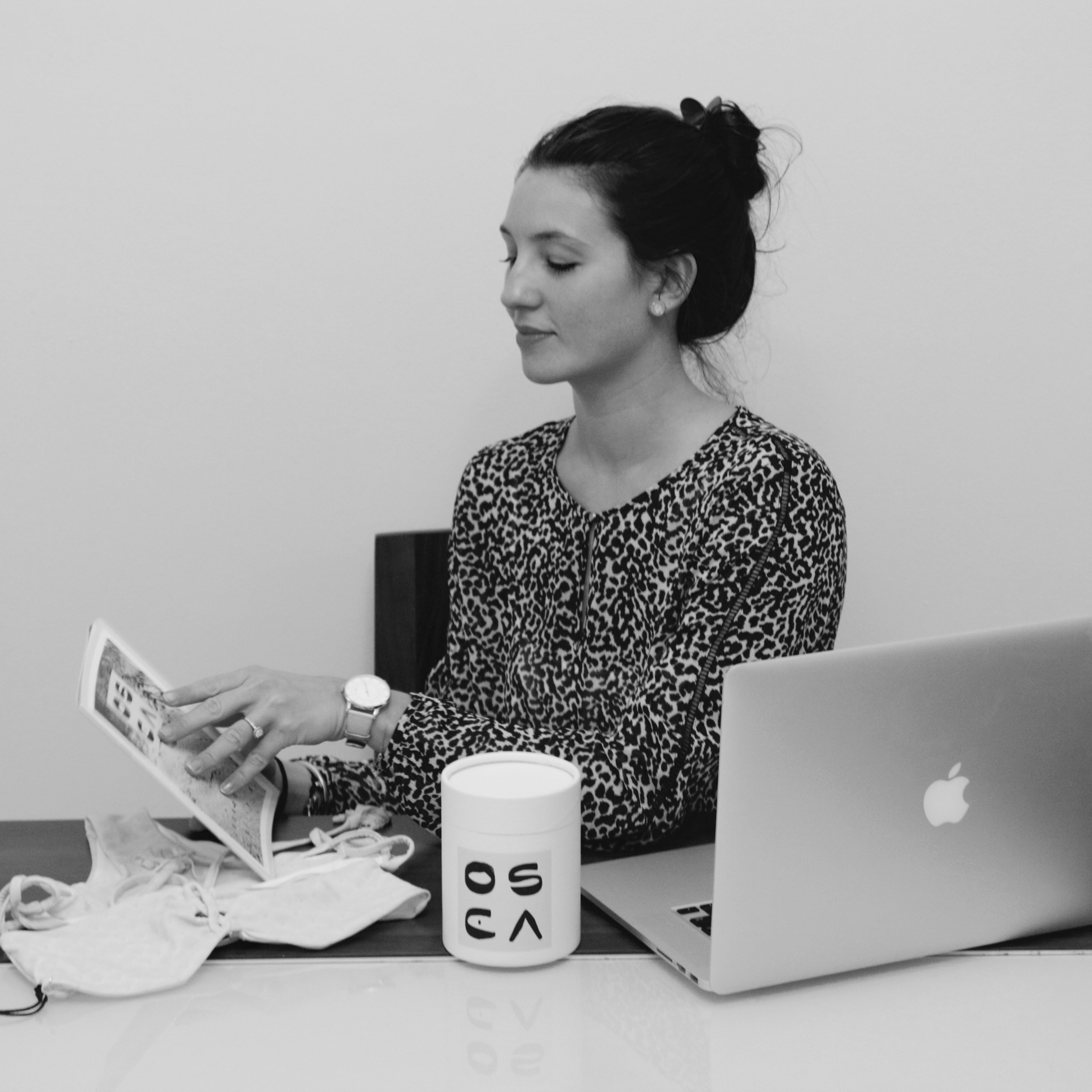 WHAT.
"Oséa Swimwear's brand image is minimal and feminine. We aim at creating simple, timeless pieces that flatter the body in a sensual and perhaps even "sexy" (for the lack of a better word) way. We create unique, hand-drawn prints and use high-quality, breathable fabrics that feel soft on the skin and dry quickly. The first collection, The Essence, was launched in July 2016 with 12 different styles featuring soft pastel tones and darker shades of blue and black. For upcoming seasons, Oséa will continue drawing inspiration from global, international trends and will integrate it's unique patterns and minimal approach to create collections in line with the brand image. We are also looking at using eco-friendly materials because although we thrive on having a high-end, qualitative product we also want to reduce our impact on the planet as much as possible."
WHEN.
"I always had in mind to start a small business of my own, but I didn't know what nor when, and I was in no rush to do so. But it happened sooner than later when I realised I wasn't happy at my previous full-time office job. My creativity was not channeled in the right direction and I felt that although I was still in the world of design, I wasn't focusing on projects that made me feel energised and motivated to thrive. I wanted to find a job that made me eager to work and start the day, and so I decided to create it for myself. After a lot of planning and effort, my former partner and I co-founded Oséa Group Ltd. in February 2016. Our first swimwear collection titled "The Essence" was officially launched in July 2016."
WHERE.
"My former partner and I met in Hong Kong, and the idea of starting a swimwear brand emerged during a discussion on how difficult it was for us (expats) to find trendy high-end, qualitative bikinis that were neither a luxury brand nor an H&M-style brand. Nothing is wrong with those low and very high-end brands, but we felt Hong Kong was ready for an intermediate high-end option that competed with international swimwear brands in terms of design and trend-awareness. This realisation and the situation I was in emotionally and mentally at the time led to the very start of Oséa."
HOW.
"The main difficulty I faced to start the company was administration. In fact, I'm still in the process of sorting out the last admin. issues after a year's time. But another issue I still face sometimes is the overwhelming feeling of having so many things to do and not enough time. In the beginning of the project I was still working full-time for another company, so it was difficult to manage my time. Once I took the leap and quit my job, I felt I had even less time to manage all aspects of the company because the brand was officially launched and a lot more things came into play such as social media marketing, finding partners and distributors, and a lot more admin!"
WHY.
"I think the fashion industry is a tough market in general, yes, but I generally think anything/ any business you start on your own is difficult at first and requires hard work (especially if you have limited funds). There is a very high number of swimwear brands in the world and new brands are popping up each year especially in Australia and the US (I discover new brands every week!), but you can argue that the population is growing and that some brands don't make it past the 5 year mark.
I started Oséa Swimwear because I saw an opportunity in Hong Kong, and although it's not an easy market to enter, I will continue to develop the brand because I do believe that if you have a good product and the right work ethics, eventually you will learn how to best market your product and use the right distribution channels to obtain great brand awareness and success in sales. In my opinion it's a constant and consistent effort, and successful brands today might not be successful tomorrow if they do not learn to adapt to the ever-changing market demand."
Keep a lookout for Oséa's new collection!
*Enhancing the unpacking experience, each  piece comes with a garment bag made from the same print and fabric as the swimsuit and tucked into a gorgeous tube box.
Shop at www.oseaswimwear.com
Follow them on Instagram @oseaswim