I've been on a LOT of trips for both and work and play, that have taken me across the globe. But who was to know that PARADISE was just 2 short flights away. Yes. TWO.
The Soneva Kiri journey begins as soon as you step off the plane at Bangkok's Suvarnabhumi Airport. A representative of the resort is there to greet you and whisk you off on a fast-track mission through the terminals.
It's at the Thai Airways Silk Class Lounge where you'll take a breather, till your private plane is ready to depart (there are four flights daily).
The private plane comes in the form of an 8-seater Cessna Grand Caravan, that's been luxuriously fitted to make your experience as comfortable as possible. "Ever Soneva So Over the Top" takes a little over an hour to get you to the Soneva Kiri International Airport (hehehehe) on the tiny island of Mai Si. Now … on Mai Si, there are only two things; the landing strip, which is only 850m long, and a honey farm (where the resort gets it's honey exclusively from). The journey is smooth and because the plane flies so low, you really get to relish in the beauty of Mother Nature's work.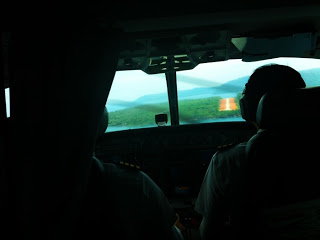 Your Miss (or Mr) Friday is waiting for you as you touch down. These wonderfully-trained individuals will be your PERSONAL butler throughout your stay. They're on-hand 24-hours a day but never get IN your way. Our lovely Miss Friday was Marissa (or Goy, her Thai name). Always ready with a smile (that's probably how Thailand got her name as the Land of a Thousand Smiles), Marissa took care of our every need …. from the lovely welcome drink that was given to us upon arrival (she promptly had a bottle sent to our room, upon request … consisting of mint, lemon and honey) to a Tupperware I needed, to take home some AMAZING palm sugar sauce that complimented the "Mieng Khiam", an appetiser we had at Benz Restaurant. But more on that later.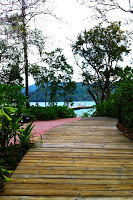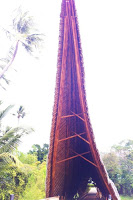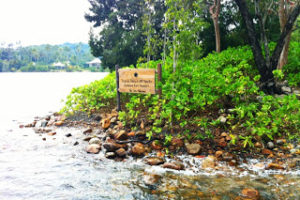 Getting to Mai Si was obviously not the end of the journey TO Soneva Kiri. A ten-minute speed boat ride completed that. You barely see much of the resort as the boat pulls up to the pier. Besides crystal clear waters, coconut trees and a 200m long wooden pier that leads to an unbelievable bamboo shelter-like structure, the rest is quite cleverly tucked away.
The location itself is perfect. With a bay that's surrounded by lush nature and coral-life underneath, it's secluded, and private with a rustic feel.
Soneva Kiri is located on the 4th largest Thai island. Unlike the usual destinations of Phuket, Krabi and the like, Koh Kood is along the Gulf of Thailand. And unlike the more commercial islands that are favoured by travellers, it's also one of the least developed. Which makes it even more perfect. No ATMS. No 7-11s. No sleazy girlie-bars. No touts. No noisy, misbehaved tourists. Paradise. For now.
EVERY villa at Soneva Kiri has a private pool. There are 28 in all, of varying sizes. Ours was a one bedroom villa (No 2) and was insanely MASSIVE. 5,000 square feet to be (almost) exact. As I said; MASSIVE. Living room. Dining room. Dressing room. Bedroom. Outdoor bathroom (which consists of a jacuzzi bathtub and TWO showers.). A deck. And of course, the pool. Oh and yes …. also a couple of deck chairs at the end of a sand-path that overlooks the bay.
The land that Soneva Kiri sits on is large. 150 acres. Plenty of space, and places to explore, and even more to do! Six Senses has a great motto. No News No Shoes. Meaning exactly that. There is a TV in your bedroom. But the TV comes with no channels. It's there if you want to watch DVDs (from it's vast library), but I don't suggest that you do. Why would you? Mother Nature is at her BEST here and Soneva Kiri does all it can to make sure that she sustains all she has to offer. No Shoes. Well … the concept is simple; go barefoot. When you come from a city life (like most of us do), it truly is a luxury to NOT wear shoes. Put away your flip-flops, don't unpack your lovely sandals from your luggage. In fact, don't even pack them as you're readying for this trip. It'll be completely redundant.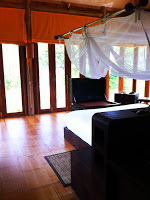 From the moment you step off your commercial flight, the amazing staff at Soneva Kiri aim to achieve only one thing; RELAXATION. Leave all your stresses of your daily grind behind. No shoes. No news. No loud jabbering on the phone in the main areas. No RINGING of phones. Just the rustling of leaves, the sounds of the ocean and the melody of nature.
There's NO shortage of what you can do here. Including a 24-hour CHOCOLATE ROOM (Ever Soneva So Chocoholic). Best part is; it's complimentary. BOOM. A room filled with every imaginable type of chocolate in EVERY form you can possibly dream up. The pictures say it all. And I'll say it again; you can access this room at ANY time …. unsupervised. Puts the saying "Like a kid in a candy store" to shame.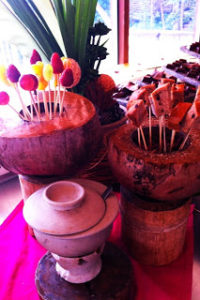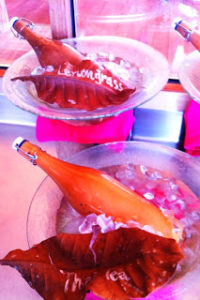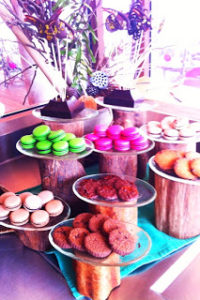 So … there are the water sports you can get busy with, the chocolate room you can go crazy in, the view you can be in awe of, and the beach you can be a sloth on. What else would you want? Well, here are two things that Soneva can offer you: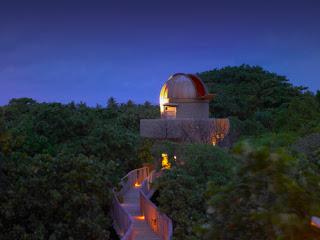 Ever Soneva So Celestial
This photo was found on the web. It's of the observatory at Soneva Fushi. The one I visited was very similar, but I unfortunately forgot to take a picture.
The largest public observatory (though you must be a guest, of course) Thailand has to offer. And the Six Senses' group's second. It's first is at it's other gorgeous property, Soneva Fushi in the Maldives (mental note to self: 2012 is when I'll go explore that!). The observatory is not for ANYONE to just stroll into and poke around. It has a dedicated astronomer on-hand to make sure you don't mess up it's 14-inch telescope (your eyes pupils are only 5mm … so you can just imagine what 14-inches does), AND to help you understand what exactly it is you're looking at. We were lucky to have Dr Parag Mahajani, the visiting astronomer (he spends his time between Soneva Fushi and Kiri. Tough life.). Now this guy knows his stuff! Never have I met someone so passionate about what he does. He answered every question we had, and more. We got to see the Moon up close, as well as several constellations like the Seven Sisters (Pleiades), Taurus, Orion and Jupiter! But best of all … we went back during the day and got to see the Sun! The Sun!!!! Now how often can one say that they got to view the Sun through a telescope? It was an absolutely amazing experience. To see the Universe in all it's glory, and find out how tiny we here on Earth are compared to it, really put things into perspective. I still stand by what I say, "There is life out there".
Photo taken off Soneva Kiri's site.
Nothing is quite so romantic as sitting under the stars on a CLEAR night, tucked underneath some blankets, with gourmet popcorn and cocktails, watching a classic on a huge, outdoor screen that sits in the middle of a body of water. I can think of more romantic things to do but THIS is intimate. Cinema Paradiso shows two movies on alternate nights and is an incredible experience to go through with your partner. Especially with the stars and the Moon hanging above you and providing just the right amount of light.
Khun Benz Restaurant
One of the better moments of the trip was experiencing Khun Benz's cuisine. To access this gorgeous little restaurant is a journey in itself. You hop on a speedboat at about 6.30pm, and it takes about 10-minutes to get to the destination.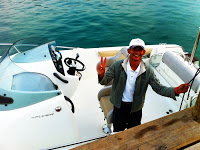 Our captain for the evening.
But not before passing some amazing scenery and the WHOLE beachfront of Soneva Kiri. You'll also (barely … they're practically hidden in the trees) see diners enjoying the sunset and view from the Tree-Top Dining Adventure (I didn't get to do this but it's a pretty swanky experience). It was my first time going to Khun Benz, so I didn't know what to expect or where the journey would end. But it took me through some beautiful mangroves.
I think I see Khun Benz!!!
How pretty!! And secluded!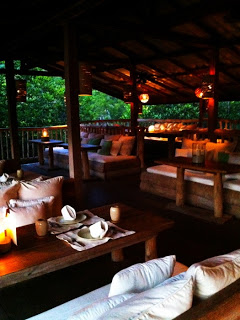 Khun Benz seats about 30 people and the cuisine is incredible.
Khun Benz restaurant is fairly new for the 2-year old resort. It's chef, Benz, used to cook up a storm at Soneva Fushi before coming back to her homeland to honour us with her gastronomy skills. The menu is "Whatever is freshest that day".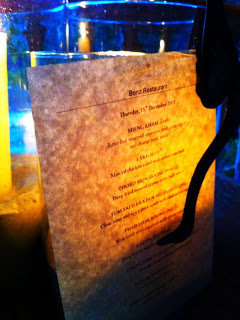 The menu for the evening.
Now, I've had my fair share of amazing Thai cuisine but the dish that started it all that night was one I had never experienced in my life. It was so special that I had to take some home! And Khun Benz was more than happy to share her secret recipe. What a pleasant, and generous, surprise. Many a time have I requested the ingredients that go into a dish, only to be faced with a "It's our secret recipe" answer.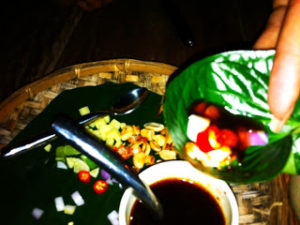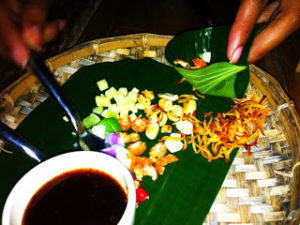 The dish? Mieng Kham. A delicate yet fantastic combination of flavours. Raw shallots, raw ginger, raw lime, dried shrimp, peanuts, fresh chilli padi and crispy coconut (dry fried).
All this placed in a leaf (it's called the Betel Leaf). This is topped with a home-made palm sugar sauce.
Once you've "built" your snack, you wrap the leaf over and pop the whole thing in your mouth! The explosion of the various ingredients is unbelievable. You taste EVERYTHING. Sweet, sour, bitter, salty and spicy. Incredible. My interest in the dish led Khun Benz to pack some of it's sauce, leaves and coconut just for ME … and when I served it the day after I returned to some friends that were over for a Christmas party ….. they were blown away. I felt like such a great host. 🙂
By the end of the WHOLE trip, I became what Soneva Kiri had set out to achieve; completely relaxed. When I fist got there, I was bent on keeping up with emails and social media. By the middle of the trip, I was barefoot and happy. My flip-flops never got to touch the ground. My face was glowing and my tummy was happy. I was a little sun-kissed, while my mind was clear and my heart, at peace. With nature, the Universe and most importantly, myself. I didn't want to leave. Now that I have, I can't wait to go back.
Thank you Soneva Kiri. For helping me to find my equilibrium.
Here are some amazing pictures to end this post …. starting off with …..
 Another incredible Thai sunset from "Ever Soneva So Spirited".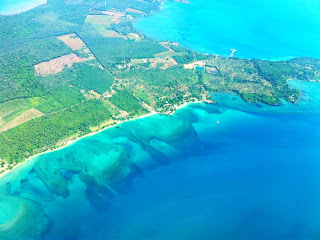 Amazing view from "Ever Soneva So Over the Top", the private plane.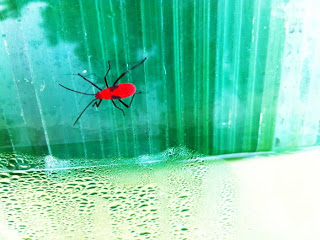 Even the insects are special!
On Mai Si. Home to Soneva Kiri's very own landing strip.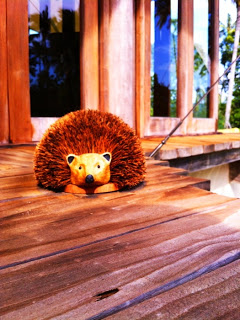 Sandy the Hedgehog. For sandy feet. 🙂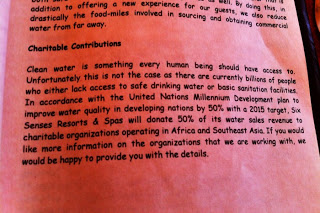 Soneva Kiri's dedication to helping the less fortunate ….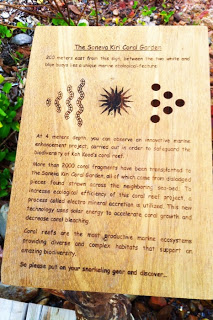 …. and nature.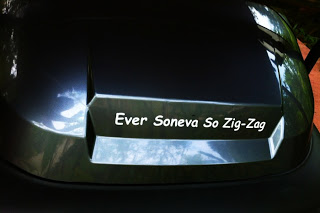 You don't just get your OWN buggy to "zip" around ….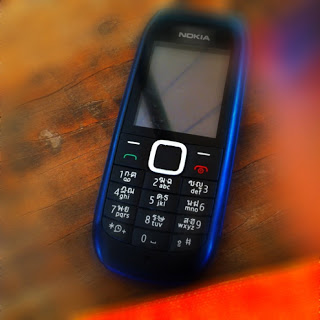 You also get your OWN mobile phone with your "Friday" on speed-dial! 🙂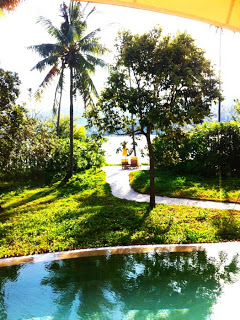 MY private paradise 🙂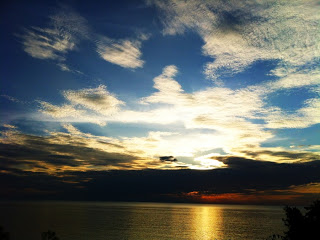 The sunset was just too beautiful to just add one picture.
Ever Soneva So Missing You,
xxxA