Goodness knows our skin goes through enough hell. Pollution, make-up, diet, air-conditioning (especially with the weather we've had these days), certain skin-care regimes, etc. etc.. I'm guilty too, of using products that may not be the best for my skin … long term. So when I received Black Chicken in my mail recently …. it was, literally, a gift from the heavens.
Promising to be anti-aging, deep-penetrating, skin-boosting, super-hydrating AND a plumping serum, my first thought was, "REALLY?". If this "Love your Face Serum" does all THAT … then it really may just be all I'll ever need. EVER.
The "Love your Face Serum" has a unique formula of ELEVEN therapeutic oils that feed vital nutrients to deliver it's promises. It's residue-free and creates smoother, softer feeling plump skin. As with any product, use over time really is the best way to see if it does what it says it does. This actually WORKS. My skin does look, and feel, more hydrated. The elasticity has definitely improved. And the little lines that I thought I had seem to have been reduced! That's all we really need. Yes?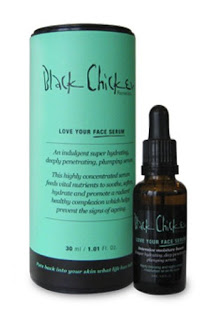 Here's what's in that tiny bottle you see:
Vitamin E Oil (Anti-Aging)
Apricot Kernel Oil (For lines and revitalises)
Jojoba Oil (Balanced moisture for ALL skin types)
Evening Primrose Oil (Rejuvenates)
Argan Oil (Repairs and defends)
Rosehip Oil (Regenerator)
Neroli Essential Oil (Improves elasticity)
Palma Rosa Essential Oil (Moisturises)
Rose Maroc Absolute Oil (Rejuvenates)
Ylang Ylang Essential Oil (Balancing)
Sandalwood Oil (Hydrates and relieves inflammation/itching)
Here's the "Love your Body Oil". It pretty much does the same thing as the face serum except, of course, you use it on your body. Duh. I love the little motto they have; "Puts back into your skin what life takes out". Perfect. Now this little magical potion has TWELVE remedial oils that provide deep, long lasting moisture that nourishes dehydrated skin and calms the mind (the latter of which I totally agree with … tell you why later).
Avocado Oil (Contains A, B1, B2, D, E vitamins and Beta-carotene. Hydrates)
Rosehip Oil (Regenerates tissues)
Hazelnut Oil (Helps to tone and tighten. YAY!)
Coconut Oil (Softens and protects)
Sandalwood Essential Oil (Calming. Hydrates/soothes inflammation and itching)
Geranium Bourbo Essential Oil (Balances moisture)
Patchouli Essential Oil (Tissue regenerator and relieves depression/stress)
Lavender Essential Oil (Anti-inflammatory. Great for sunburns)
Carrot Essential Oil (Improves tone and elasticity)
Ylang Ylang Essential Oil (Balancing effect that helps both dry and oily skin)
Nutmeg Essential Oil (Invigorates and stimulates the mind)
Vitamin E Oil (Anti-oxidant)
So there you have it. 100% natural skin products that work on ALL skin types and smell absolutely divine. Whether I use the face serum or the body oil, I'm immediately transported to a spa in Thailand (one of my favourite places in the world). The fragrances and the feel of the oil on the skin calm my mind instantaneously. Now if you are adverse to using oil, just because it's oil, rest assure that the Black Chicken Remedies are light and easily absorbed into your skin. They also give a lovely, healthy sheen that automatically makes you look healthier … not greasy.
A good tip is to use the oils right after your shower, when your skin is still damp, not dripping wet. Firstly, you use less oil. And secondly, damp skin means your moisture gets locked in by the oils.
Off to calm my mind … and skin …
xxxA
Thanks to
WYLD Agencies
for sending these lovely products to my doorstep. You can find out more at their Facebook page.
As for the unusual name, find out more at their main Australian website
HERE
.