Traveling to Vietnam for the very first time filled me with excitement and trepidation all at once. Having been to the commercially-raped islands of Thailand and Indonesia, I knew so little about where I was headed and what I should expect. And so … I packed my bags and left all my assumptions at home.
Getting to Ninh Van Bay is a little bit of a trek. Two flights. One drive. And a boat ride.
It becomes especially taxing if you don't coordinate your flights the best way possible and end up hanging about a little too long at Ho Chi Minh City's domestic terminal (look for tips below, as to how to while your time away, should this happen). The journey takes about 45mins to Cam Ranh Airport in Nha Trang. There, you'll be met by the hotel representative who will whisk you off on an hour's drive (a scenic one nonetheless) to the An Lam Villas Ninh Van Bay welcome lounge.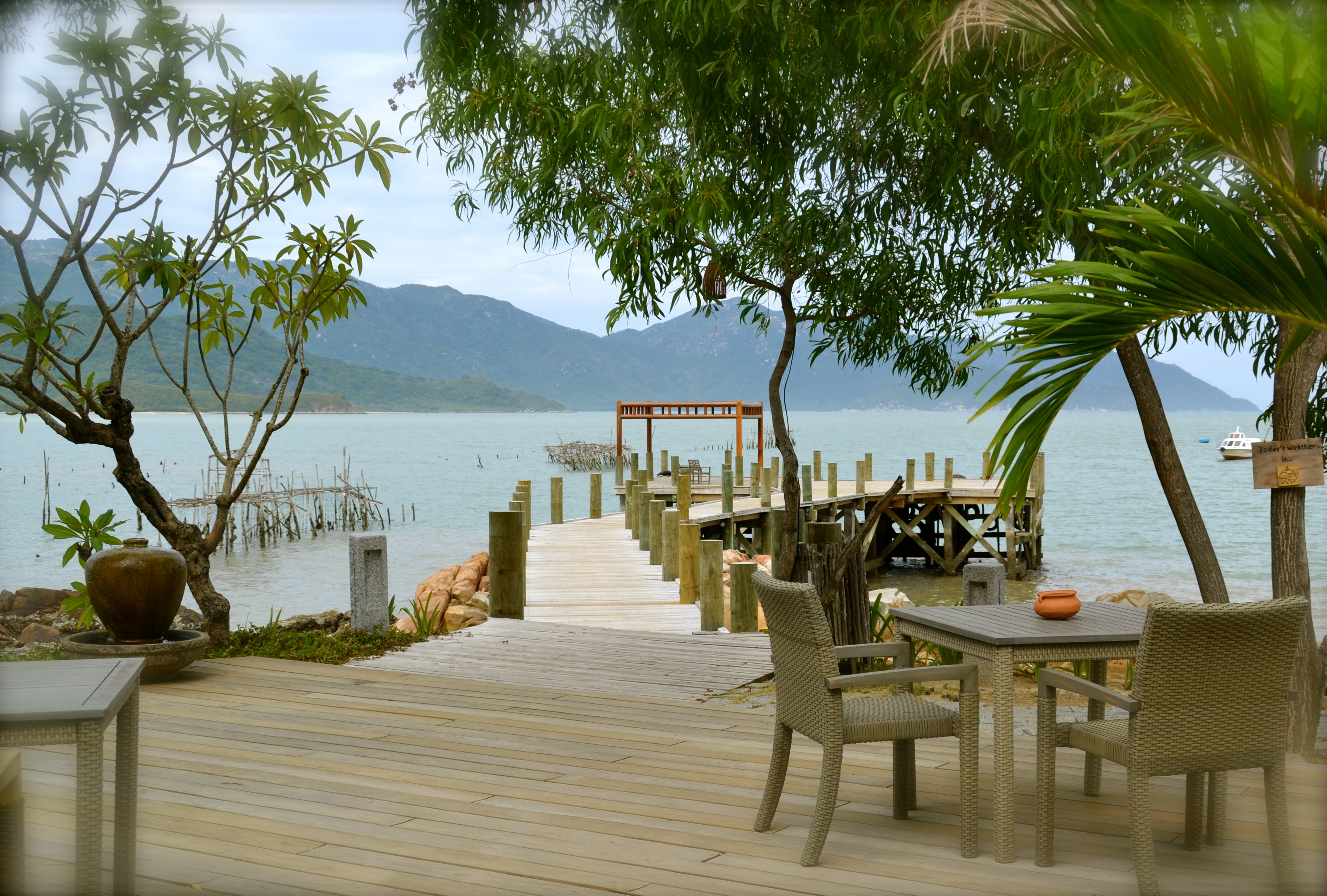 Bay at First Sight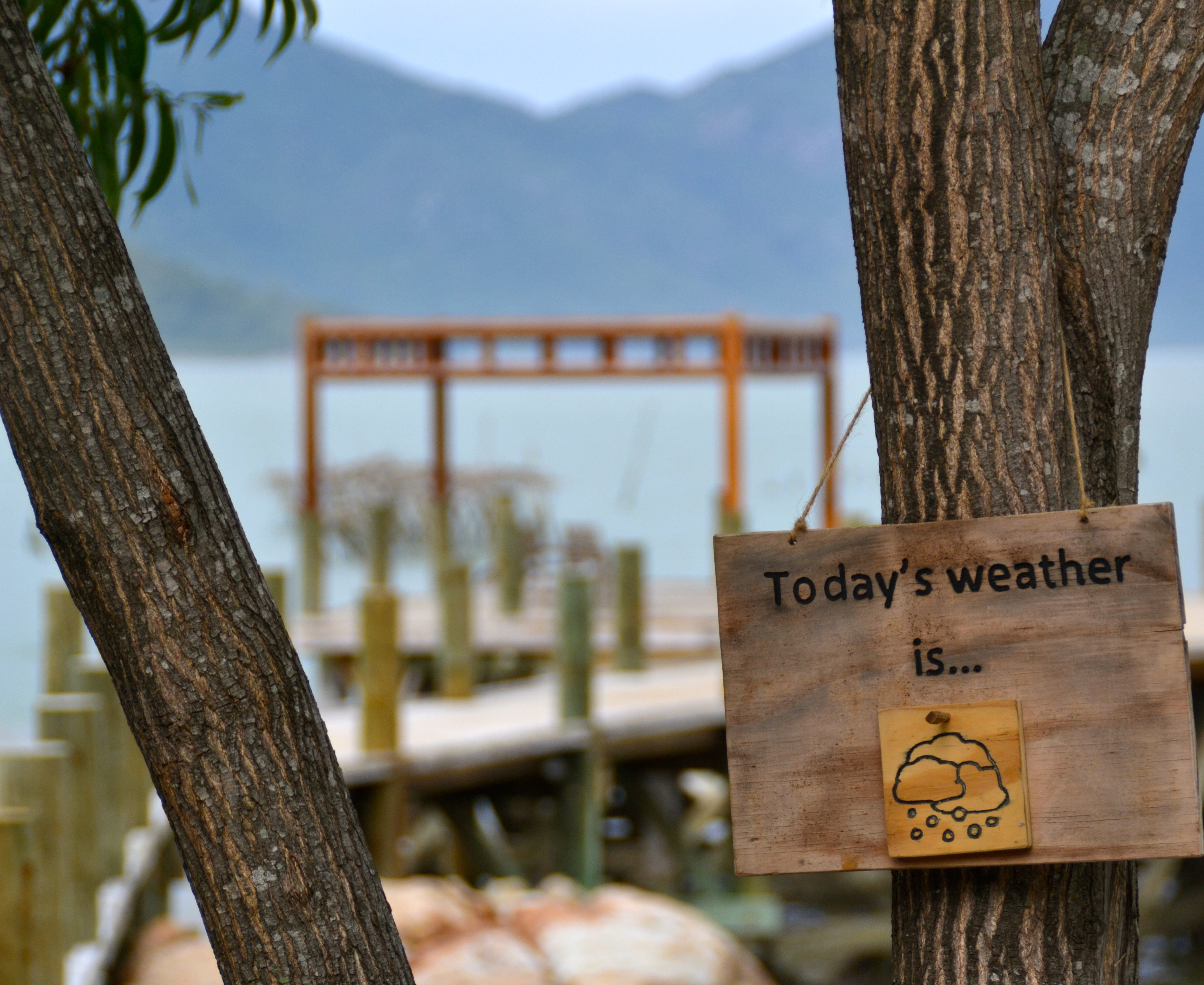 The Island's Met Service.
It's a lovely breather after all that traveling. Here, you'll get to take in the gorgeous scenery of the bay while sipping on a welcome-drink of your choice. Cold towels are accompanied with a villa "menu" and this is where the fun begins. You get to choose the genre of music you'd like playing on the in-villa sound system, what sort of wines and bubbly your wine-fridge should be stocked with, the kind of spa treatments you're looking forward to, food restrictions, activities and plenty more. Basically, the welcome lounge is there for your check-in. Once you jump on that boat, you're no longer bothered with any sort of that boring administrative stuff.
The ride is a short one. But the view en route is nothing short of spectacular. And each minute, all you're looking out for, and imagining, is what awaits you at the end of it. The first sighting of little white umbrellas and a pristine beach takes your breath away. Protected by incredible lush foliage and enchanted mist-shrouded forests in the background, An Lam Villas Ninh Van Bay is magical.
Each villa gets a butler. Each piece of luggage gets a bag-tag. Each entrance gets a wood-engraved nameplate.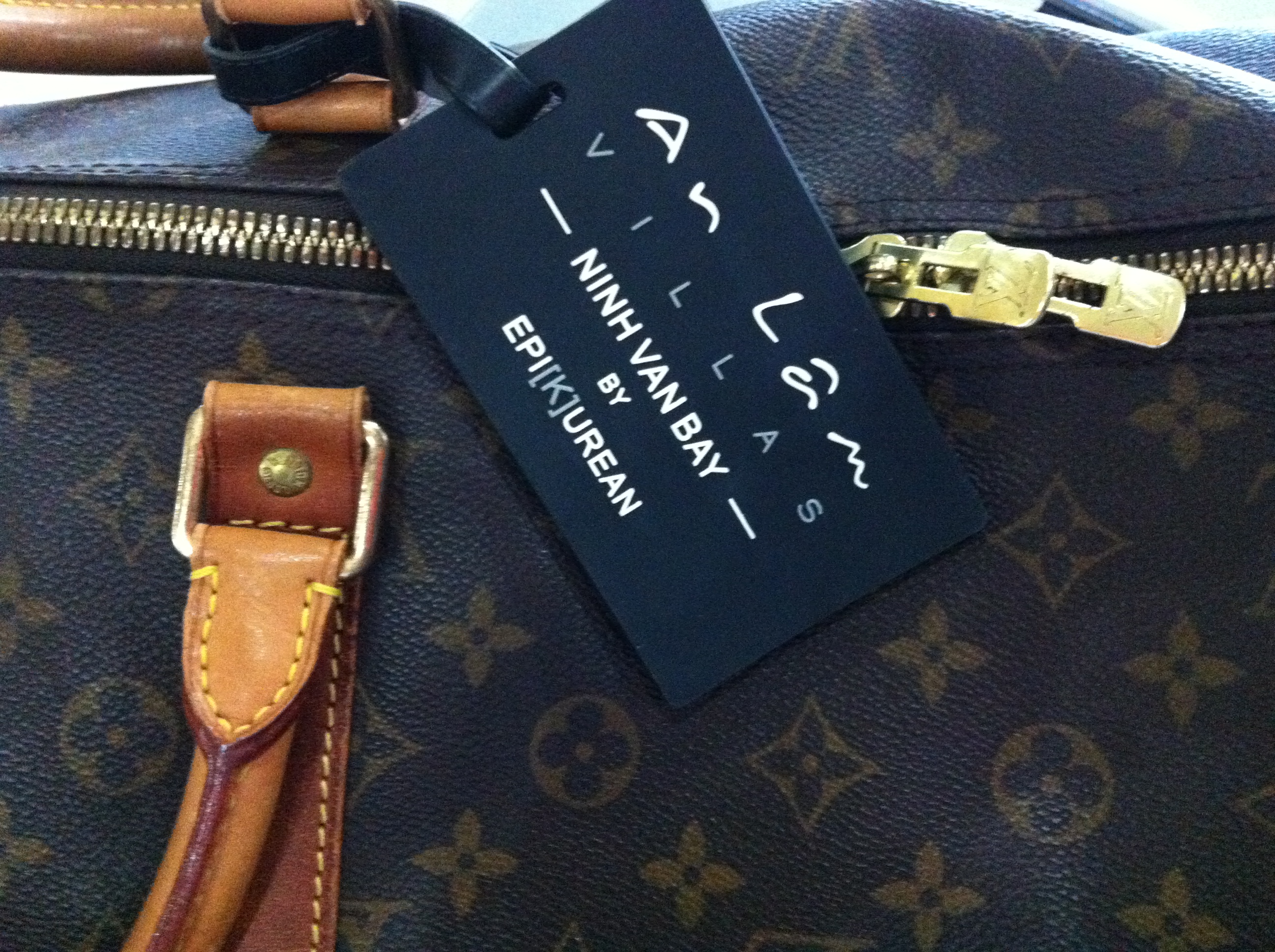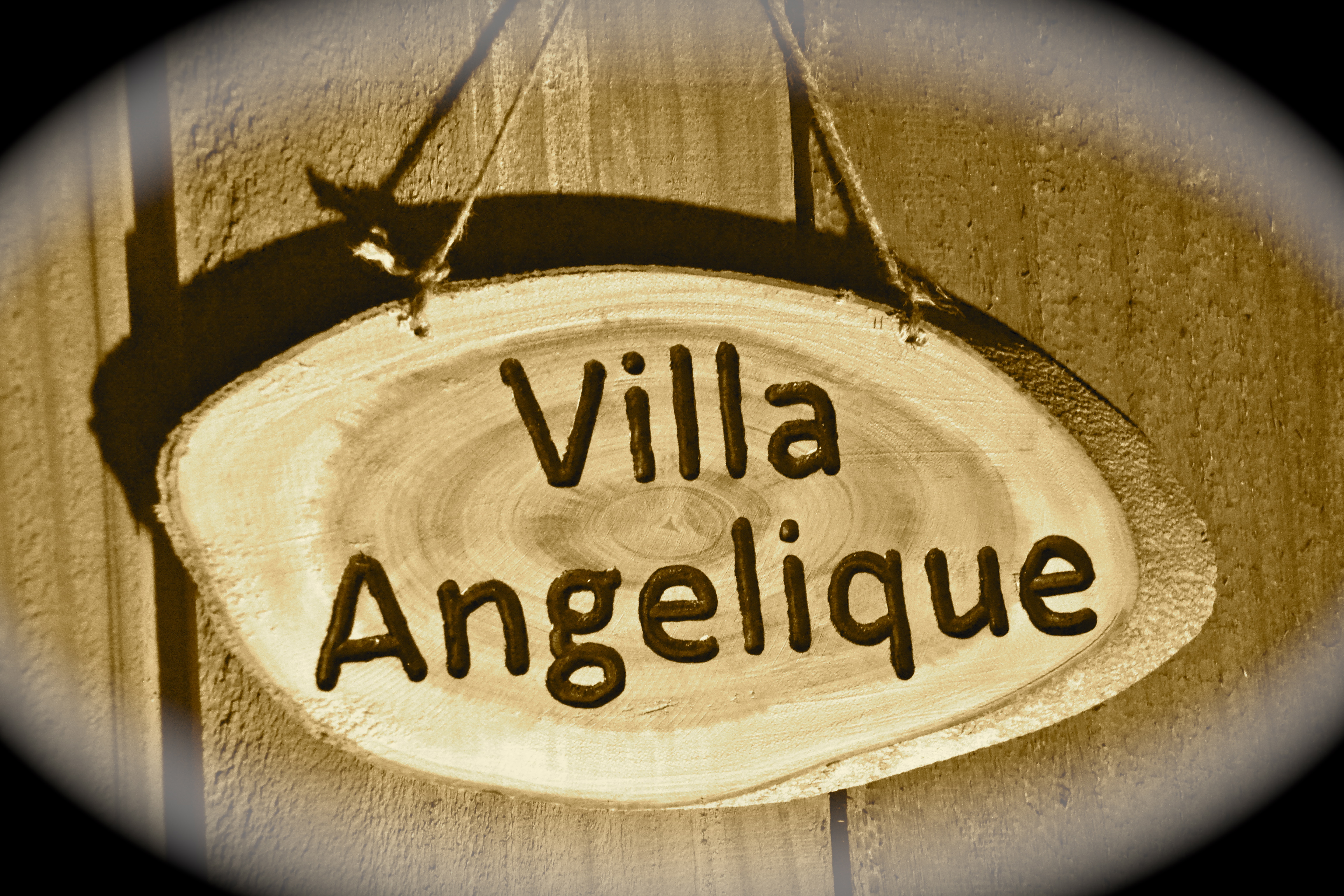 There are three choices of villas. Every one of them unique. Each with a private pool. And all of them offering stunning views. The most special feature is that ALL the pools boast FRESH water. A welcome change to chlorinated pools that damage the hair and dry the skin.
The beach villas are pretty and the exact type of accommodation you'd need if being close to the glistening waters is your cup of tea.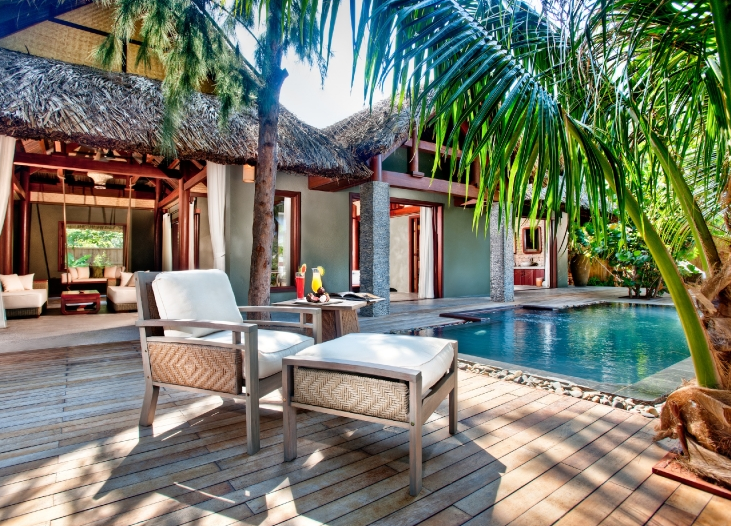 The lagoon villas are built on it's circumference and boast incredible dawns and dusks where the mist just hovers above the water, in the magical way Mother Nature intended for.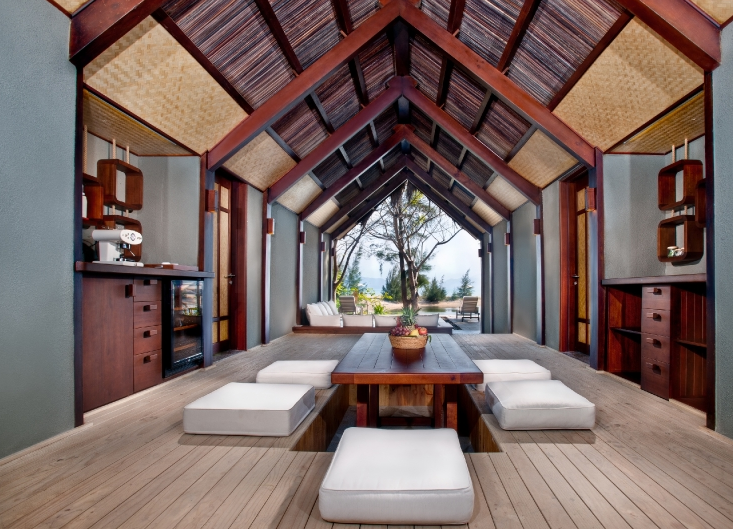 The Hill-Rock villas are built over three levels, with most offering full views or filtered views of the ocean, and others that are built lower, so you can enjoy forest views and be one with the Earth.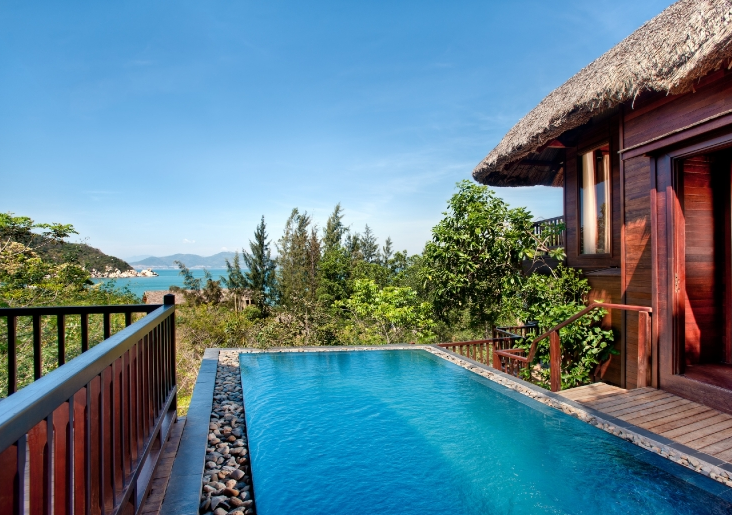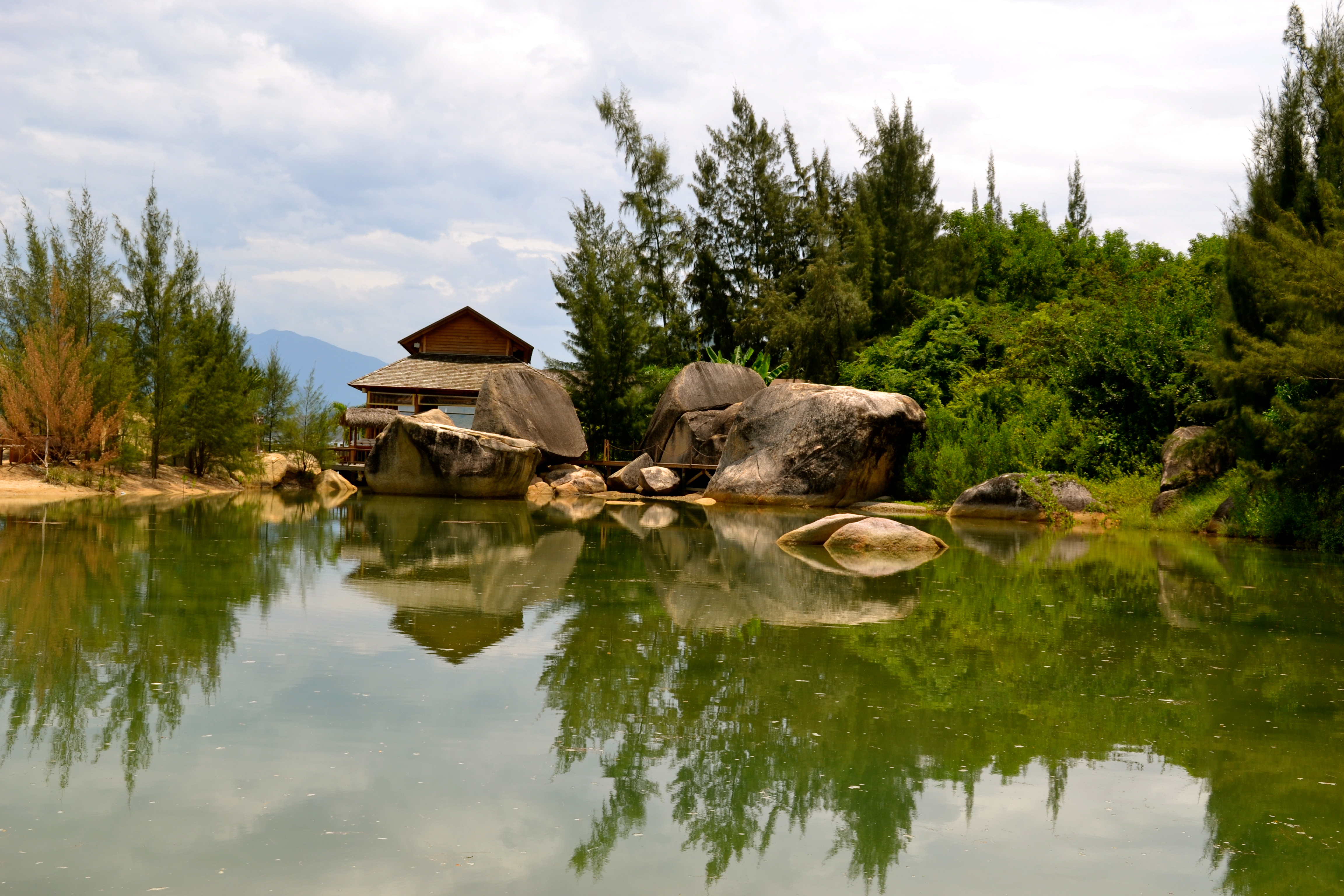 As it's been built within the bay, the waters are most always calm, and the beach kept spotless with staff clearing up any drift-wood or litter that might have washed up with the tide. It's perfect to swim in or take a canoe out and find yourself lost in the beauty of the massive rocks that seem to have emerged from the forests over time.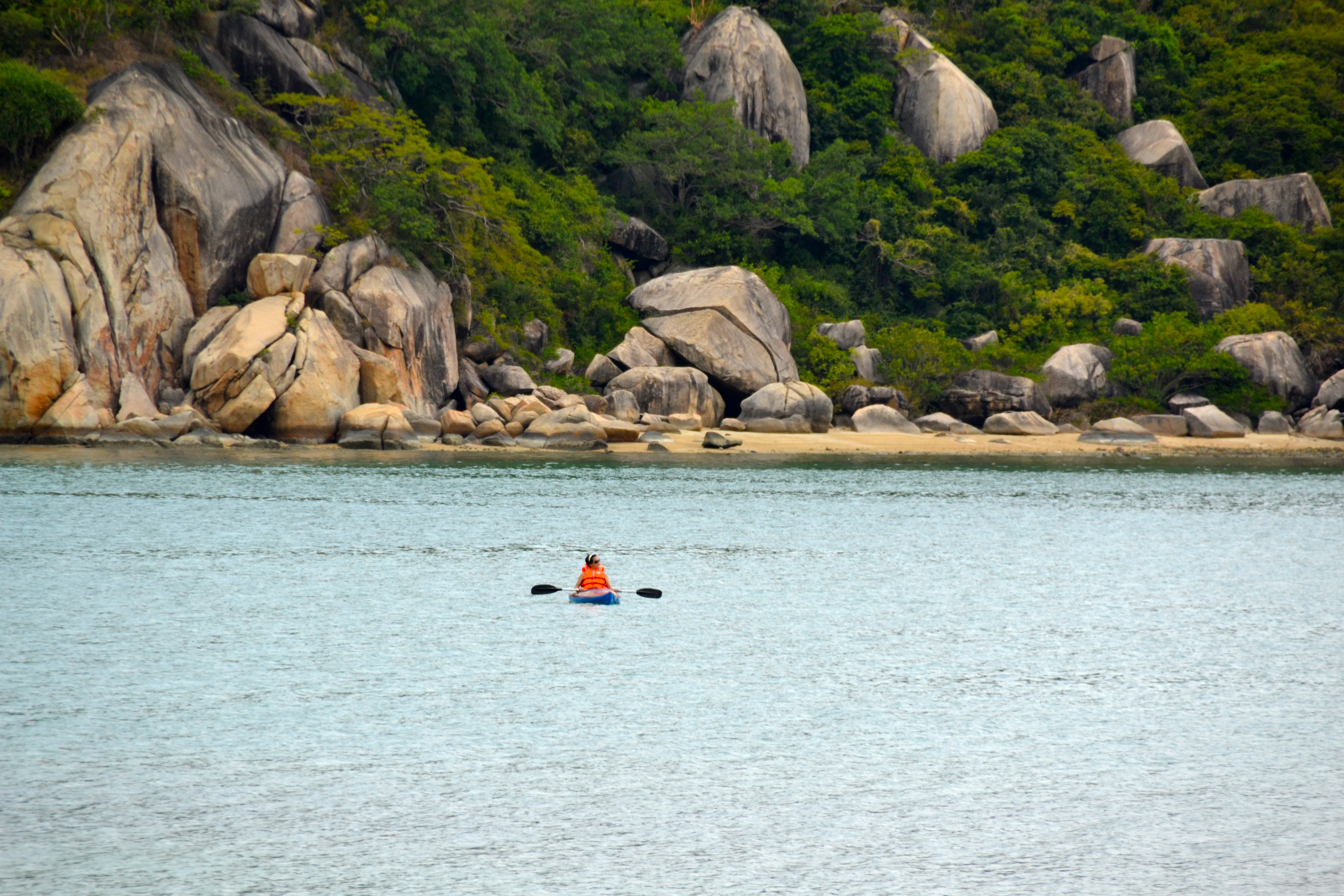 Feeling small in the grander scheme of things.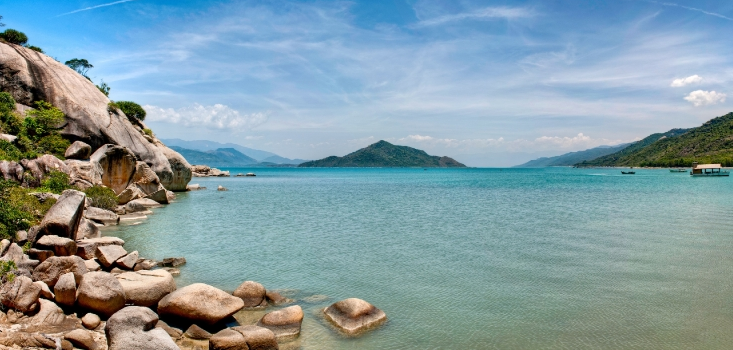 Breakfast is a lovely, tranquil affair, without the hassle of a buffet line-up, but with the familiar comforts of home. The traditional Vietnamese coffee is absolutely necessary and according to the local staff, is best served with ice and milk.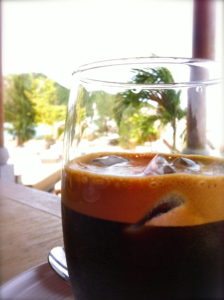 Your dining choices may be limited to just one restaurant but your cuisine and dining locations, are endless. From a private in-villa barbecue or laid-out romantic dinner, to one on the beach just for the two of you. If you can imagine it, it can happen. Dinner at the end of the pier is also a sweet idea, especially at sunset where the views are uninterrupted and incomparable. With the mountains and hills offering a spectacular foreground for the Sun to find it's hiding place, no amount of picture-taking can compare to the memories that will be etched in your mind.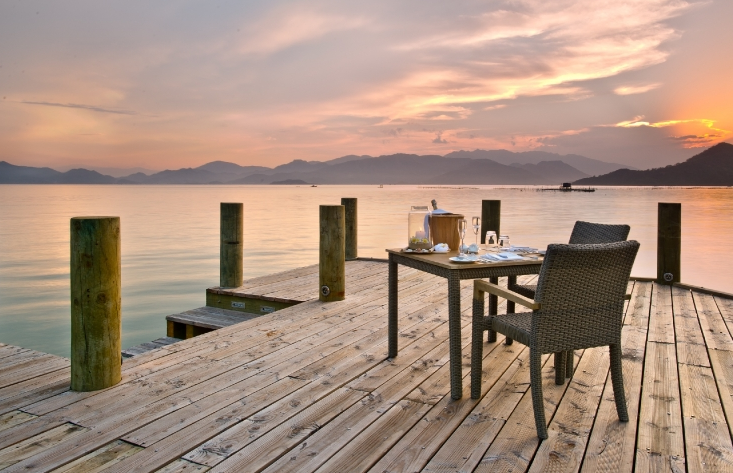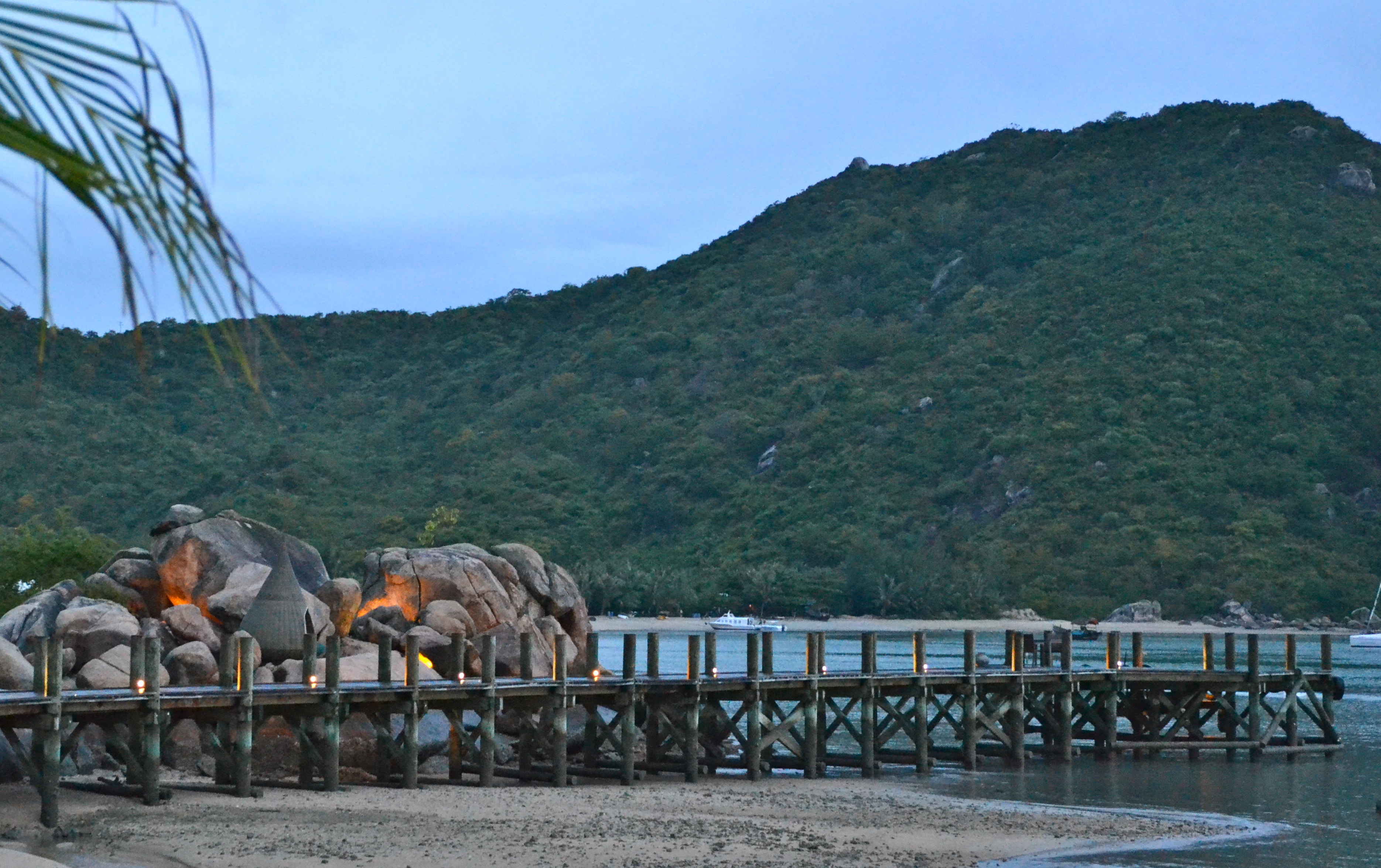 No shortage of special spots to choose from to watch the sunset.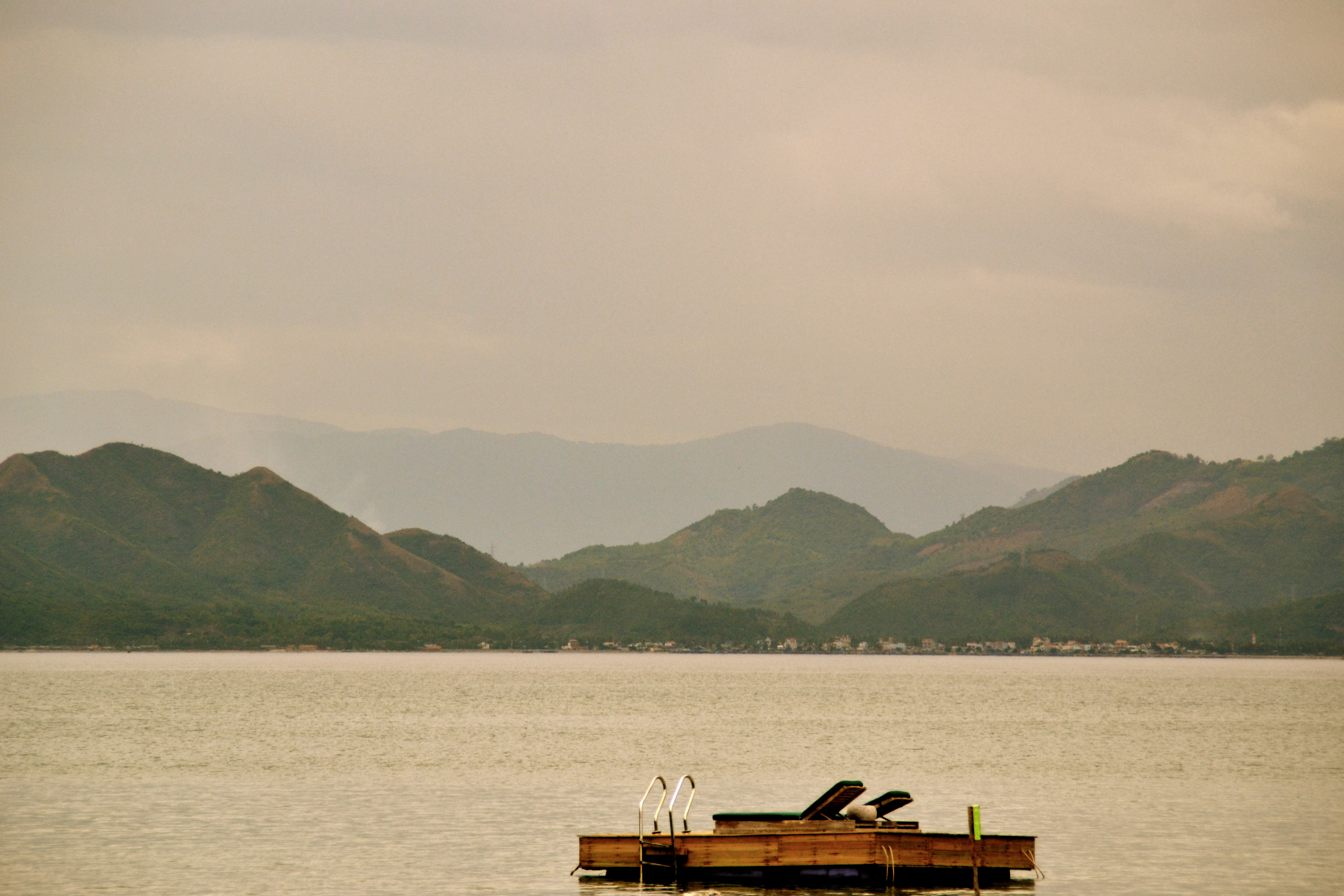 A spot, just for two.
Walks through the property are pretty special. There's lots to explore and much to discover. Find yourself lost amongst the natural beauty that has been preserved oh-so-carefully.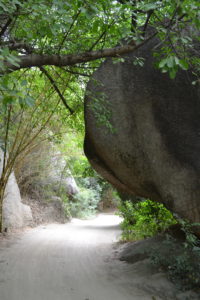 The resort has been built around the formations of massive rocks.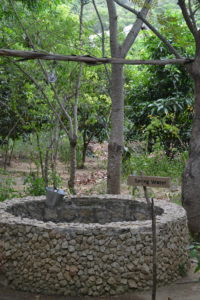 The well is used to extract fresh water
that flows from the mountains.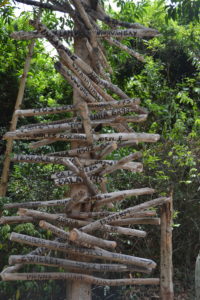 In case you need to know which direction home is.
"Hike" to the top of the lookout-tower and give thanks to the God of Nature for granting the land with stunning surroundings. Watch the sunlight play on the water and make everything sparkle and glisten. It's easy to just let go and forget what needs to be forgotten.
If you need to "get away" from "being away", opt to set sail on the resort's gorgeous Catamaran. Kylie departs at 4pm for a two-hour tour of the bay. Along with champagne, wine and good ol' Vietnamese beer, your journey introduces you to amazing, uninhabited beaches and the sheer size of the land that An Lam Villas Ninh Van Bay occupies.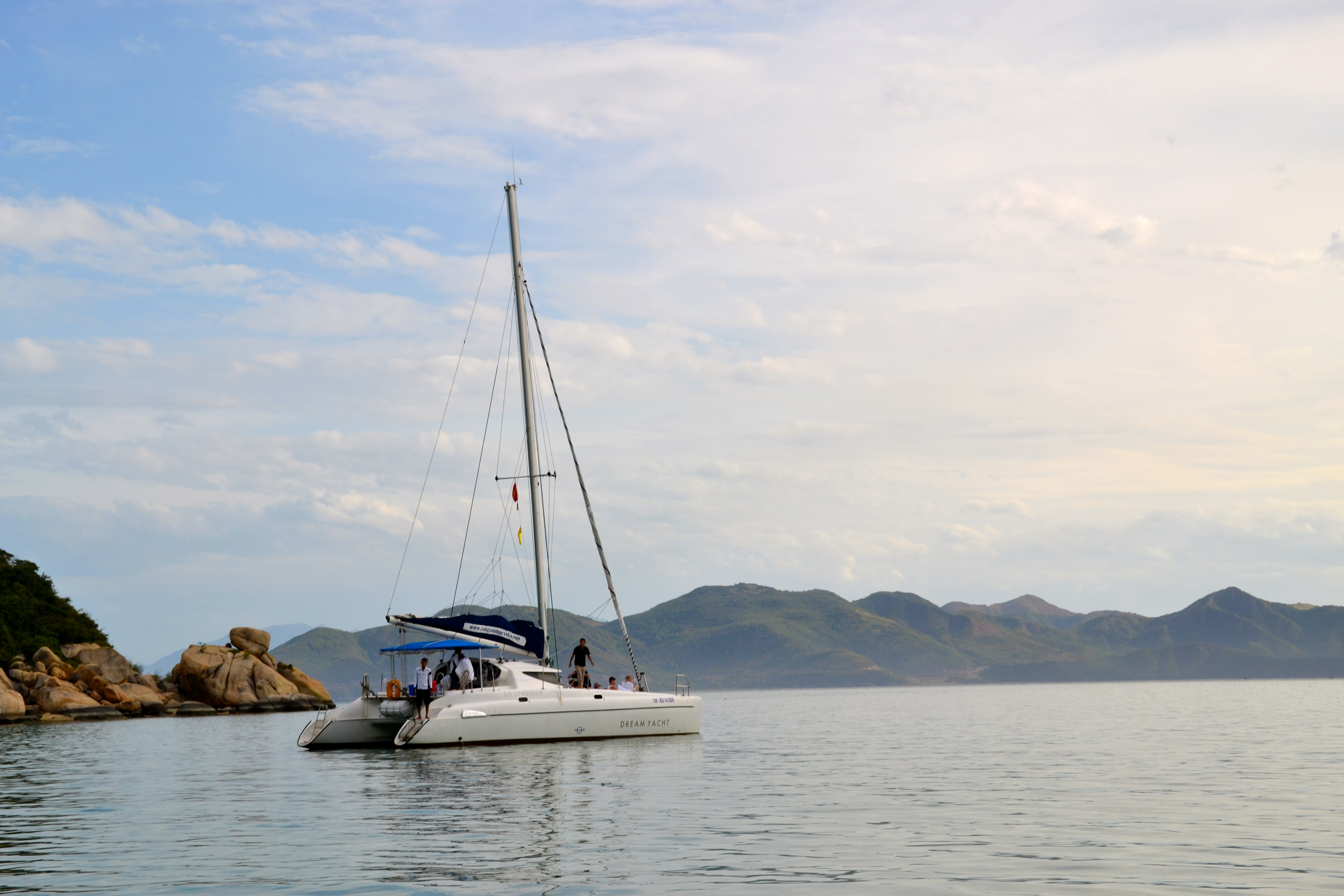 In short, An Lam Villas Ninh Van Bay is stunning. The people of Vietnam, warm. The weather, perfect. The food, diverse. Till my next adventure …
Love & Light,
xxxA
THANK YOU!!!
Special thanks to the resort for my amazing first trip to Vietnam.
THINKING OF GOING?
Book HERE!!!!
TIPS!
There are about 5 daily flights via Vietnam Airlines from Saigon (Ho Chi Minh) to Cam Ranh Airport (Nha Trang). Planning this right is imperative so you don't have a long layover at the domestic terminal, which is a 5-minute walk from the International terminal at Tan Soon Nhat International Airport.
Singapore Airlines offers just a 40-minute difference and Air Asia, about an hour and a half.
If you find yourself "stuck" for more than 2hours, stay within the International Terminal at Tan Soon Nhat. Head upstairs to the Confetti Cafe, where you can grab a bite and latch on to some free wifi (Password: Confetti.) so you can update your social-media status and Instagram that yummy bowl of Pho.