This week's Sunday Sessions features the fabulous Regina Salzmann.
I've only been acquainted with this gregarious personality for a short while and in that time, she's proven to be loyal, honest and humble – with an incredibly generous heart.
This multilingual hotelier has been traveling since before she even knew what she wanted to be.
Beneath that big laugh and infectious smile, Regina's colourful and adventure-filled life has seen her live on almost all the continents and has taught her that life is full of surprises, both great and not so.
Through journeys and tribulations, love and loss – Regina has proven that no matter how many curve balls life may throw you, the only way to overcome anything is to dust your knees off, get your nails done and laugh in the face of adversity.
Regina plows through my "Who.What.When.Where.How.Why" interview from the comfort of her Phuket pool villa, with a glass of Rosé within arms reach.
WHO.
Born in Germany and relocating to Sweden due to the second marriage of my mother, I am a happy mix between the both and often feel I grew up on the ocean travelling on the large cruisers. My family on both sides are seafarers and as soon as I was allowed to travel on my own – at the early age of 6 – I spent all school vacations and long weekends travelling between Germany and Sweden growing up with both languages and the very different environments at the time.
People, languages and travel was my thing and to date that has not changed. After graduating school in Sweden, I continued studying in Germany and France, picking up French on the way. Eventually I ended up in Sweden again and due to a coincidence started working in the Housekeeping Department of the SAS Royal Hotel in Malmö. There I worked through various departments and eventually was transferred to the group's hotel in London at the age of 26.
I remember well, a small letter my mother secretly had tucked into my suitcase when I left, telling me she knew this would be it … It was my time to travel the world and I would not come back. Well, a mother is always right and here I am, still travelling!
Although being very comfortable in high heels and a pretty dress, I am a true barefoot girl at heart. The ocean has always been the main drawing point and I always ended up somewhere near a beach, a boat and taking up diving eventually.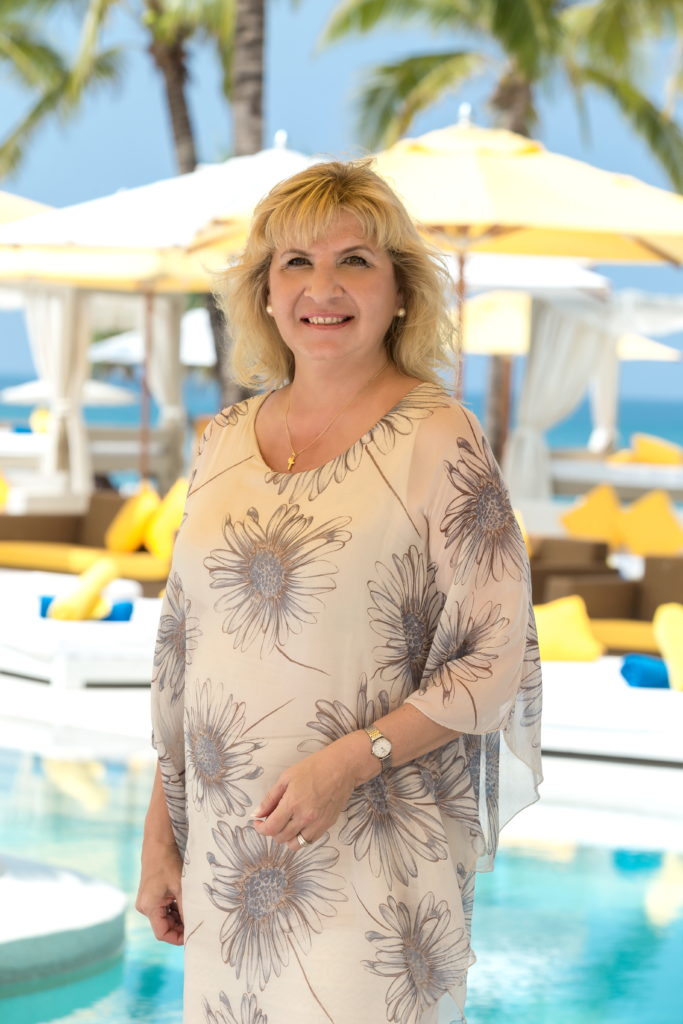 WHAT.
People have always inspired me and developed me into the person I am now. Being open and making an effort of interacting and adapting to different cultures, you learn that every person you meet comes with a story. It's the stories that make all the travelling worth it.
Eventually marrying another traveller, we settled down in Dubai – a truly multinational city where I stayed for 12 years. During this time I continued working in hotel management whilst trying to start a family. Unfortunately this was not to be. Following our disappointment and our subsequent divorce, it was time for another manicure and pedicure and move on! A few more years in Dubai and then Asia became my next destination.
During my years in London, I met my best friend Ellie. We were now both single Hotel Managers and decided that travelling together in our spare time would be so much more rewarding. We did some amazing trips together, through many countries, resulting in the most amazing stories: river-rafting the Zambezi River, diving in Mozambique, exploring the game reserves of Africa, getting lost in Namibia, exploring The Victoria Falls in Zimbabwe and the Grand Canyon in America by helicopter and indulging in luxury resorts in various glamorous locations. We were very fortunate in so many ways
WHERE.
After Sweden I worked in London, which brought me to Dubai where I worked for a few years at the lovely Jebel Ali Hotel and later Jumeirah. To progress, I moved to South Africa where I worked at the historical Royal Hotel in Durban as Rooms Division Manager; hosting prominent guests such as Vice President Al Gore, Prince Charles and the late Nelson Mandela. I returned to Dubai to get married and open the now world-renowned desert resort Bab Al Shams for the Jumeirah Group.
A few years on brought me to work in Malaysia, the beautiful island of Langkawi where I worked as Executive Assistant Manager at The Datai. Still, this is one of the best jobs I ever had. I loved the hotel, the team, the guests, the amazing location in the rainforest whilst also located along a stunning beach … it was hard work and long hours but I loved it.
Here, I became friendly with a local family who were all about music – The Solianos! There were many children and cousins and uncles and aunties and eventually I just became one of them. Not being a mother, I found my calling in being an Auntie… and I still am to so many kids all over who have now grown up and become remarkable young adults including my lovely niece and nephew in Sweden.
In 2009, GHM promoted me and I moved on to assume my first General Manager's role at The Strand (sister hotel to Raffles in Singapore) in Yangon, Myanmar. This legendary landmark hotel, originally built by the Sarkies brothers was another amazing experience in a country, which at the time, was still closed-up and in the process of recovering from the devastating Cyclone Nargis. It was difficult times with things like internet, certain foods like cheese and meat not being readily available. Here, I learnt to improvise and be creative, working with an amazing team of local smiling Burmese, whilst running this amazing hotel. They guided me and I stayed for 2.5 years, made many friends, hosted some very glamorous events and experienced an Asian culture like no other.
Once again it was time to move on and fate threw another hardship our way. My dear friend had cancer and it was time for some serious treatment. We decided to leave our jobs and focus on treatment in Thailand, settling in Phuket with easy access to Bangkok. We rented a lovely little house and made the best of our circumstances at the time. We went through good and bad times and were fortunate to have so many good supporting friends. We continued to travel when we could whilst enjoying sunny Phuket.
I started working again in Phuket, first on the charming small island of Koh Yao Noi running a small luxury resort and later as General Manager for the Thai chain Centara, followed by a General Manager's role – opening the Dream Phuket Resort and Spa.  During this time we opened a small business, a retail shop which my friend managed, located in the up-and-coming area of Boat Avenue. We named the shop Red Frog … this of course has another story attached for another time to tell.
Late last year my friend lost her oh-so-brave battle, leaving me with the most amazing memories of the great friend she was.
I took over the running of Red Frog which has been both fun and challenging, driving the business, making new connections and letting creativity take over.
HOW.
Many times I asked myself HOW … I don't have an easy answer as it is not always a clear cut,  but I am fortunate to still be here with time to continue on my next adventure. It is always about being positive and welcoming new opportunities. I am fortunate to have an amazing, supportive family and many fabulous and glamorous friends who encourage and inspire me.
Now, the time has come to look for a new opportunity within Hotel Management as this is my passion. It's time to downsize and be flexible and see where in the world I will up – the travelling will continue with so many more destinations to explore.
WHY.
Hospitality and Hotel Management is not just a job … for me, it's a lifestyle choice. A choice I made many years ago and still am very passionate about today.  The stress which comes with it, is a positive stress and an addiction which makes me thrive, as the rewards achieving results and happy guests makes it all worth it.  There are so many more people to meet and so many more places to see and I am looking forward to continue exploring the world as every destination is just a short plane ride away…
Get in touch with Regina HERE.