Driving off the main road into a little street named Plai Leam Soi 7, it takes us a good 5 minutes to get past rows of telephone poles, that have become much a part of the overgrown foliage that flanks the street. And just then, through unkempt weeds and decade-old trees, on the left, glimpses of the ocean. Finally, a sighting of what must contribute to Koh Samui being called paradise.
Being my maiden trip, I had no idea what to expect, and so those expectations are almost non-existent. Except for an indulgent spa session. Yes, that would be my one expectation that can actually be fulfilled. While in Thailand, a massage a day is never over the top.
The unattractive road comes to an end as we turn into the entrance of Six Senses Samui. And just like that (cue snapping fingers), the bumpy road goes paved, the weeds are replaced by perfectly manicured forrestation, and it is here where things start to look up.
I find myself standing on the edge of the Earth. More accurately, on the Northern tip of Thailand's second-largest island, and one that is significantly less-developed than its big sister, Phuket.
We are greeted by our GEM (Guest Experience Maker) Song, as she takes us through the painless check-in process while we cool down with cold Jasmine-scented towels. Song then whisks us off in the resort buggy to settle us into our home for the next week.
Well, "whisks" is an exaggeration, it's more of a leisurely drive about 20 meters up the hill.
Luxurious seclusion is never along a main pathway, and so we begin our 250-step journey down to our villa. Made up of repurposed planks of wood with branches as railings, the meandering path takes us through a well-looked-after jungle, and the kind you will always find at a Six Senses property. Known for their respect and kindness towards Mother Nature, the group has always built their properties around the environment, being careful not to upset the balance that has so clearly worked for centuries.
At the end of our path is a door, made purely of long, vertical bamboo tubes, with only a shorter horizontal piece as its lock, and held together by what must have been the husk of or some sort of vine. It is here, that we are introduced to Villa Number 9.
Past this first door, is a walkway to another, and THIS is our main door, a solid piece of wood with the modern feature of a proper lock. And it's through this door too, that we enter our Ocean Front Pool Villa Suite.
One can't help but gasp at the sight of what's beyond the floor-to-ceiling double-panelled glass windows; an unparralled view of the Gulf of Thailand. And in all her full glory, Koh Phangan; the party island and home to the infamous Full Moon raves.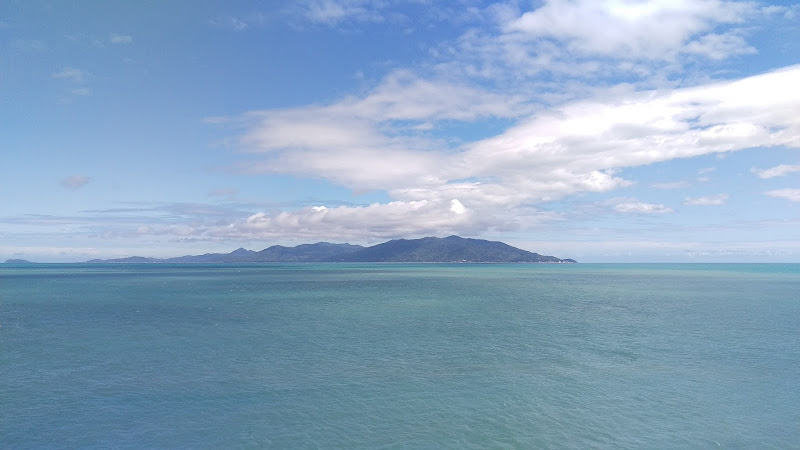 Song gives us a tour of the significantly-sized suite; the lounge, a massive bedroom, an indoor bathroom and a panoramic balcony that spans the breadth of the villa on one level.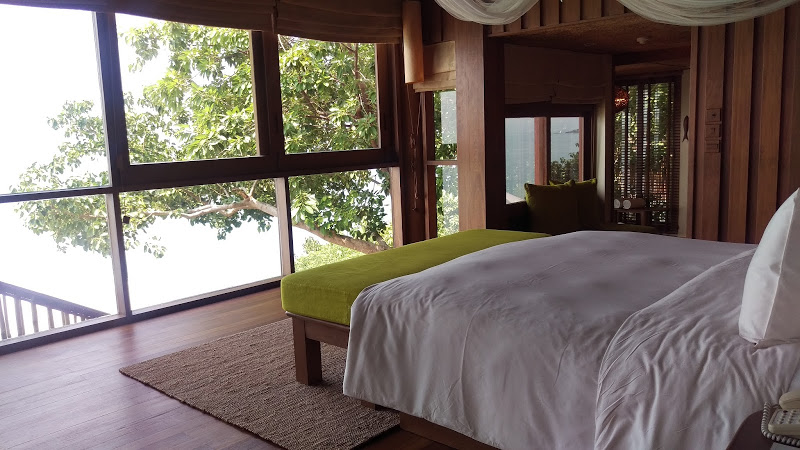 The bathroom and dressing area are a couple of steps down to the right and showcases a walk-in wardrobe, a sunken bath with views out to the ocean, his-and-hers vanity areas and an outdoor shower that features your regular handheld shower plus a rainshower.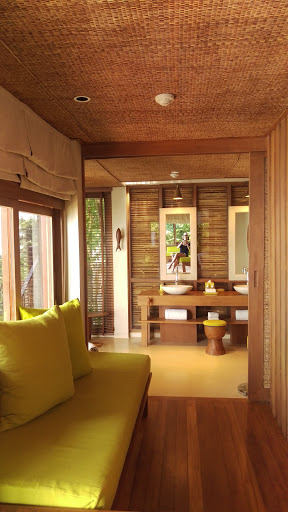 Up until the middle of this year, this whole area was fully open-air. Closing for a couple of months, the resort refurbished all of the bathrooms to have them enclosed and air-conditioned, offering relief and added-comfort to the guests as Koh Samui is known for its mosquitoes, and the tropical heat. Rest assure; there are plenty of coils, anti-bite sprays and bug lotions. And the property gets fumigated twice a day to keep the mozzies at bay.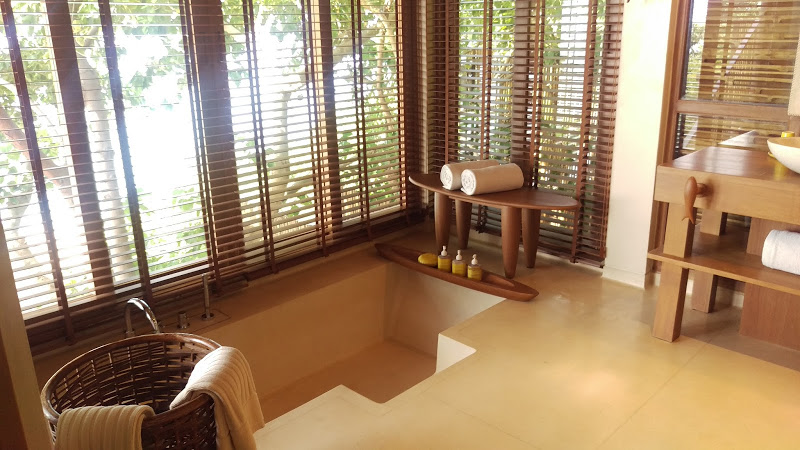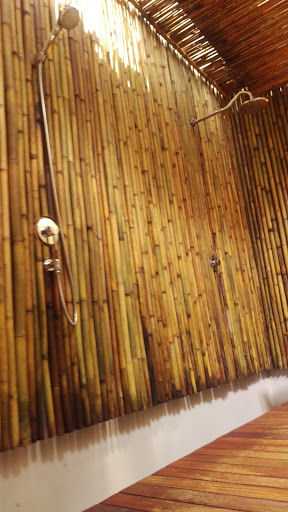 During the make-over,  all the villa pools got retiled to gorgeous tuquoise stone tiles; visually making the ocean and private pool seamless. Inside, a more contemporary feel was created with new furnishing, lighter tones and new layouts that maximise the already large area.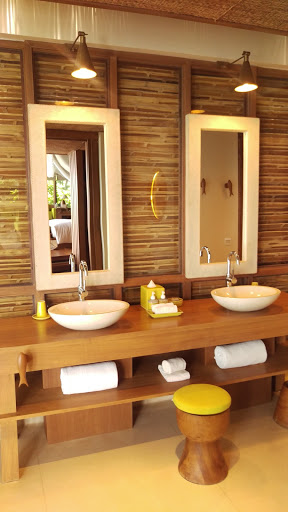 Speaking of "large area"; this well-lit space spans an incredible 3,720 square feet, with the private infinity pool taking up 195 of that square footage.
Which brings me to outdoors. Just off the lounge, the double-panelled glass doors open up to that balcony I spoke off. I take a moment here to marvel at the view of the Gulf, unobstructed and "interrupted" only by Koh Phangan dead centre. Close enough to admire, yet far enough not to disrupt the quiet.
The sea is dark and the clouds are low, but the sun is fighting its way through the holes in the clouds to offer the ocean some depth to the naked eye.
Once I've caught my breath, I look over the rails to see the pool and a lounge and seating area that seem to literally, be calling my name. Making my way down the wooden stairs, I find another set of steps that lead me to a covered deck, tucked away at the very tip of the villa, closest to the ocean, where a huge daybed awaits.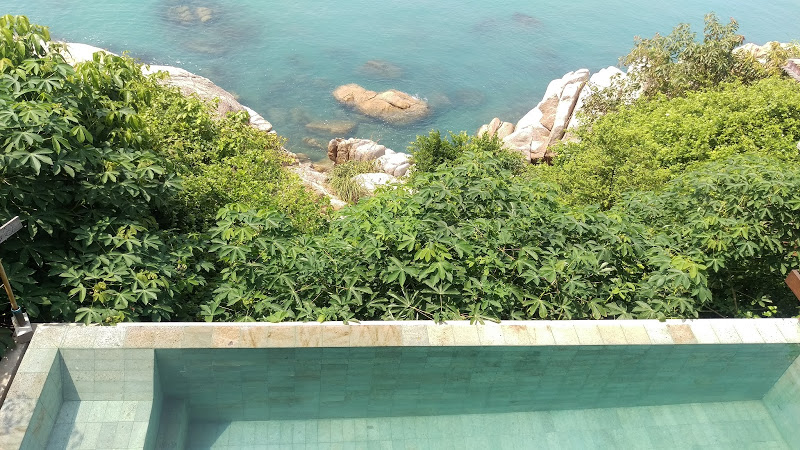 Time to kick off my slippers, order a cocktail and just breathe.
Honestly, I never needed to leave the villa to fully enjoy the resort, but a hermit I am not, and sitting still isn't my greatest virtue.
And so 250 steps later, I'm exploring the main infinity pool. The vastness of this melds seamlessly with the horizon and this is where the most amazing sunsets can be witnessed; as the sun falls behind the unihabited island of Koh Som. The ocean turns turquoise and the sky becomes a kaleidoscope of pastel colours; salmon-pink, lilac, tiffany-blue and pale orange all at once.
Orange and red are always good signs at dusk. You know the saying:"Red sky at night, shepard's/sailor's delight. Red sky in the morning, shepard's/sailor's warning."
As the sky darkens and the moon rises, it's time to head to Drinks on the Hill. Happy hour is from 7 to 8pm so it's the perfect time to knock back a cocktail, or four, before heading to dinner at one of the two restaurants.
If a poolside sunset isn't your thing, getting to Dining on the Rocks a half hour before the myriad of colours explode in the sky, is a good idea.
Built on ten platforms of varying sizes, constructed of weathered teak and bamboo, each deck is interconnected by numerous walkways. And each level has an intimate feel with the tables few and far between. Two of these decks have been reserved for private dining, for that ultimate, intimate feel where it's just you two, against the universe.
This award-wining dining experience is perched at the tip of the peninsula and offers incomparable 270 degree views. With a focus on the freshest local ingredients, and a menu of "Modern Interpretive Cuisine", this innovative architectural masterpiece has been home to many a proposal and celebration.
For something a little more low-key and local, Dining on the Hill is an incredible alternative. Known also as the main restaurant that's open throughout the day, this is where you'll get your Thai-food craving satisfied.
Executive Chef Eric Bremmer's experience with the Six Senses group spans almost a decade, having served tenures at the rugged and spectacular
Zighy Bay in Oman
 and the tranquil hidden treasure of 
Ninh Van Bay Vietnam
. He brings his international experience to the plate with his preference of Meditteranean and Asian cuisine, without being closed off to new experiences and tastes.
All that relaxation and food seems to have tired me out. So it's back to the villa for some much desereved sleep.
Waking to the sounds of waves crashing against the rocks, birds of all sorts saying it's time to start the day, my weary eyes open to the incredible view I first saw upon walking in. How could one NOT jump out of bed, excited to start the day as soon as possible???
Insert: 250+ steps.
Breakfast is a slow affair with both a la carte and buffet options, and a focus on healthier choices. One can go all out with dishes like Thai soup noodles, Tom Yum Kedgeree, bacon, eggs, carbs, sugar, etc. OR …. opt for just the fruit station, where tropical fruit of all sorts are proudly on display. Pair it with a shot of wheatgrass and a whole coconut for all the great things it does for you, and it should keep you nicely filled till your tummy starts up.
I'd scheduled my spa session for a little after breakfast. Without much rush to get anywhere, I take a leisurely stroll past the pool, down some wooden steps, through lush greenery and over a little stone path. Passing some gardeners tending the plants, they stop midway to greet me with the "wai", which I return, and carry on my little journey where I also notice a few butterflies and insects pollinating some flowers. I get to my destination through scent, before physically arriving at the spa reception.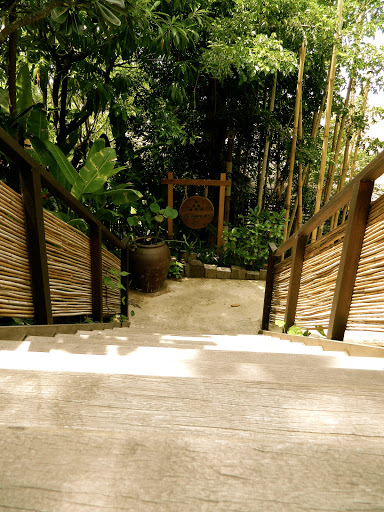 It's been proven that scents trigger memories and to me; the smell of lemongrass, ylang ylang, jasmine, rosemary and all those other incredible fragrances used during massage therapies, ALWAYS remind me of Thailand.
Each session starts off with finding out your month of birth. The year is split into quarters and so my birth month of January, falls into the Earth Element category, along with November and December.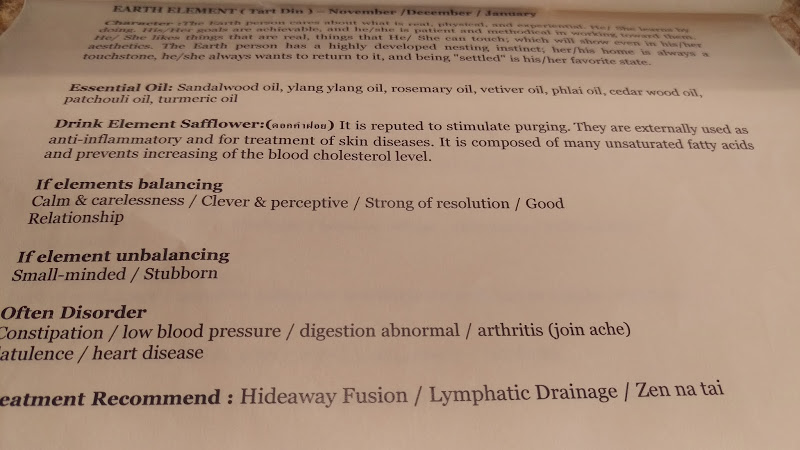 With this, I'm served my corresponding drink, the Safflower, as it's reputed to stimulate purging. Composed of unsaturated fatty acids, it prevents rising blood cholestorol levels and used externally, is an anti-inflammatory and treats skin diseases.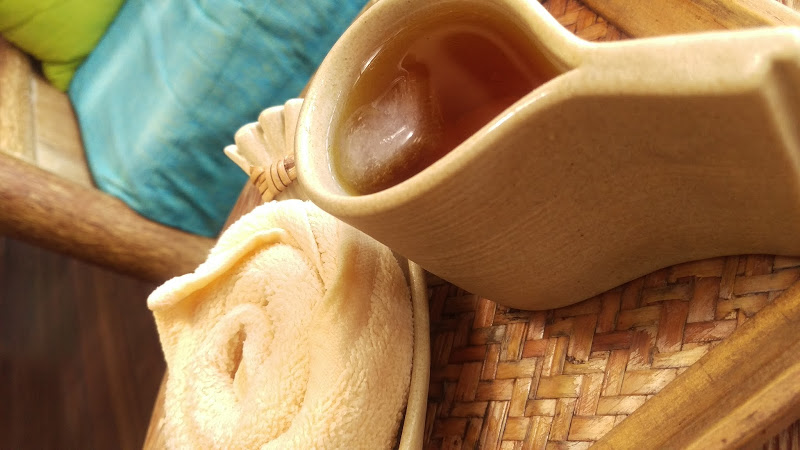 I don't suffer from any of those ailments listed above but if the award-winning Six Senses Spa recommends it, who am i to argue?
With the choice of indoor therapy rooms (there are six of these) or outdoor salas, you can be guaranteed a spectalcular view across a rock-fringed bay to the Gulf of Thailand.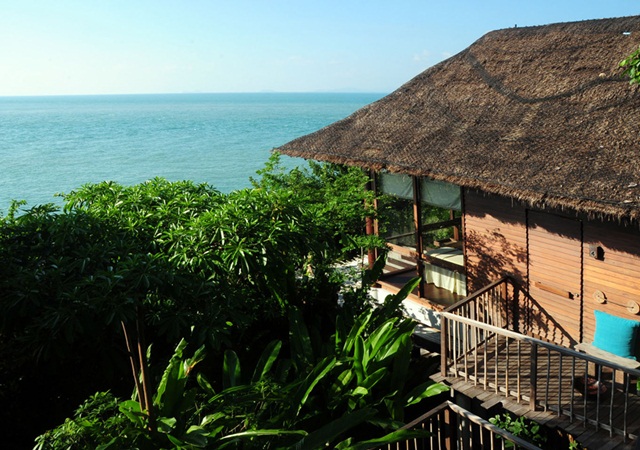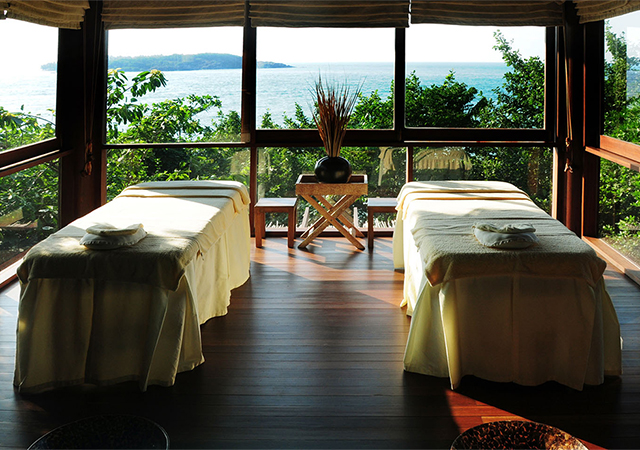 I opt for a 60-minute aromatherapy massage am led to Room 9, where the vision of the azure sky and royal blue ocean once more takes my breath away. Without a cloud above me, or a worry on my mind, I allow my therapist to take full control. If only for an hour.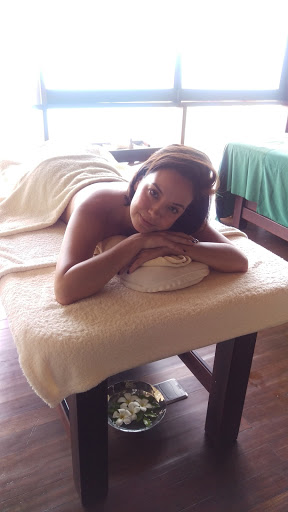 The rest of my stay is pretty much a repeat of all of the above. Wake, eat, massage, pool, sunset, eat, sleep. And what else would there be to do for one who gets restless? Well, the list of activities does not fall short.
In brief, I departed Singapore still running at 100-miles-per-hour. After a day at the Six Senses Samui, I managed to slow that pace down significantly. By day three, I was without my watch. The rest of the week pretty much made me become a very happy sloth. I had arrived.
xxA
– Thanks goes to Khun Alice, Khun Gary, Khun Song and the rest of the team at Six Senses Samui.