Located in the historical cobblestoned enclave of Duxton Hill, Alba 1836 Wine Bar & Restaurant is housed in a standalone building that dates back to (approximately) the late 1800s.
Once known as the Ee Hoe Hean "Millionaires" Club, 28 Duxton Hill, and the rest of her neighbours, is steeped in history; having started out as a prominent area for the prosperous and respected, before slipping rapidly into decline as the rising population of the urban poor began spilling over from other districts.
Recreational clubs were replaced by secret society headquarters and the once highbrow residences were taken over by opium and gambling dens, which inevitably attracted the setting up of brothels.
Fast forward to present-day and the whole precinct emits a positive vibe of cult restaurants, fine-dining establishments and bars; all thanks to the Urban Redevelopment Authority that listed it as a conservation area around 2010 in a successful clean-up project which today gives us a whole new experience of culinary excellence.
Which brings me back to Alba. Stepping through the glass doors on a humid Friday evening, I was immediately flanked by an impressive floor-to-ceiling wine cellar, which is home to an incomparable variety of Italy's finest drops.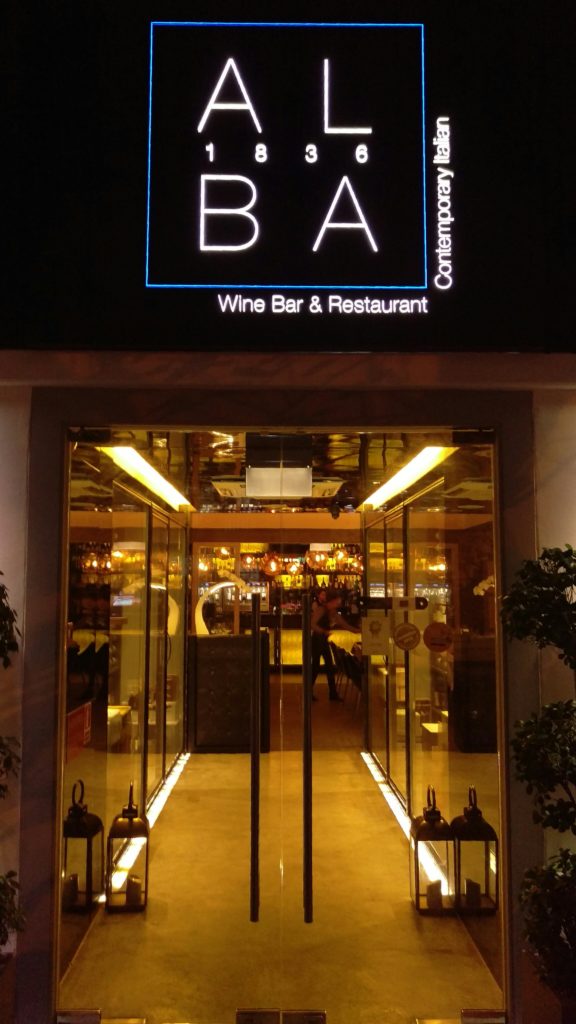 The walkway then opens up to a covered courtyard, with contemporary furnishings, paired gorgeously with perfect lighting and an eye-catching open kitchen, housed behind glass and louvered windows. This is where Chef Luca Piras and his team passionately create Italian magic for their discerning diners.
I was greeted by co-owner and Managing Director, Matteo Trabaldo Togna, his lovely wife Sarah and their restaurant manager, Alexandra. Sensing a fierce passion for all things Alba, it was an ease to speak to them and arm myself with a renewed love and knowledge of their cuisine and wine.
My partner and I started off the evening with Barone Pizzini; a vibrant pale golden Franciacorta that had a smooth and consistent sparkle, with a lively palate of tropical fruits, orange marmalade and candied ginger. Perfectly refined and refreshing.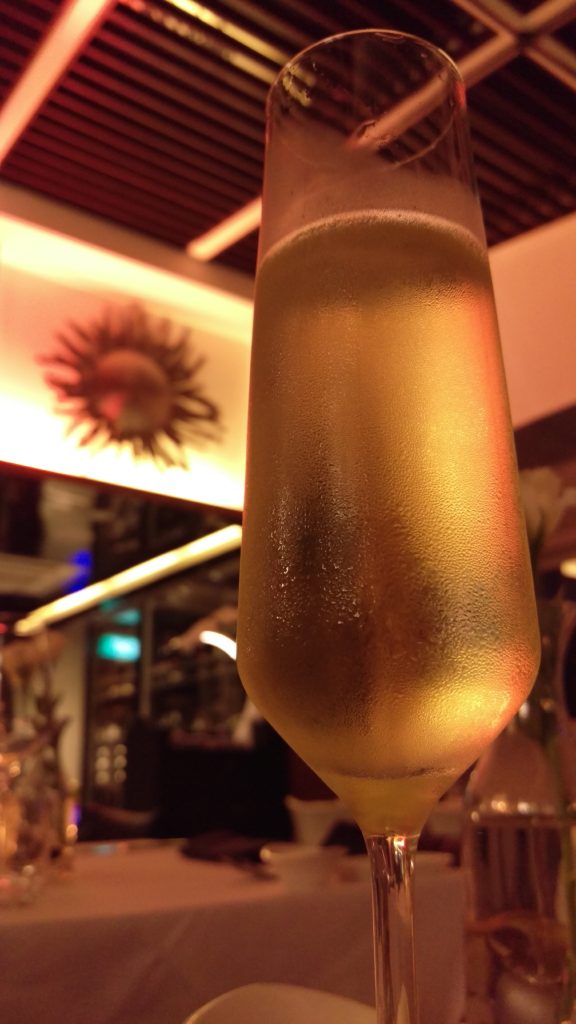 With this, arrived the bread basket. Along with one particular condiment that was the star to kick off an evening of gastronomic excellence; introducing the 25-year-aged balsamic vinegar (or aceto balsamico) from Modena. Made only of the finest handpicked grapes from the region, aged in barrels constructed of various types of wood, the result of this patient process is an incredible honey-like consistency that's comparable to molasses, in taste as well. Like any fine wine, balsamic vinegar ages beautifully and is paired with a price to match.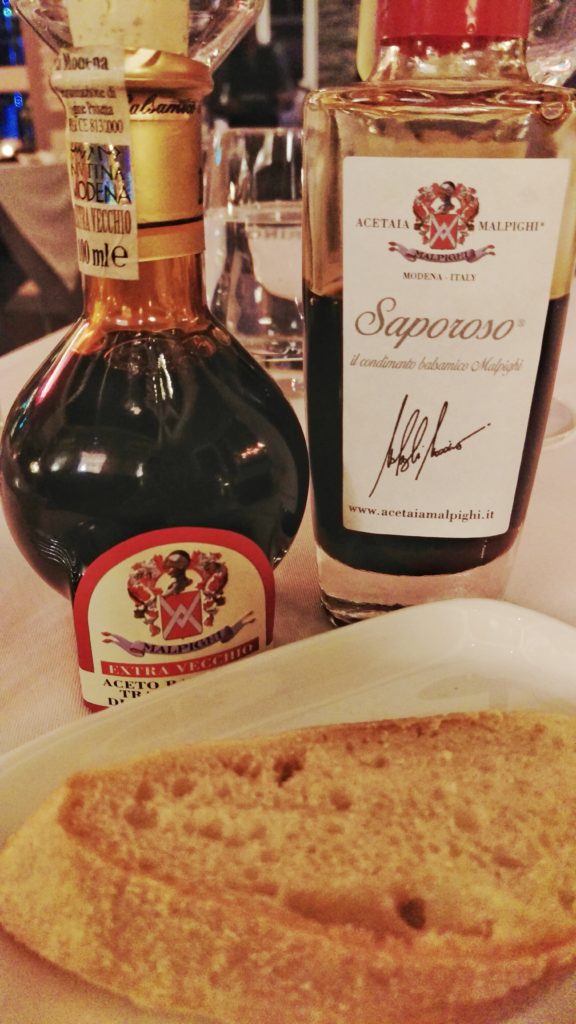 Here's how the rest of the evening went:
Scampo Marinato ali 'olio Extravergine e Zesty di Limone
Marinated Scampi on Extra Virgin Olive Oil and Lemon Zest.
Paired with a beautiful glass of Damilano Langhe Arneis, which offered a fresh and crisp lightness that balanced perfectly with the citrus and the delicate texture of the seafood.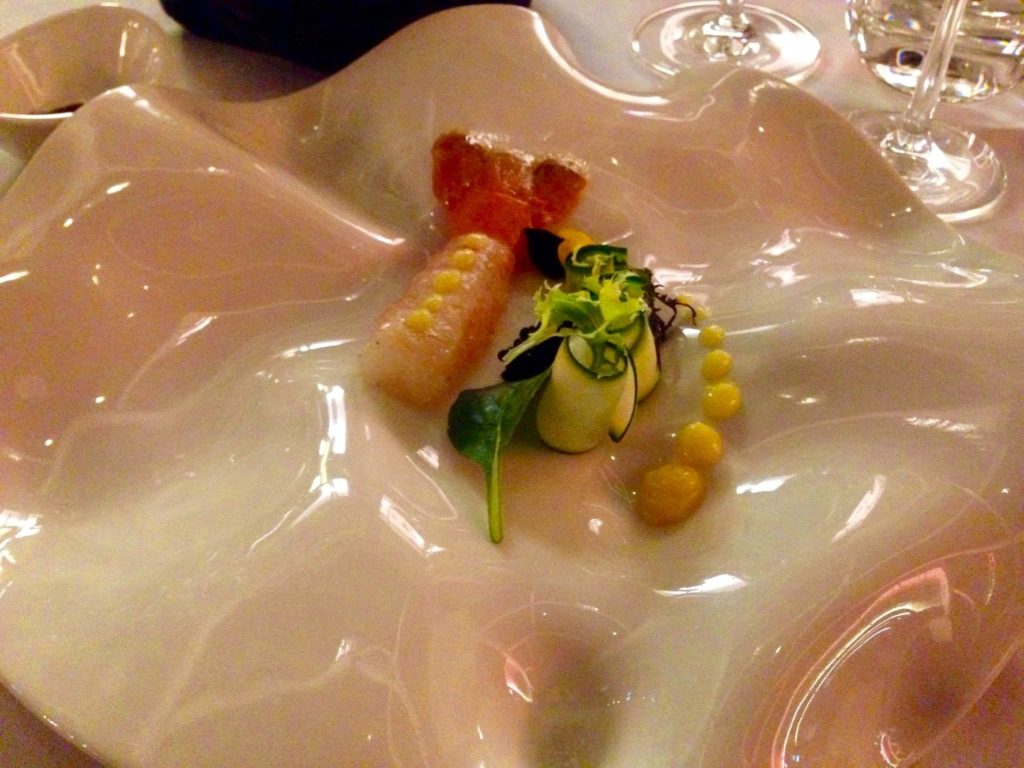 Carpaccio di Manzo Tajima con Rucoletta Selvatica, Stracchino, Tartufo Nero e Parmigiano Reggiano e Perle di Fegato d'Oca.
Tajima Wagyu Beef Carpaccio, Wild Rocket, Foie Gras Pralines, Fresh Black Truffle with Crescenza Cheese and Parmigiano Reggiano.
A true mouthful (to say) but what a little party it has once it hits your tastebuds! The various flavours and textures are a marriage made in culinary-heaven. This was matched with a glass of red from Bertani Vila Novare, which enhanced the refined texture of the beef, the pralines (which were rolled in black sesame), the sharpness of the cheese and rucola and of course, black truffle goes perfectly with just about anything.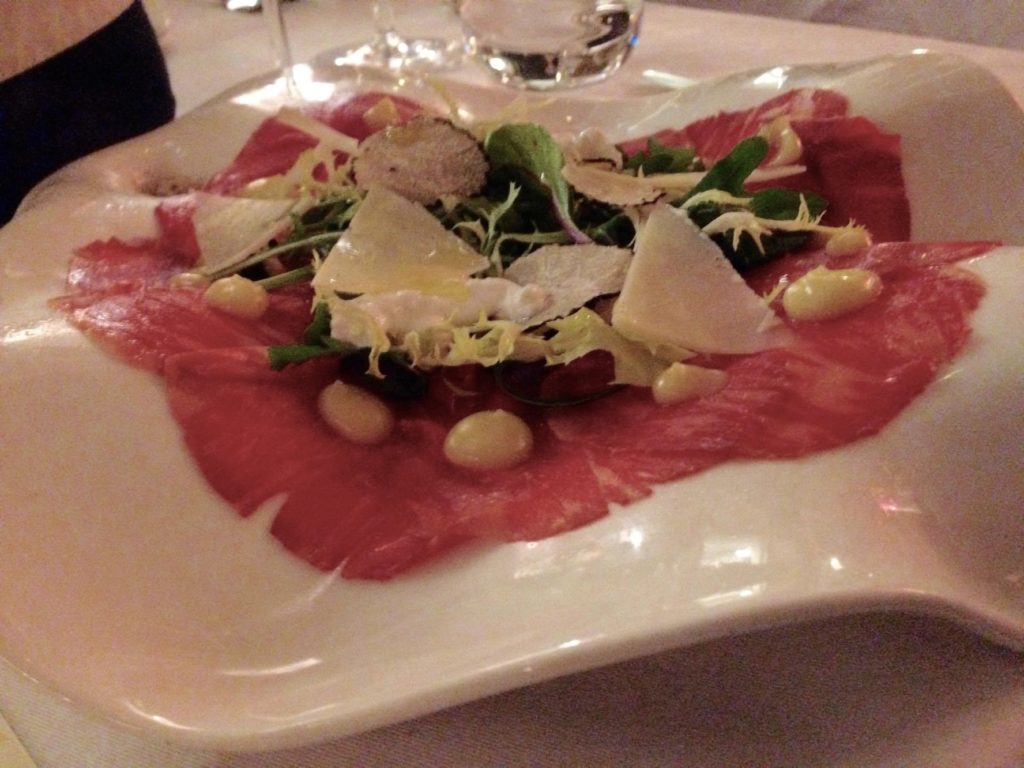 Tortelli di Spinaci e Parmiggiano Fatti in Casa, Burro e Salvia e Mandorle Tostate.
Homemade Fresh Spinach and Parmesan Tortelli on Butter and Sage Sauce, topped with Roasted Almonds.
And we still haven't got to the mains yet!! This gorgeous pasta dish was small, but a perfect successor to the dishes before. Three beautifully encased tortelli shells with  a fine blend of spinach and cheese within. I could almost picture Chef Lucas and his team lovingly drizzle the perfect butter and sage sauce over this. Topped with finely shaved almond slices with added just the right amount of crunch. An art form in itself.  Incredibly smooth and velvety, like the dish, the glass of Le Pupille Morellino had the aroma of wild berries, juicy end and black cherries, leather and spice interwoven it ha delicate floral note.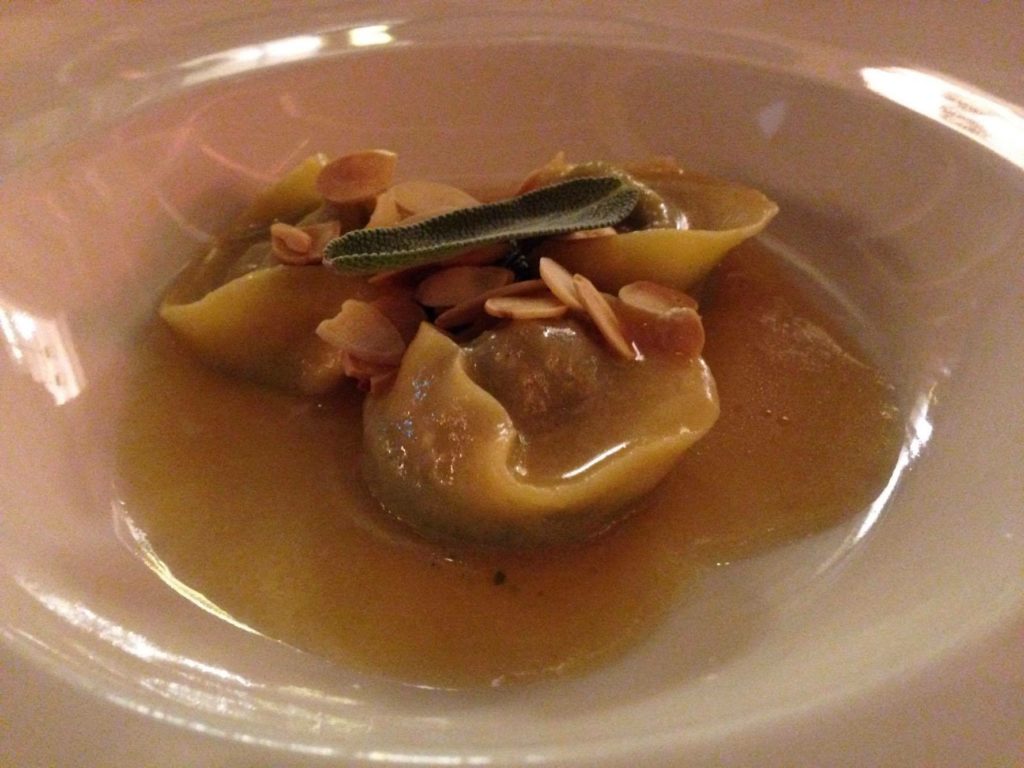 Filetto di Branzino del Meditteraneo Grigliato su purea di Ceci in Salsa di olive Taggiasche e Capperini di Pantelleria.
Grilled Mediterranean Seabass, Chickpea Purée, Taggiasche Olives and Sicilian Capers.
Finally, the main dish. I say this only because I'm not a large eater, and by this time, I was well-beyond my appetite-threshold. The seabass had good bite to it and was comfortably resting on a bed of chickpea purée, salted only from the olives and capers, with "trunks" of large asparagus. Our glass of white Puiatti Pinot Grigio gave the flavours a perfect "cut-through" with its hint of lemon and it's clean, dry taste.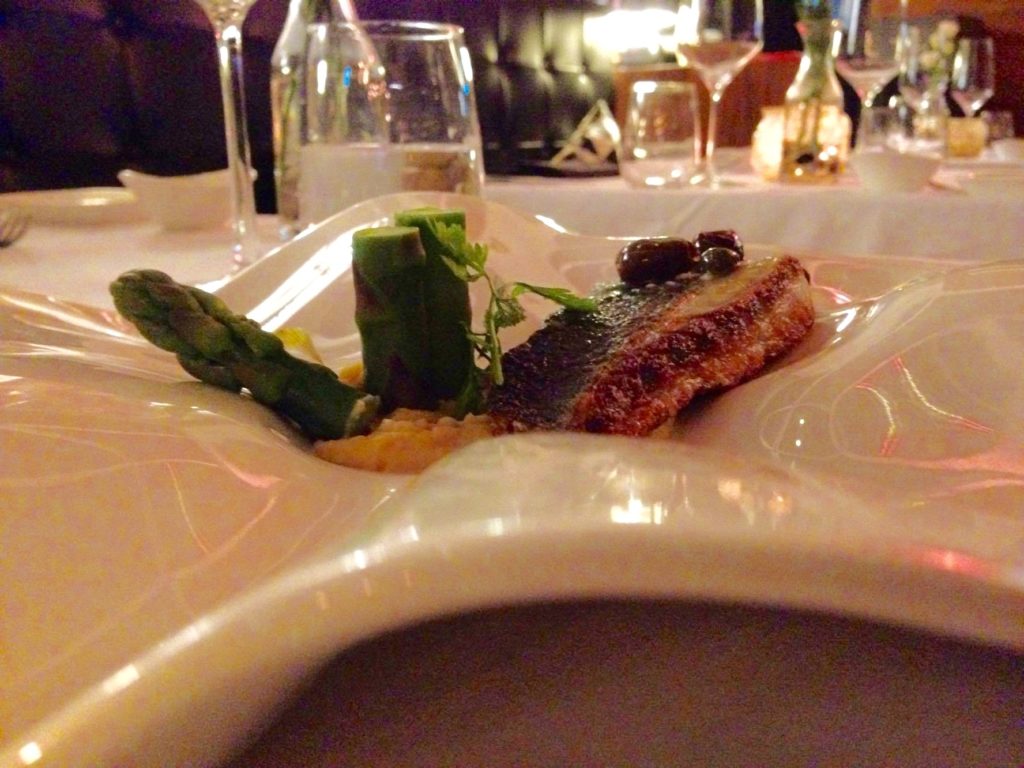 Tiramisu
Millefoglie al Cioccolato Fondente con Crema al Mascarpone e Lamponi.
Dark Chocolate Milliefeuille with Mascarpone Cream and Rasberries.
Dessert! Two sweet dishes arrived at the table with a glass of Sangallo; a sweet dessert wine that had a slight acidity, with notes of apricot, fig, raisin and milk chocolate. Refined and the appropriate wash-down for traditional desserts that are found in any good Italian restaurant.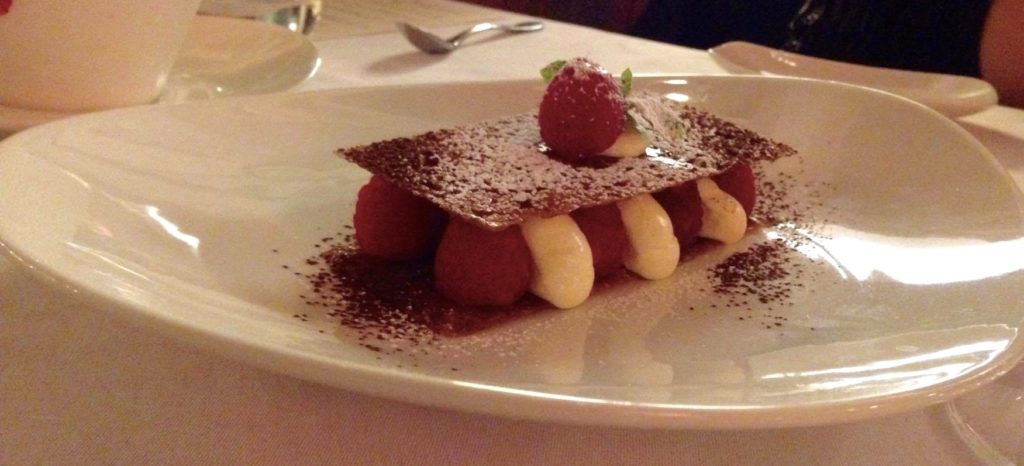 THANK YOU!!
Gratitude goes to Matteo and his wonderful team at Alba 1836!
WHERE?
Plenty of parking in the area.
THINKING OF GOING?
Open during the week for lunch from 12 -2.30pm. They've got a great set-lunch menu which you can take a look at
HERE
. Lunch isn't served on the weekends.
In the evenings, they open their doors at 6.30pm and shut at 10.30pm, except on Saturdays when they're open till midnight.
Monday to Fridays – 12-3pm and from 6pm to midnight in the evenings.
On Saturday, from 6pm till midnight.
If you'd like to book ahead, get in touch
HERE.
WHAT ELSE?
Alba 1836 seats about 60 guests indoors and can accommodate 30 more in it's al fresco area, which is beautiful on a cool evening. If you'd like to book the whole space, Alba 1836 can easily accommodate about 300 guests, both indoors and out.