Tucked away on a private bay along Phuket's north west is the quietly elegant Trisara.
Set among swaying coconut trees, Seafood at Trisara is a nautical-themed space that pairs perfectly with a flawless view of the Andaman Sea. The restaurant's name was clearly chosen to not distract from its main focus — to serve only the freshest catch in the most traditional way. With your sense of taste being your only decider, their cuisine takes you on a magical journey through Thailand's gastronomic history.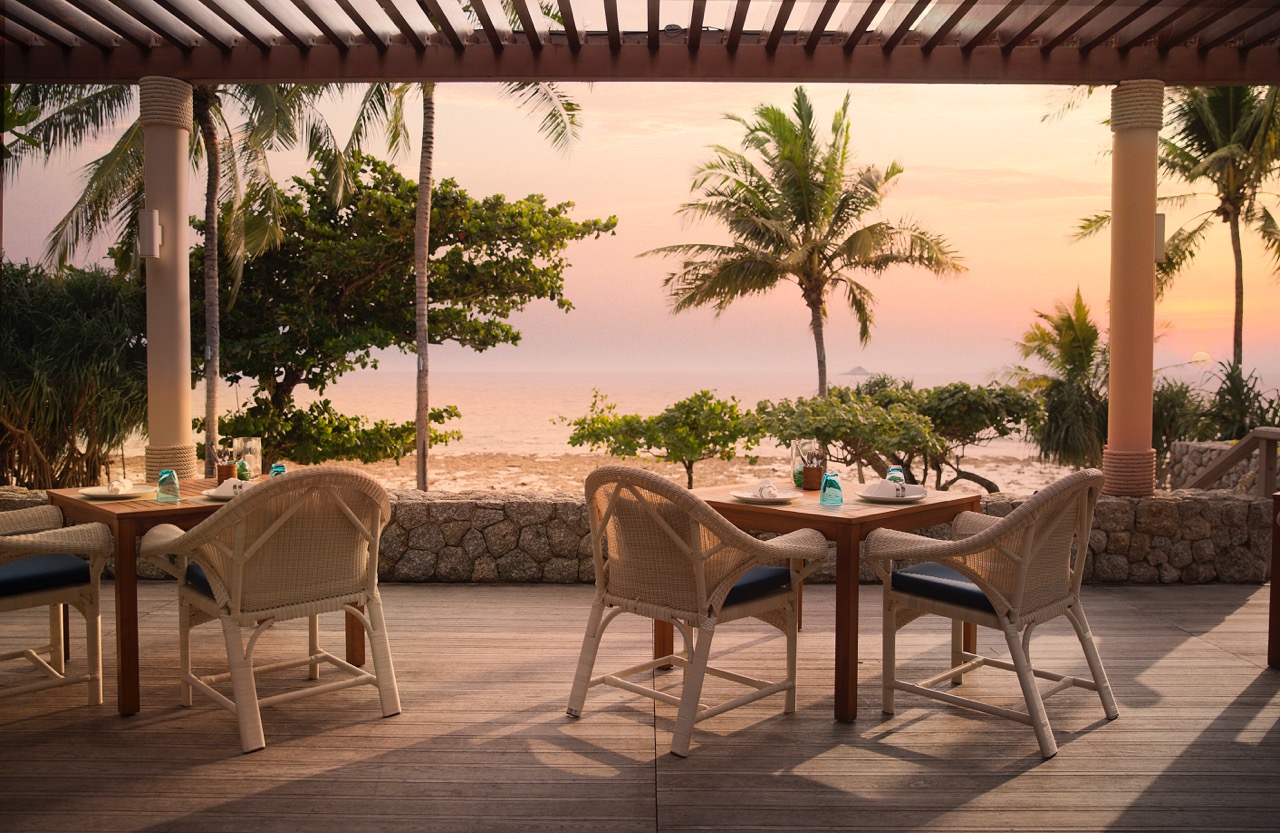 Relaunched in July 2016 after months of research and new (old) discoveries made, the establishment literally went to the bush and back to be able to offer cuisine like no other on the island.
Venturing into villages and turning to family elders, the inspiration behind its new menu offers long-forgotten traditions and an almost-lost cuisine. Beyond your Tom Yum Goongs and Phad Thais lies a myriad of enchantment that wouldn't be discovered unless you were in the depths of rural Thailand or out on a local fishing boat.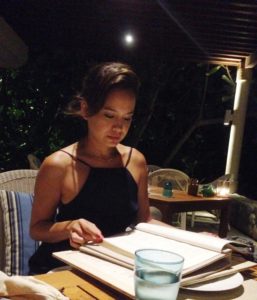 Intrigued to sample the best of "Mama's Cooking", as aptly described, I opted to go for the degustation menu which in my opinion, is always a no-brainier.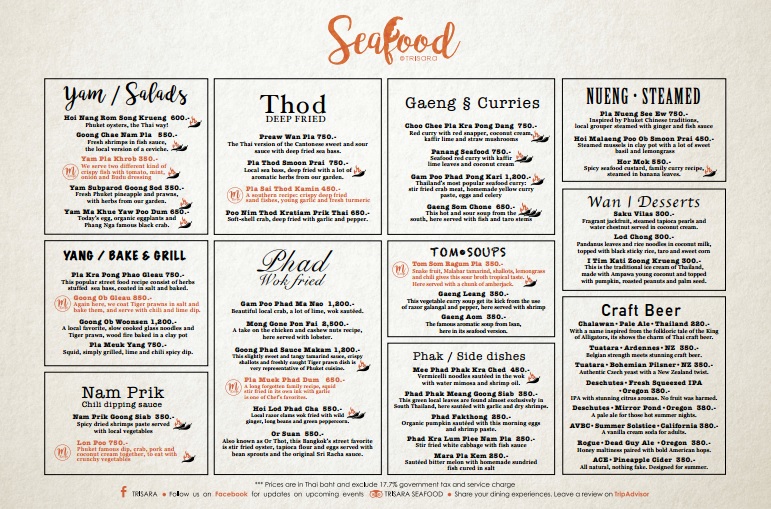 Khun Ken, the restaurant manager, took care of me for the evening and provided some amazing insight on the beautifully prepared dishes with great hospitality, where beautiful stories were attached.
First came the amuse bouche Khao Tung; a creamy curried dip made of chicken and prawns, served with brown and white rice crackers. Typically, a snack like this is served to guests as a nibble between or before meals. Personally, there just wasn't enough dip! The mild spiciness of the sauce is akin to a concentrated version of yellow curry, and the blend of minced surf and turf offered a juicy bite in contrast to the rice crackers. And please… don't shy away from asking for more dip! But also remember, this is the amuse bouche.
As part of the menu, three starters arrived.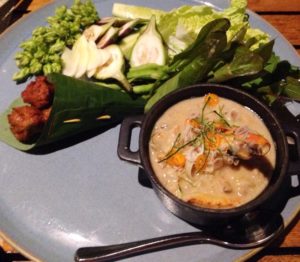 The first; an array of fresh vegetables along side crab curry sauce. Lon Poo is one of the most-ordered dishes, and it's easy to see why. Also served as a snack in many Thai households, only the freshest garden vegetables are presented. "Mama" decides which of her "crops" are best for the day, and plates the raw greens to be eaten with the sauce; a wonderful balance of coconut cream, lemongrass, "taling pling" or Bilimbi juice (to replace lime), spices, herbs and of course, crab. Dip straight in or spoon the mix onto your leaves (completely up to your discretion). On my plate, the variety of greens included cowslip creepers (an edible and fragrant flower), purple mini eggplants, white turmeric, long beans, cashew nut leaves and young Chinese cabbage. I hadn't even heard or seen some of these and the  discovery of new flavours and textures made the experience all the more exhilarating. The sweetness of the coconut milk cuts perfectly through the citrus tang.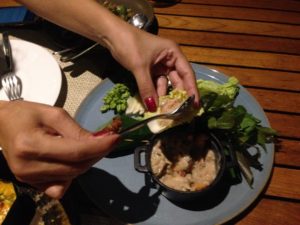 The second starter was Yam Pla Khrob, a lovely refreshing green mango salad. Similar in style and flavour to the Som Tam (a Thai papaya salad that's sold EVERYWHERE), this dish is a heady mix of green mango, deep fried catfish and anchovies, mint leaves, chilli, peanuts and billimbi (a sour fruit that is often used in dishes to replace lime or tamarind). Drizzled and tossed with Budu, a meld of fermented fish sauce, lime and palm sugar, this was the perfect mix of "the 5"; sweet, sour, spicy, bitter and salty, the mandatory components when it comes to Thai cooking. The Southerners absolutely love their strong flavours and this dish is replaced with Budu by the "mamas", instead of the traditional yam dressing.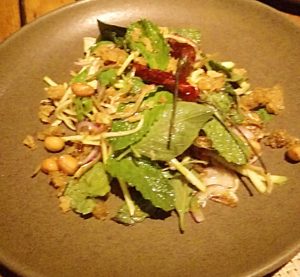 Soon after, arrived a pair of gorgeous little parcels. Hor Mok is typically steamed in intricately woven banana leaves, wrapped to protect the steamed fish custard within. This smooth blend of fish, lime leaves, sugar, coconut cream and red curry (a family secret!) is so intense and personifies what I love about Thai cuisine — how everything is seemingly complex, but surprisingly simple! This dish can be executed fairly quickly, but packs a real punch with its strong flavours all wrapped neatly in a perfect little pouch.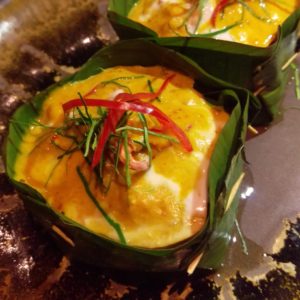 Next in line… the mains.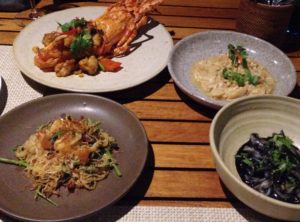 Out of the four mains that I got to try, the most interesting one had to be Pla Muek Phad Dam. This dish is often made out at sea by fishermen. Freshly caught, the squid would be boiled and in the process the ink is naturally released, creating a beautifully textured sauce. Add some garlic and mint leaves and it offers an interesting experience on the palate and I'm glad that Trisara was inspired to bring back this long-forgotten dish.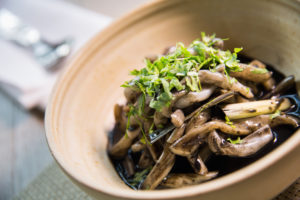 Most of us are familiar with Gai Pad Med Ma Muang (stir fried chicken with cashew nuts). Seafood at Trisara's twist on this comes in the form of  Mong Gone Pon Fai; local lobster stir-fried with sweet chili paste, mixed vegetables and cashew nuts. Not usually interested in the menial task of de-shelling seafood for little reward, I was pleasantly surprised that the restaurant had done it all for me. Resulting in a joyous journey with the succulent lobster.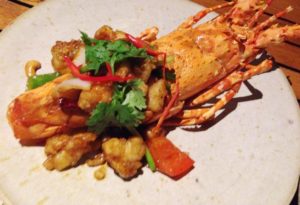 Mee Phad Phak Kra Ched is a variant of a noodle dish that's found easily on any street in Asia. The chef prepares this one with vermicelli, water mimosa, prawns and prawn oil, all sauteed in a wok. A typical meal in an Asian household or restaurant would usually see the carbohydrate dish come towards the end of the meal. This is to prevent one from "filling up".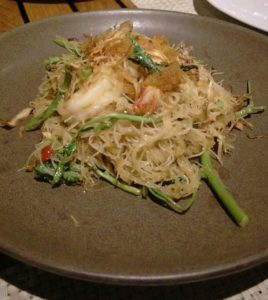 Gam Poo Phad Ma Nao was the last of the mains (and visually isn't the most pleasing) but was probably the simplest dish of the evening with just two ingredients. Sweet chunks of local crab and lots of tangy lime are wok sauteed to create a wonderfully gooey texture that goes beautifully over rice.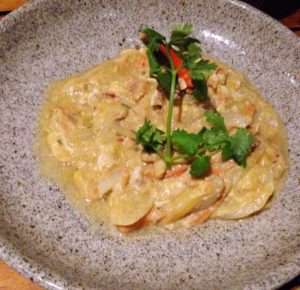 Seafood at Trisara has created its own food profile by reflecting on culture, values and the environment. The attention to detail, texture, colour and taste, while including the use of ingredients that are healing, is characteristically Thai. The dishes are lightly prepared with a focus on being visually pleasing with a touch of spice and a whole lot of intensity. Which is why Thai cuisine is one of my all-time favourites!
THANK YOU!!
Thank you to Khun Vincent and Khun Ken for entertaining me for the evening.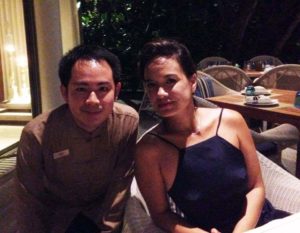 THINKING OF GOING?
Seafood at Trisara is open daily from 6pm – 10.30pm. Advance bookings are highly recommended. Get there a little earlier so that you can enjoy a pre-dinner cocktail (I highly recommend the Lemongrass Martini) while watching the sun dip into the Andaman Sea.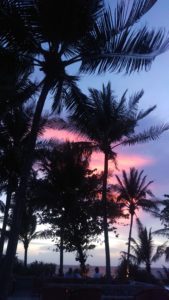 Till my next culinary journey ….
xA