Mention "Argentine cuisine" to anyone who's ever, or never, tried it, and "meat" typically pops into the equation. And while BoCHINche won't fall short on satisfying the carnivore in you, the range of dishes showcased is wide.
Recently settled into their new home at 115 Amoy Street, after a successful three years along Martin Road, the South American restaurant has opted for a more intimate setting, which still includes an open-kitchen, and a bar at the front for that pre-dinner cocktail. For dining, the best seat in the house still has to be in full view of the kitchen; where the soul of the establishment is and where the magic happens.
Helmed by multi-tasking superchef Diego Jacquet, the cuisine at Bochinche is exciting, memorable and full of guts. Spending his time between his home in London (where he runs not just Zoilo, but marathons too), his birthplace of Argentina and Singapore, you'd forgive this passionate restaurantuer for not being physically present 100% of the time. And for this, he depends on his Executive Chef Fabrice Mergalet.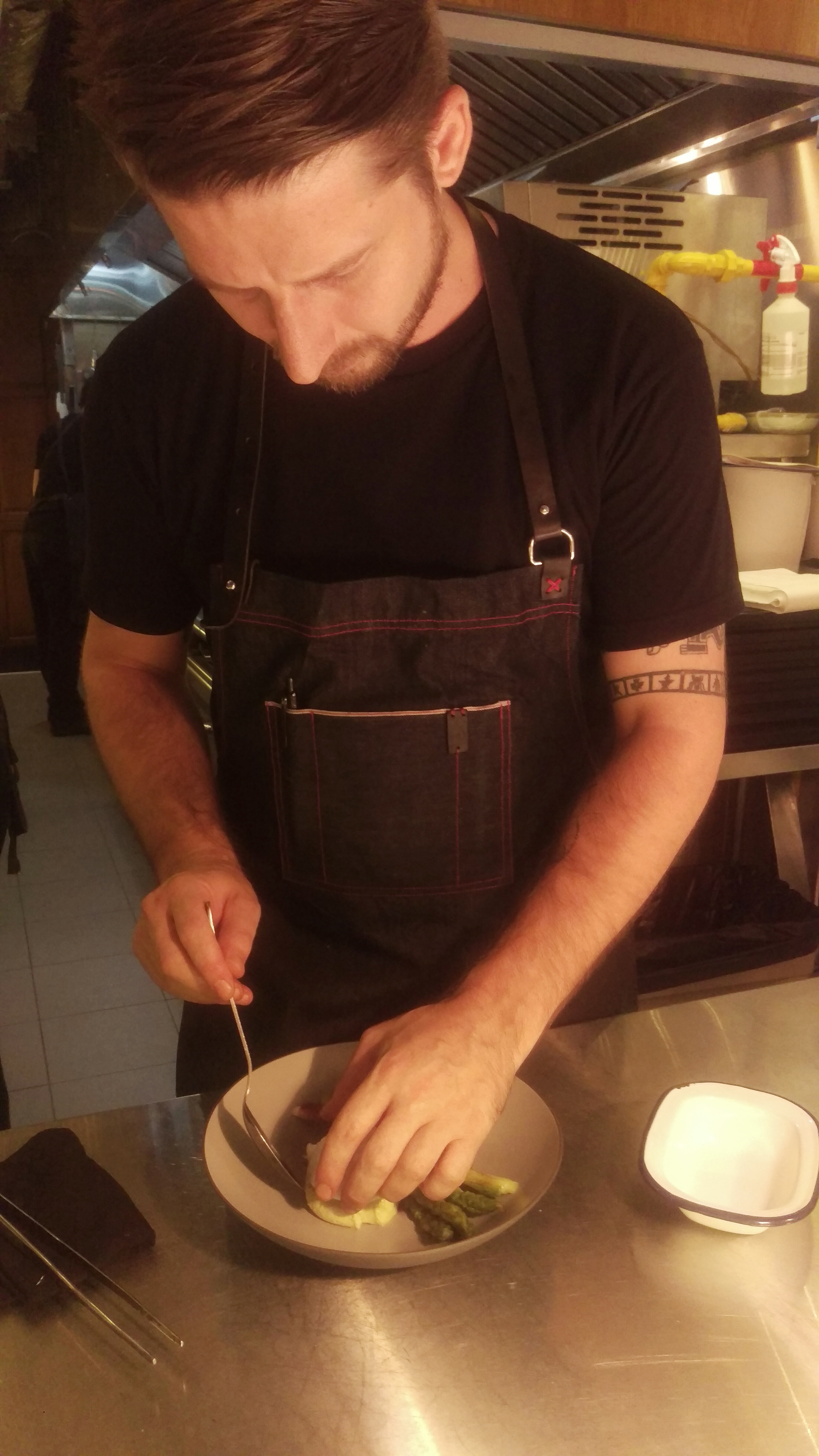 Friendly but not overbearing, it's clear that all Chef Fabrice wants to do is satisfy your palate and make sure you're having a good time. Operating purely on passion, I depend on his picks to take me through the evening.
Starting off with the Chorizo Croquettes and the Crab on Toast, the night gets off to a promising start.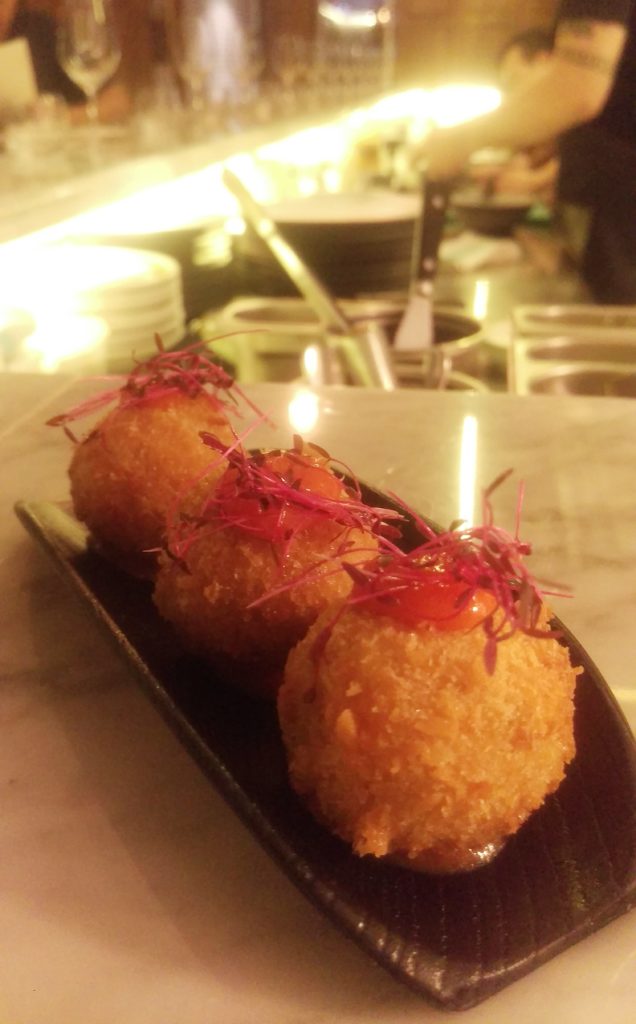 The croquettes arrive in a row of three, with a delicately crispy breaded shell that reveals an incredible mix of chorizo and potatoes within. Small and powerful, the little balls of pleasure hit the spot with their creamy texture that balances just the right amount of flavours.
Next on the counter came the Crab on Toast with humita norteña. At first glance, the toast appears to be topped with a creamy scrambled egg mix, with crab on the bottom and beautiful garnishing. However, once your teeth sink into this heavenly infusion, you'd be forgiven for needing to order another plate.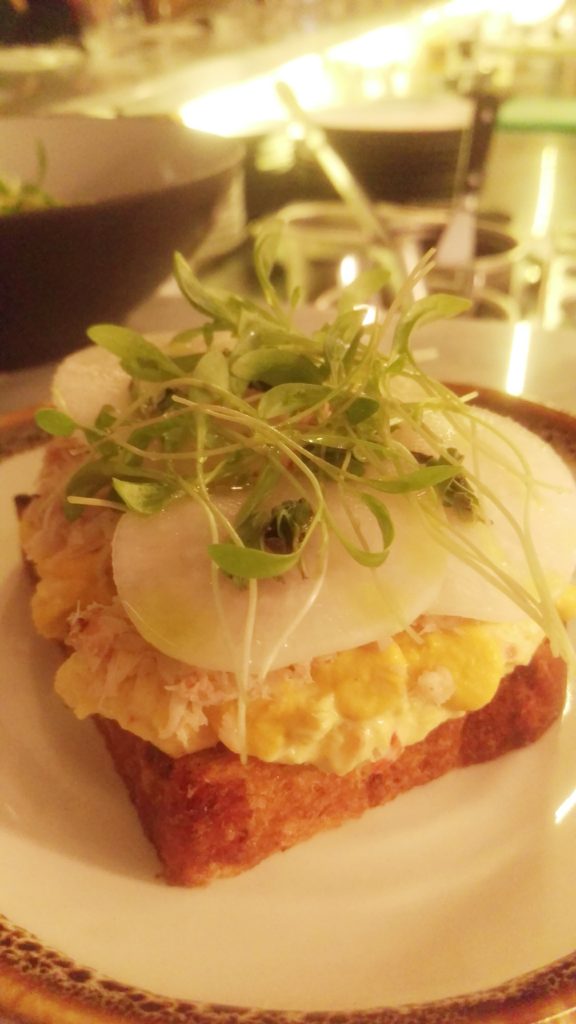 Humita norteña is a traditional Native American white sauce made up of sweetcorn, tomato, chili, onions, milk and paprika. Pair this savoury sauce with the sweetness of crab and topped with the acidity of pickled turnips and marjoram, this dish is beautifully executed, to say the least.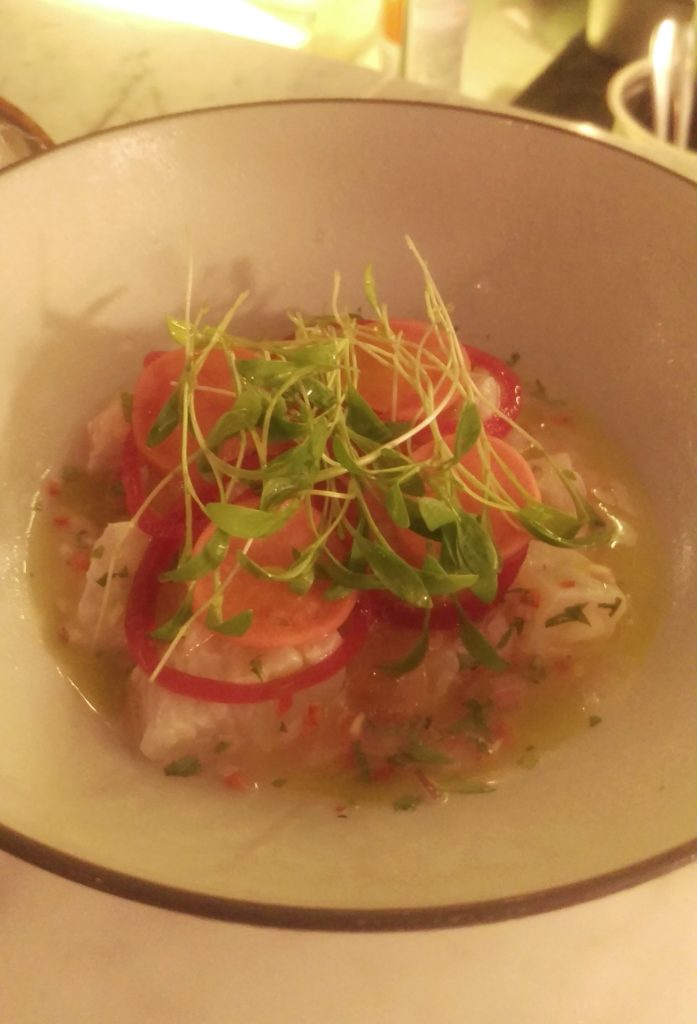 My third dish of the evening was a plate of delicate sea bass ceviche, onions, radishes and preserved lemon. Massively popular along the coastal regions of South America, ceviche is a dish where seafood is cured with the citrus juices of the chosen fruit. Light, refreshing and tangy, the preserved lemon offers a honeyed sweetness to the harmony of the dish.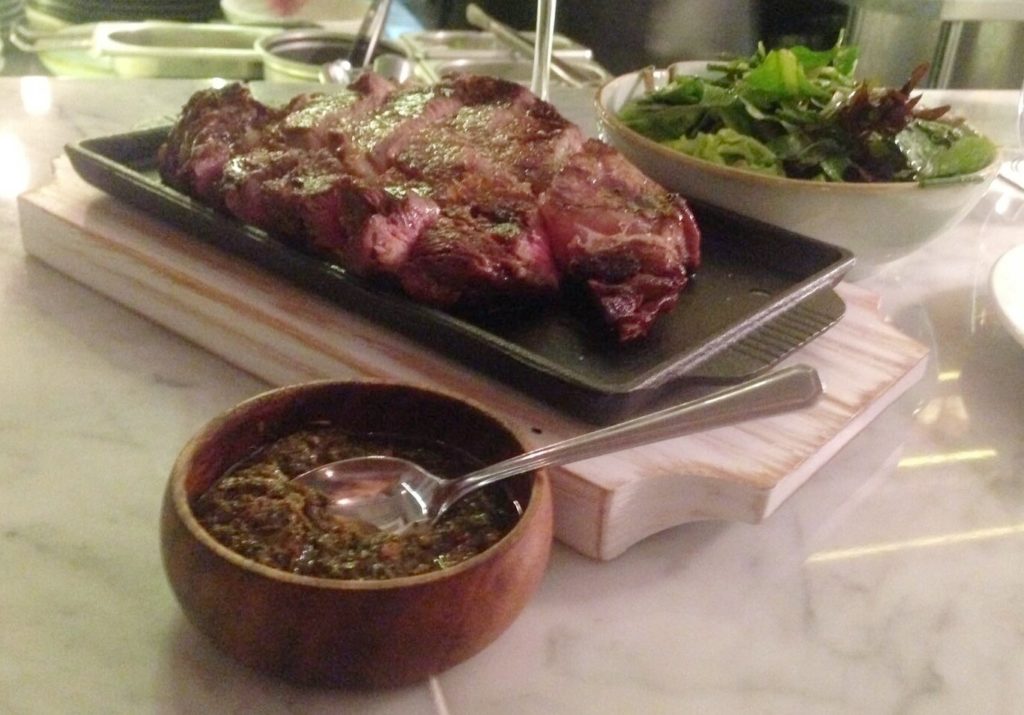 The dish also added a lovely reboot to the palate as I prepared for the mains. Chef Fabrice suggested the Ojo de Bife, 400g of pure ribeye heaven. All the premium beef is free-range and grass-fed and carefully selected before being imported from Argentina. Considered one of the tastiest and most elegantly flavoured cuts of steak, the rich marbling of fat guarantees succulence and flavour. Served with the only sauce that any good Argentinean steak should be served with, the chimchurri added a lovely spiciness with its mix of garlic, parsley, oregano and vinegar.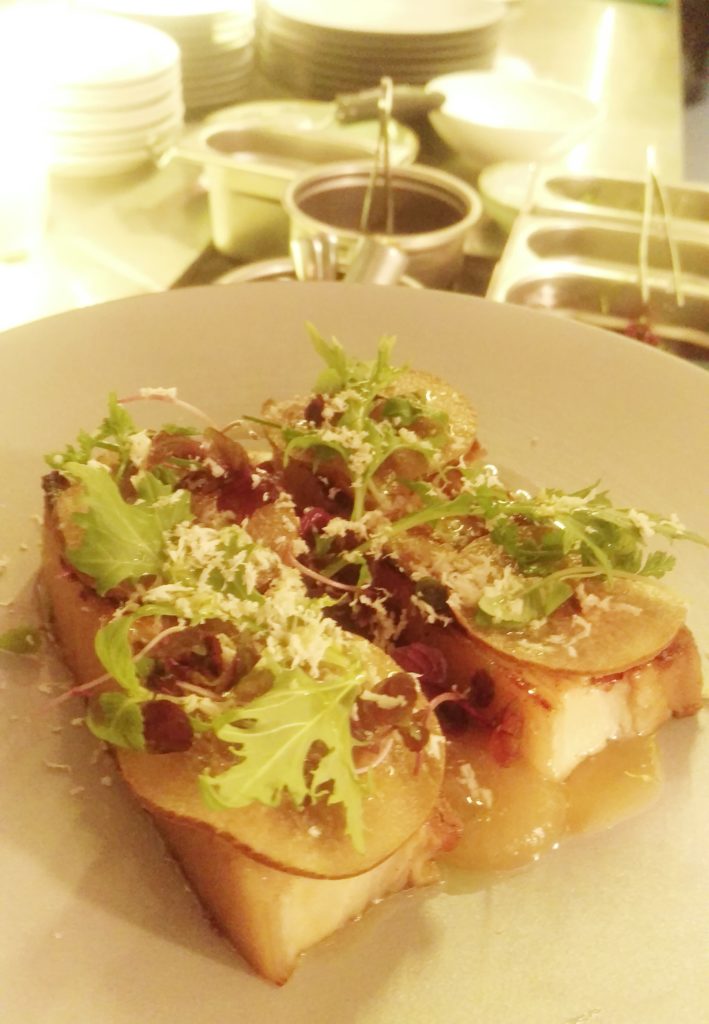 Chef Fabrice made sure I wanted to sample a good mix of dishes and recommended something new on the menu; the Grilled Pork Belly topped Asian pear, sweet potatoes and grated chestnuts. As terrible as it is for the waistline, I am a BIG fan of pork belly. And since this was an evening of indulgence, resistance was futile.
As it was placed in front of me, I saw two gorgeous slabs of magnificent pork belly, beautifully garnished with razor-thin slices of Asian pear and peppered with a fine "dusting" of chestnuts. The marriage of the meat, fruit and nut was something so genius that its flavours exploded in my mouth. Hints of sweetness from the pear, juices from the animal fat and the delightful crunch of the chestnuts worked wonders on my palate.
After five exquisite dishes, I was pretty much tanked up on Argentine cuisine. But Chef Fabrice wouldn't hear of it and insisted on my finishing the evening on a sweet note. It didn't take much arm-twisting before the "Dulce de Leche" Creme Brûlée with banana split ice cream made a marvellous appearance on the bar counter.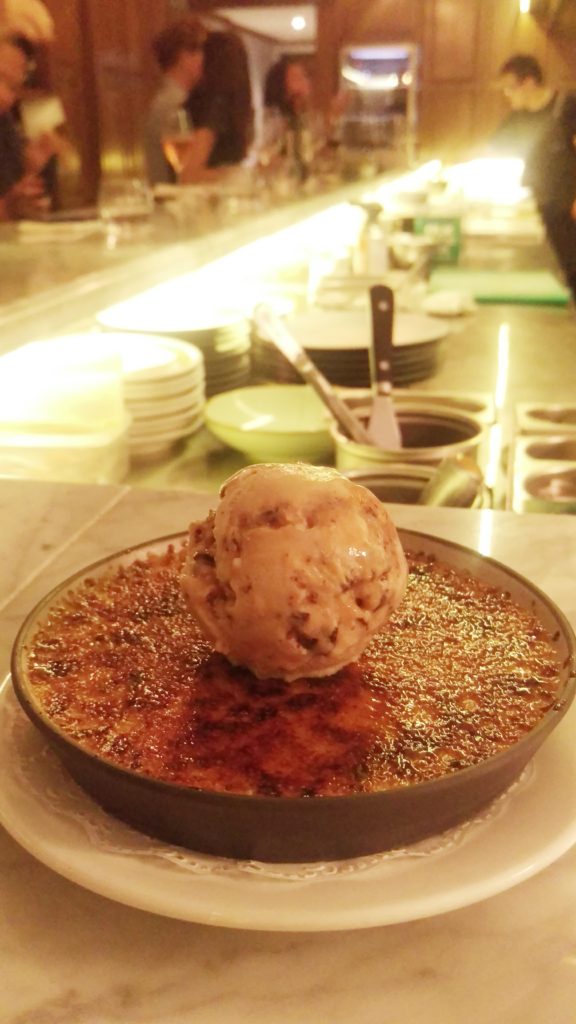 Prepared by slowly heating sweetened milk to create a custard-like substance that derives its taste from a chemical reaction between amino acids and reducing sugars (also known as the Maillard Reaction), the desert takes precision to accomplish. The crunchy caramelised layer is enhanced with a scoop of homemade banana ice cream, taking this a notch up on the scale of delight.
All in all, I must say I'm READY to take that gastronomic adventure in Argentina! But since that's not on the travel plans in the near future, Argentina will just have to be found at 115 Amoy Street.
Till my next culinary journey,
xxA
THANK YOU!!!
A big note of gratitude to Chef Diego Jacquet and Chef Fabrice Mergalet as well as to the team at boCHINche for a lovely Wednesday evening out.
Thinking of Going?
Make your reservations HERE.
The restaurant is open Monday to Thursday from 12 – 2.30pm and in the evenings from 6 – 10pm. Same hours on Friday, except that they stay open till 11pm.
On Saturdays, lunch is from 11 – 3pm and for dinner, 6 – 11pm.
boCHINche is also open on Sunday, but only for lunch from 11 – 3pm.
Follow them!!!
IG: @bochinchesg