Our paths first crossed about four years ago. I met Scot, his lovely wife Donna and their two fast-growing boys (the older one is going to be a HUGE soccer star, in my honest opinion) in Thailand, where they've been based for a while. Fast forward to present day and this gracious gentleman is in charge of the stunning Kata Rocks, an award-winning property perched right on the edge of the water with unparalleled views of the Andaman Sea.
With a passion for travel and a lust for the tropics, Scot and his family are firmly planted in Phuket, where the perfect weather and ocean air are a constant reminder of how blessed they are to be living the life they do.
From his office, Scot candidly tackles my "Who. What. When. Where. Why. How." questions, while undoubtedly sipping on a mock/cocktail and gazing across the 35-meter infinity pool, which he so luckily gets to enjoy every day.
WHO.
I am a Kiwi!
Father, husband and hotelier, not necessarily in that order, the hotel business changes that frequently. My family and I came to Phuket in 2009, having spent time in Malaysia, Maldives, Sri Lanka and Australia after leaving New Zealand 17 years ago.  After studying hotel management, I worked as a Flight Attendant for a number of years, leaving Qantas to join the hotel business and head overseas.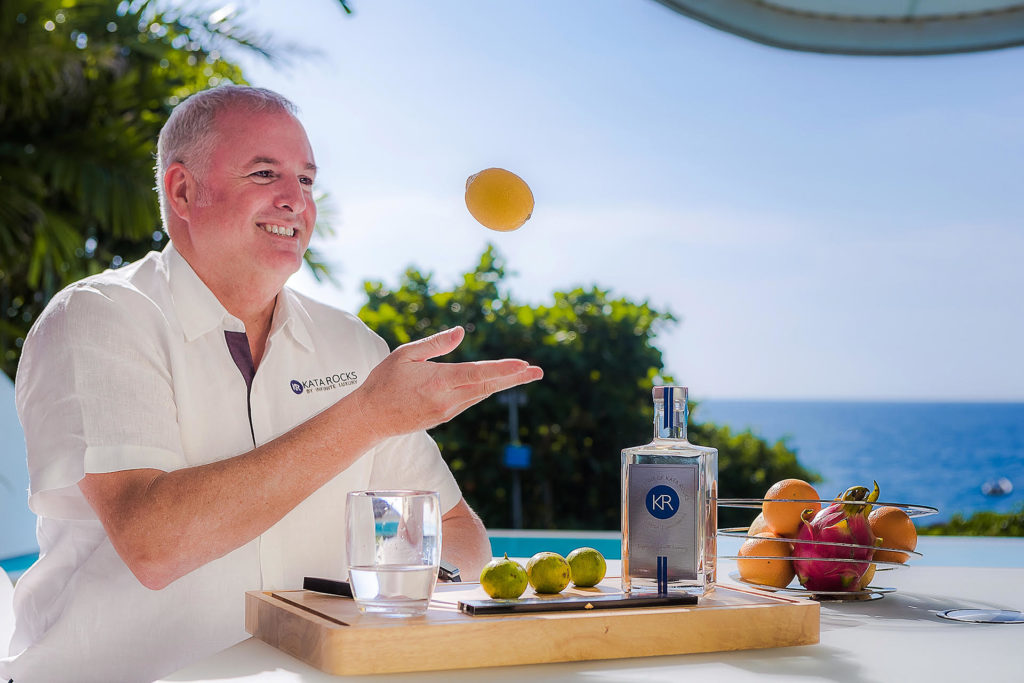 WHAT.
Travel, food and wine all inspire me both in work and personally. My family loves to travel! We enjoy seeing new places together and experiencing new cultures, their food and wines or spirits!
Just recently I had the privilege to work with Nikki, a distiller from Chiang Mai to blend and design a bespoke handmade gin for the luxury resort I manage here in Phuket.  It was so much fun to create "
The Spirit of Kata Rocks
"!
WHEN.
Currently, I manage Kata Rocks, which I joined nearly 3 years to set up and open.  It has been a fantastic experience to lead a team opening the newest luxury resort on Phuket.  We are now looking to the future to expand the Infinite Luxury Spa and hotel brand through new developments and management contracts in Thailand and beyond.
WHERE.
One word "island" has dominated my life and my career.  Both my wife Donna and I prefer (the) sun, sand and sea, to the snow, mountains and lakes of New Zealand. Having worked on islands in Australia, Maldives of course, Malaysia and now Phuket, it's a lifestyle we enjoy and our kids know nothing else.  We are settled in Phuket and don't see ourselves leaving, unless
Infinite Luxury
has the opportunity to open another resort on another island somewhere of course.
HOW.
Lots of Coffee! I am addicted, I admit it.  Then spending time with friends over good wine or Kata Rocks gin!
WHY.
For as long as I can remember, I have loved hotels and airplanes,  I travelled and lived overseas, following my parents from country to country as I was growing up.  I enjoy setting up and launching luxury resorts, it's a great challenge and lots of fun as well.