It was almost a decade ago when Gregory Arlt first sashayed into the studios of Lush 99.5, when I was co-presenting Lush Evenings with Hossan Leong. Needless to say, I was immediately drawn to his boundless energy and positive aura. Fortunate to have been brought up in a creative household, Gregory's passion for enhancing one's beauty is unsurprising.
Drawing inspiration from beauty in all shapes and forms – from the 80s punks to its goths and new-wavers, to modern influences – his career has grown from strength to strength.
The list of faces he's worked reads like the who's-who of Hollywood – Gwen Stefani, Dita von Teese, Cher … and that's just naming a few!
From his home in the hills of La-La-Land, Gregory interprets my "Who. What. When. Where. Why. How." words in the third installation of Sunday Sessions.
WHO.
Where to even begin!
I'm Gregory Arlt and I'm a makeup artist. In addition to being represented by an agency, I'm also the Global Director of Makeup Artistry for MAC Cosmetics.
I'm blessed to have come from an incredibly creative family and childhood. I grew up with two older sisters, a musical mother, and a father who's an artist. Instead of throwing a football around in the backyard, my dad would set up easels and teach us to paint. He was a graphic designer and had his own firm up until the day he retired. Beginning in an era that relied exclusively on drawing and illustration, his offices were like a creative Mecca for me; with pens, paints, and paper everywhere you looked. One of my favorite things to do as a child was to go to his office and draw all day with reckless abandon. The day would fly by, with my head down drawing and creating until it was time to leave.
I also looked up to my sisters and wanted to do pretty much everything they did, including playing with Barbies and going to dance class. I loved dancing (and still do) and took dance from ages 3-18. Watching my sisters and mom do their makeup was also one of my favorite things to do, opening jars of color, tubes of lipstick, and transforming themselves into a newer, more improved version of themselves.
When I was about 11 (around 1982!), my father brought home the book "Scavullo's Women" which had all of the popular models of the time. He showed me a 'before' and 'after' shot of Patti Hanson and I was HOOKED. I got a literal lesson in hair, makeup, lighting, and photography in one fell swoop. I loved that book and looked at it daily. In a funny twist, I recently found it on eBay and realized that I've worked with a great many of the women in the book since!
Being a child of the 80s, the colourful makeup looks being worn in that era fit perfectly with my creative aesthetic. As a teen I loved music and was completely into the New Romantic sounds – and looks – of bands like Culture Club, Duran Duran, Strawberry Switchblade, and so many more. I'd sneak my sisters' and mom's makeup into the bathroom and apply it to myself to emulate my idol Boy George. Practicing makeup all the time, I started sneaking out to clubs as a teen and wearing makeup when I was out on the town.
I began doing makeup professionally in 1989 when I got a job at the prestigious Fred Segal boutique in Santa Monica. What really attracted me to that store was the fragrances, but I was secretly in awe of all the makeup they sold there and couldn't wait to get my hands on it. I worked there for about four years when MAC came calling. I knew I was ready for a change and got a job working as a traveling makeup artist.
Over the years I became a trainer, a Senior Artist, and now Director of Makeup Artistry. I am a brand spokesperson whose specialty is Red Carpet and celebrity beauty and travel the world teaching Master Classes, doing press, photo shoots, and presentations. It's my dream job; I get to travel the world for free and meet amazing people (like Angelique!).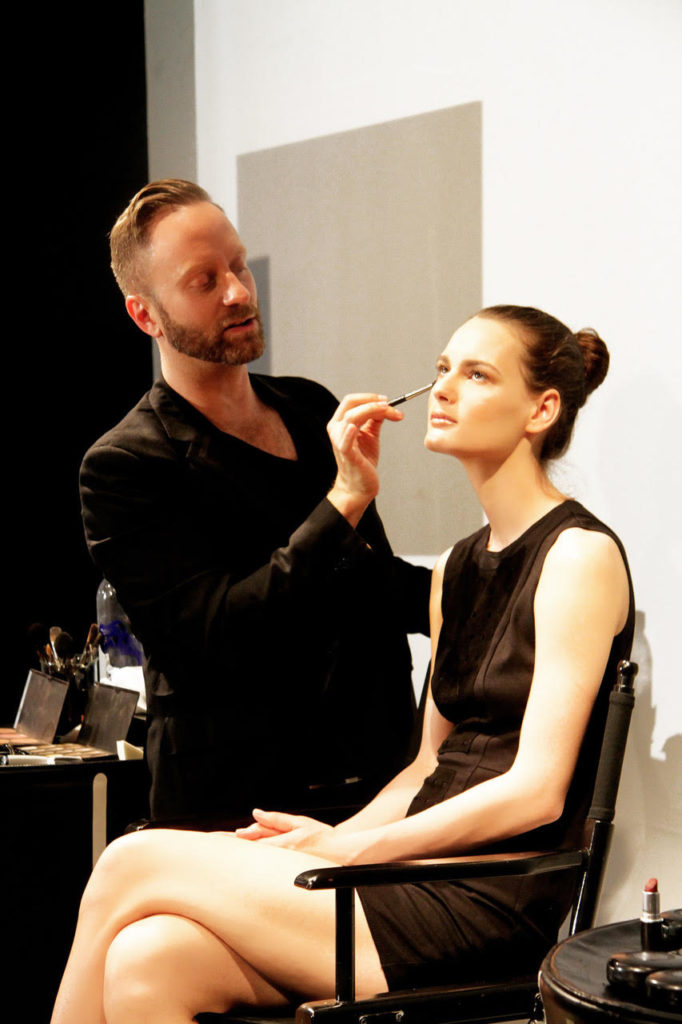 WHAT.
My philosophy as a makeup artist is simple – I love allowing a woman to be the A+ version of herself. I consider myself a "beauty exorcist". I bring the beauty out of someone by respecting their coloring, bone structure, and most importantly their personality. I love makeup to make sense, even if it's dramatic.
Hiding people is not something I'm interested in. While I do love theatrical makeup and had many, many amazing years working backstage in Milan, Paris, and New York for fashion week, I truly am attracted to makeup that allows someone to look, and feel, beautiful.
WHEN.  
I had two "aha" moments in my life that led me to where I am today.
When I was about 8 years old, my mother went and got a makeover at our local department store. My mom was beautiful to me, with pale skin, dark hair, dark eyebrows, minimal to no eye makeup, and always a colorful mouth. Her lip color revolved between red, orange, plum, and berry, most of the time landing on red.
When she came home from her makeover I couldn't believe my eyes. Where was my mother?? Blues and purples bathed her eyes in shadows and heavily mascaraed lashes framed her eyes. In place of her red lipstick was a light coral. Her voice was the same, but it wasn't her face. I was transfixed! Of course she bought everything and I marveled at all of the powders and potions that she laid out on her dressing table. Of course she never really recreated the look and went back to her signature look of red lips and minimal makeup which actually looked the best on her!
My other moment was the one I'd had with my father when he showed me the beauty book. I knew makeup was my calling, I just didn't know in what capacity it would be in!
WHERE.
When I started working at Fred Segal and dabbling in makeup, I knew I was on to something. I didn't really even know how or where I'd fit into the makeup industry. Until I started working at Fred Segal I thought there were two types of makeup artists; one who did film and tv and made people look bloodied, bruised, and battered, or the fancy guy in a suit working behind the cosmetics counter in the department store. I didn't even realize there were fashion and red carpet makeup artists! I mean, I read all the magazines, but it never occurred to me to look at the credits.
At Fred Segal a great many local makeup artists would come in to shop, including the late great Paul Starr. he would come in with the beautiful actress Sherilyn Fenn who was starring on "Twin Peaks", the hottest show on TV at the time. I remember thinking that I wanted that to be me! A celebrity makeup artist shopping for makeup with his client and friend. I'm very proud to say that it's happened for me now many times over!
HOW.
I am very, very lucky to be able to say that all I've ever had was encouragement, support, and enthusiasm from my family, friends, and even those in the makeup industry over the years. I have a very firm belief and philosophy that I have no competition in my industry. There's no other me! I tell that to all of the up and coming and aspiring makeup artists when they ask how to deal with competition.
We can all have the same recipe for cake, but we'll each make it slightly differently with our own twist from our own hands. NO one can do it like you do it yourself!
WHY.
I couldn't imagine doing anything else. I draw inspiration from wandering into art galleries and museums and make it a point to visit them in every city I visit to see what the local culture is doing. I still read magazines! I pour through social media to see what's happening out there.
I love looking at National Geographic and watching the Discovery Channel to see all of the colours in the world.
I'm lucky and grateful to have an amazing boyfriend, Jon Lieckfelt, who is also a makeup artist and hair stylist. We love bouncing ideas off each other, show each other images that we like, and collaborate on creative shoots with one another. It makes it all that much more fun!
To get in touch with Gregory, his agency can be contacted 
HERE
.