Walk into the ground level of any department store and your senses are immediately taken over by bright lights, floral scents and pushy sales assistants just clamouring for attention. Or your arm. Whichever they can get a hold of.
Face washes, oils, exfoliators, toners, serums, moisturisers, sunscreens, anti-agers, time-reversers, blah blah blah. With a bombarbment of products for the face alone on the market,  just the numerous steps of keeping your skin in optimum condition can make ones head spin.
The beauty industry is like the flu – it morphs so quickly that it's hard to pin down what the latest trend is. One thing is for sure; the simpler and quicker, the better. But can that be realistic in a product?
Enter Allies of Skin – with their promise of cutting your regime down to under a minute.
Effortless, quick and effective, the brand started with just one product, the 1A All-Day Mask (they have four magic potions now). In spite of its name, the star product acts more like a moisturiser and "masks" your skin from impurities and the harshness of the sun, while keeping it dewy and quenched.
Today, the brand has garnered a cult following with it's clean, monochrome packaging and aura of coolness. The latter of which can be credited to its founder, Nicolas Travis.
Having fought his own battle with acne-prone skin, Travis got tired of allowing himself to be sucked into the industry as a customer. After emptying hundreds of bottles (equating to thousands of dollars) and being hurt by unfulfilled promises, he decided that if he was ever going to be satisfied, he would have to do it himself.
The brand has just found itself a new home along Arab Street in Singapore – an airy, bright and quiet shophouse space that proves inspiring and positive. It's here where Travis works on my "Who.What.When.Where.How.Why." interview, sipping on a freshly-brewed cup of Organic Roobois tea.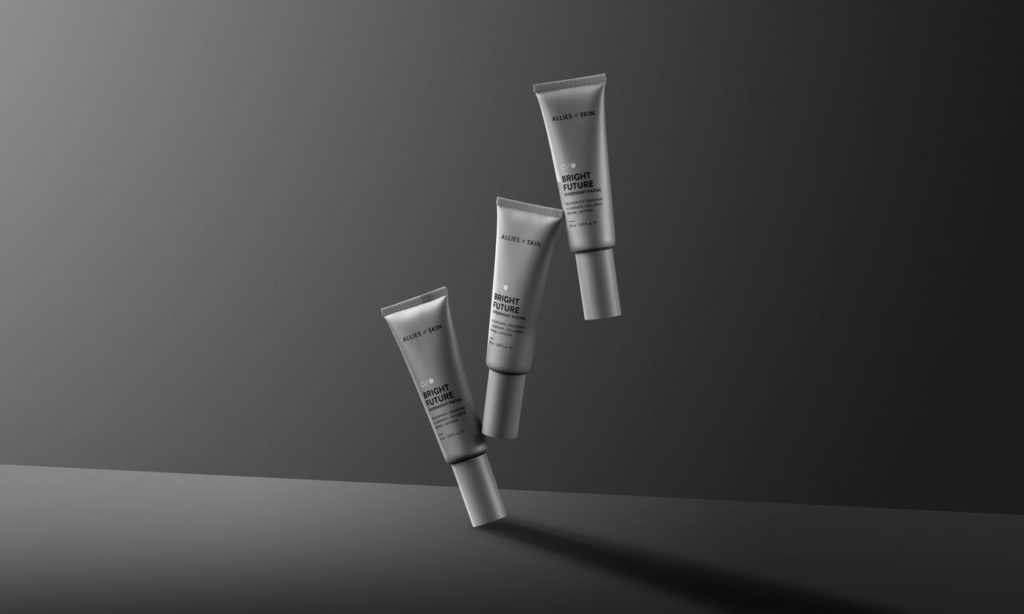 Who. 
Nicolas Travis. Founder of Allies of Skin. I spent 2.5 years doing research and development and created every formula from scratch. I launched a year ago with 3 core products (the 1A All-Day Mask, Molecular Saviour Mist & 1A Overnight Mask).
What. 
Allies of Skin was created for the modern go-getter. We create time-saving concentrated formulas designed to protect, repair and regenerate stressed, fatigued skin.
We believe taking care of your skin while you take on life should never feel like a chore so all our products are effortless and fuss-free. You simply apply and go about your life.
When. 
I had very bad acne as a teenager so I developed a passion for skincare ever since then. I found the process of shopping for products very daunting and intimidating. I also quickly realized that there were a lot of empty promises in the marketplace.
Having my own skincare line has always been my dream. I'm very grateful to have found my purpose in life and that is to help people feel good in their own skin.
Where.
I wrote a business plan for a startup skincare company for my Master's thesis. I spent months doing research, speaking to labs etc. It was based upon the infusion of $1M in capital. After graduation, I got a job at an advertising agency and it was clear that I wasn't going to make $1M working in advertising.
So when I left, I felt a really strong urge to visit that business plan. I realised that I could afford to create 1 product with my savings (I had a job ever since I was 16 and was diligent about building up my 'Fuck It' fund because I knew one day, I was going to want to do my own thing).
My first product was the 1A All-Day Mask. It is the world's first treatment mask designed to work under makeup and sunblock. It forms a breathable anti-pollution shield powered by an intelligent blend of multiple antioxidants and anti-inflammatories that work throughout the day to protect and erase signs of fatigue.
I created it because I couldn't find anything I could use on the mornings after late nights as well as on day flights so I thought I would just create it.
How. 
I bootstrapped everything from the get-go so money was super tight. My family was very supportive from the beginning and two of my siblings gave me a loan which is how I was able to create two more products.
It was stressful to say the least but we quickly grew as word got out about our products. We just celebrated our 1 year anniversary two weeks ago and we are the first Singaporean beauty brand to be stocked at Space NK, Net-A-Porter, Mr Porter, Bloomingdale's and Barneys.
Why. 
From my experiences with acne, I knew first hand how crippling not feeling good about yourself can be. We get customers writing in to us everyday sharing their journey with us – how happy they are with their skin now, how happy they are to have finally found products that work for them and how they will be #alliesforlife.
That gives me so much joy. Being able to help someone feel good about themselves feeds my soul and I don't ever want to stop.
Follow Allies of Skin and Nicolas Travis on Instagram.