A decade ago, a holiday meant doing absolutely nothing – lying on a beach, whiling away the day and catching up on some good reads. The thought of lifting a finger went as far as catching the eye of a waiter to get service. Breaking a sweat just meant that it was time to reapply that sunscreen and find some shade.
The recent numbers of health converts that advocate only clean eating and 7-day fitness regimes have surged and with that, a new focus on how individuals are choosing their getaways. And it's unsurprising that this multi-trillion dollar industry is just set to grow further.
"Wellness that goes beyond the spa", according to Dr Ranjan Kapoor, Spa Director of the Six Senses Yao Noi, as we sit down to lunch with the picturesque setting of Phang Nga Bay's limestone pinnacles.
With more than a decade of experience which started in Punjab, India, Dr Kapoor has dipped his fingers into just about all aspects of the medical and spa industry.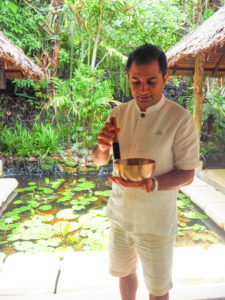 At just 23, he packed his bags and ventured south to Kerala, the birthplace of Ayurveda. It was here that he learnt the magic of natural remedies; practices that have been, for centuries, the norm in the region. But it was not all potions and lotions from Mother Nature. His studies also implemented modern technology and medication, fused with traditional, homeopathic and Ayurvedic treatments.
From Kerala, Dr Kapoor moved on to New Delhi, where he shifted his focus towards lifestyle disorders, like insomnia and weight loss. Heading to Mumbai, he completed his post-graduate studies in aesthetics, international spa techniques and aromatherapy. Now, he's in charge of the Six Senses Yao Noi, Samui & Hua Hin.
The doctor has noticed a big shift in the way people holiday in recent years. Not just for the honeymooners who are looking for a pristine beach and happy-hour deals, holiday-makers are now looking into what properties have to offer on the wellness side of it. Dr Kapoor believes that more than just offering organic products and ambient music, wellness as a lifestyle extends to food, exercise and sleep. Tapping into this rapidly-expanding business, the Six Senses is leading the way.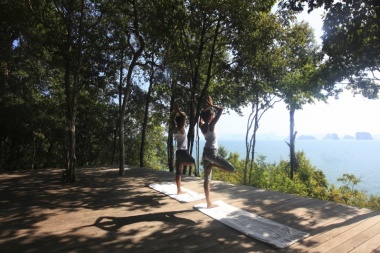 Instead of showcasing visiting practitioners, who would stay three to four weeks, the Six Senses now provides permanent yoga instructors for complimentary daily sessions and/or private appointments. What started out with one participant, these sessions are now often overbooked in the mornings, with the yogis continuing throughout the day with private appointments.
Within the newly-introduced IWP (Integrated Wellness Program, which will be spoken more of later), are programs such as "Trim & Fit", "Sleep & Resilience", "Cleanse & Detox" and "Full Potential", with names that are pretty much self-explanatory.
Whatever your needs or fitness levels are, you'll find something suited perfectly to you. And if those don't tickle your fancy, there are also meditation, Tai Chi, Flying Yoga, Pilates and Muay Thai sessions.
Gymnasiums that once offered basic equipment have now been upgraded with state-of-the-art machines and are often busy at all times of the day.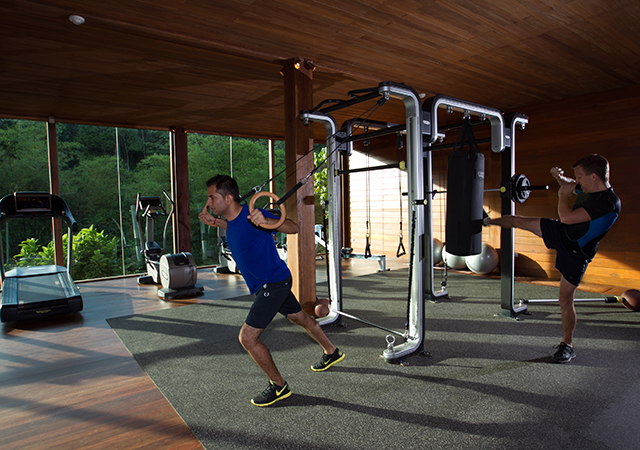 Restaurant menus, titled "Eat with Six Senses", now indicate consumption benefits of each dish – ingredients to help you sleep better or keep that waistline trim.
Introducing the Integrated Wellness Program.
All Six Senses resorts (apart from Qing Cheng Mountain in China, Samui and Evason Resorts) now have wellness screenings – a little machine uses electrodes to scan your entire body and measure your health biomarkers. It gives readings on your BMI (Body Mass Index), body waters, mineral levels, spine and liver function and lots more. It's basically a full body check up that's done in under five minutes.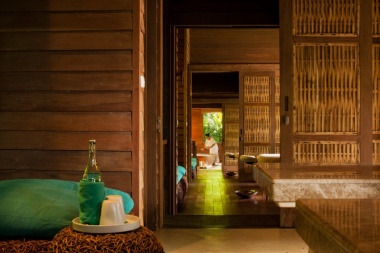 Based on your results, a fully-customisable program for the rest of your stay can be arranged. Far from a novelty, these results can be taken to your regular practitioner or health advisor for further assessment or to another Six Senses resort to allow you to continue on your path to improve those levels. Without straying too far from the holistic approach, the Six Senses embraces technology which allows for a more targeted treatment for the body.
At the Six Senses, wellness extends beyond the boundaries of the spa – quality time spent over meals, exploring the surroundings and discovering new things through shared experiences, reducing stress levels away from work and bonding are all part and parcel of overall wellness.
An important aspect of this, is sleep. And the Six Senses has recently debuted their Sleep Program. That's right. An entire program dedicated to sleep.
Currently being rolled out in phases, all villas will soon be equipped with top of the range mattresses, linens and pillows. That's not to say that their current range is anything less than incredible.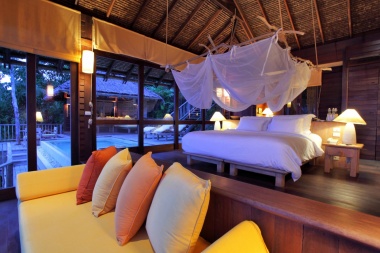 The new mattresses are filled with coconut husks – porous enough for air circulation. Their bamboo cotton sheets will minimise perspiration and pillows will be padded with duck feathers, which prevents the collection of dust and mites. Along with all those improvements comes the Sleep Kit; Jasmine mist, Bamboo cotton pyjamas and a light-weight eye mask. A sleep-tracking machine, The Aura, tracks your sleep patterns via a soft pad inserted under the mattress. Accompanied by a soft light which changes colour according to your sleep and wake up times (red for bedtime and blue for the mornings).
Sleep is the one thing that's elusive to those that carry the weight of daily routines and responsibilities. With the Sleep Program, it gives one a better understanding of what is needed to achieve a sound and restful night.
Now you may be thinking that the above initiatives only benefit the adults. However, the resorts welcome children to be a part of the programs. From Parent & Child Ariel Yoga Sessions to massages tailored for the young ones, the Six Senses is committed to providing an all round experience to be shared by the entire family.
All the efforts made by the Six Senses now means that there are ways to go on a holiday and actually return home feeling refreshed, without being too stifled by forced therapies, diet restrictions or daily schedules. The resorts give you the freedom to choose what works best for you at the time and encourages fun along the way.
Now, you won't need that holiday after your holiday.
_____________________________________________________________________
If the Six Senses Yao Noi sounds like the destination of your next holiday, make your booking HERE.
Meantime, get inspired by their Instagram posts here.
Credit: All images courtesy of Six Senses Yao Noi.