Bali – the Island of the Gods – known for it's active volcanoes, stunning padi fields and magnificent temples.
While one can easily stumble (or be influenced to) upon a hedonistic rave or get caught up in a street bargain-battle, one can also just as easily discover the spirited and tranquil Bali. Think "Eat. Pray. Love." Though the locations for the film were mostly shot in Ubud (we'll get to that later), our journey begins somewhere just as remarkable, yet lesser-known.
Far away from the bars and beaches on the southern coast, lies the sedate seaside town of Candi Dasa(1). This is where the brand was born in 1993. Alila means "surprise" in Sanskrit. And Alila Manggis is just that – pockets and corners of wonderment take your breath away – the impeccable service, the cuisine, the deafening tranquility and the beach at your doorstep.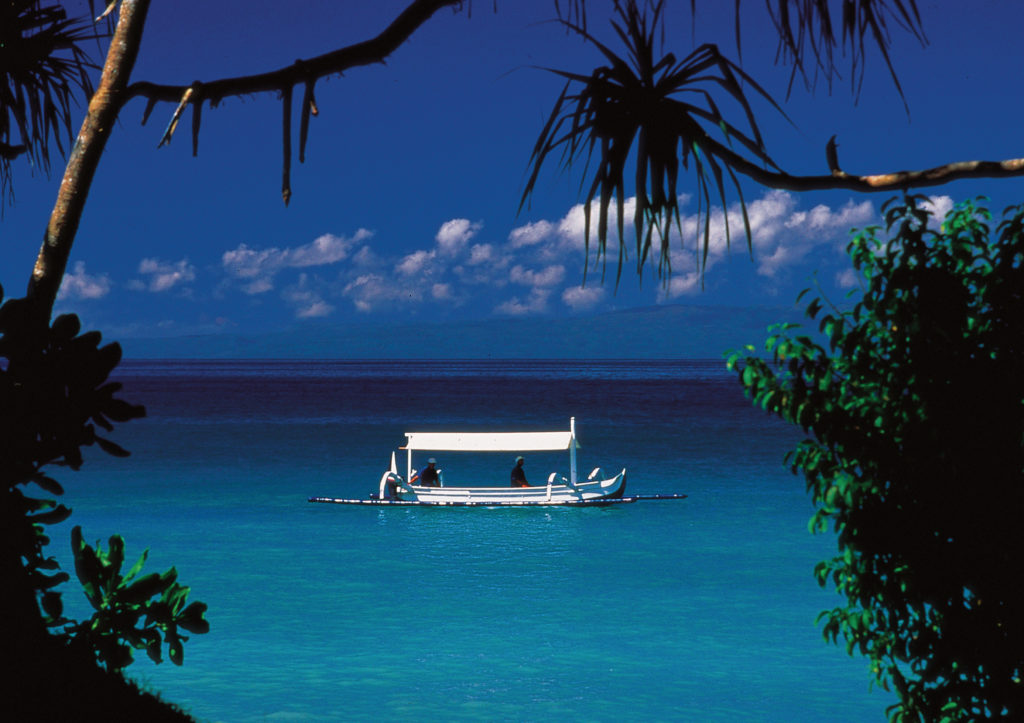 Unassuming, fluff-free and straight to the point, this is perfect for a quiet, rejuvenating getaway without the hefty price tag. Serviced by just one restaurant, a bar, a spa and the Indian Ocean, it's easy to fall in love with its sleepy-charm and natural beauty. Stand on the edge of the property with the sound of waves crashing against the reefs and the saltiness of the ocean air – one is encouraged to lose themselves in the moment.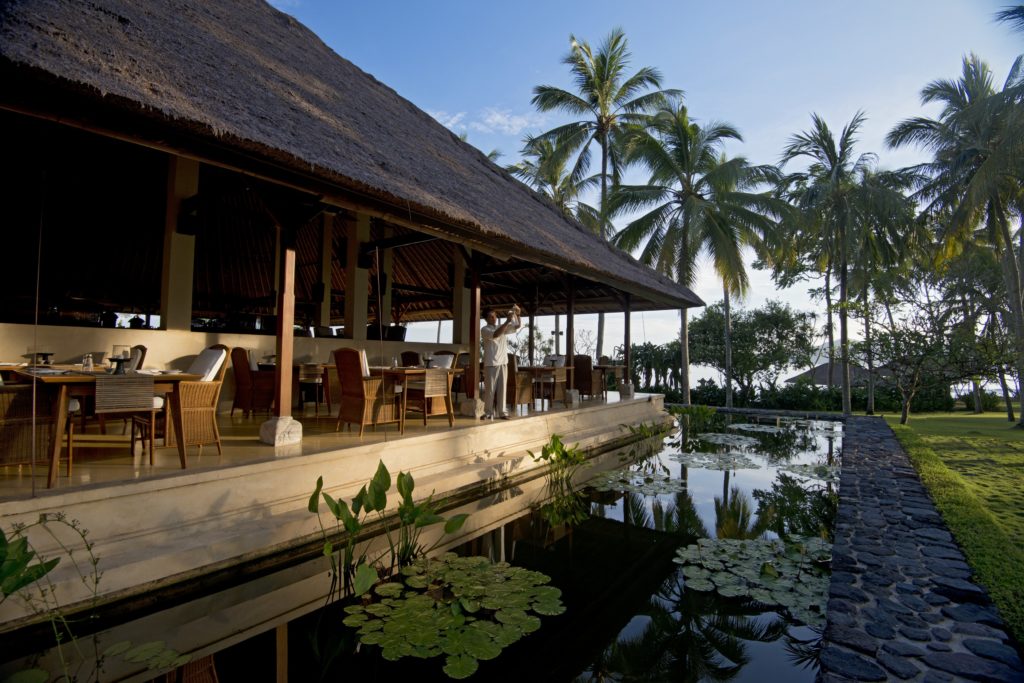 Seasalt – so named after the mineral acquired from Kusamba Salt Pans nearby – the restaurant serves up an incredible array of fresh local catch from their "backyard". Maha Mahi (otherwise known as Dolphinfish) features extensively on the menu that's locally-inspired.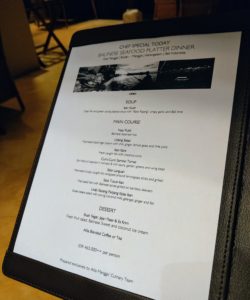 Breakfast is an al la carte affair with vegan-to-meat options and small daily surprises. One thing that does remain constant (and this is throughout the Alila Bali properties) is Jamu – a traditional medicine/drink from Indonesia. It's predominantly a herbal medicine made from natural materials, such as roots, bark, flowers, seeds, leaves and fruits. Not the greatest tasting of ingredients, the Indonesians, especially the Javanese, believe that with various combinations,    Jamu heals just about every ailment.
When in Bali, one must spa. And if one is going to get a spa session in at Alila Manggis, then one MUST opt for the outdoor (covered) pavilion. Made for two (I'm sure they would be able to book you in here even if you're a solo traveller), Spa Alila at Manggis is the ultimate setting for that Balinese traditional massage. The only interruptions might be those of the ocean breeze and the laughter of local children playing on the beach.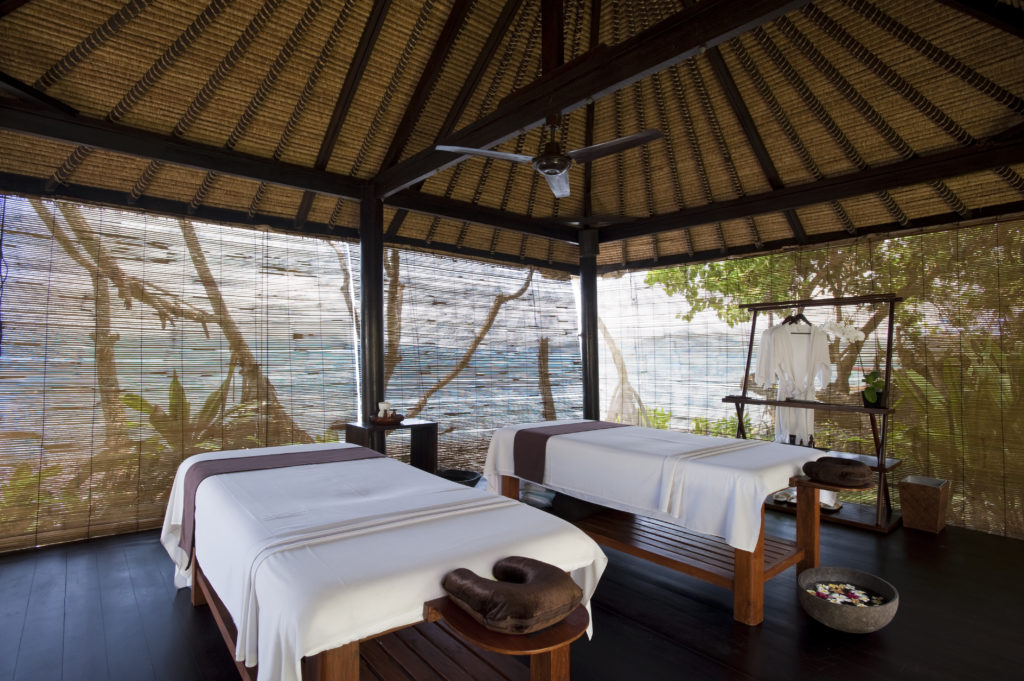 THIS is the perfect spot if you're looking to voraciously read, write or recuperate. Zero distractions. Alila Manggis exudes the brand's ethos – Surprisingly Different.
If you're going to do a Balinese "tour" of Alila, then the next stop must be Ubud(2). From dreamy seaside to deep within the hills of central Bali, Alila Ubud is approximately one and a half hours away (depending on how forgiving the traffic is) from Manggis. Situated high up on the edge of the lush green Ayung River valley, the focal point has to be the jaw-dropping award-winning pool.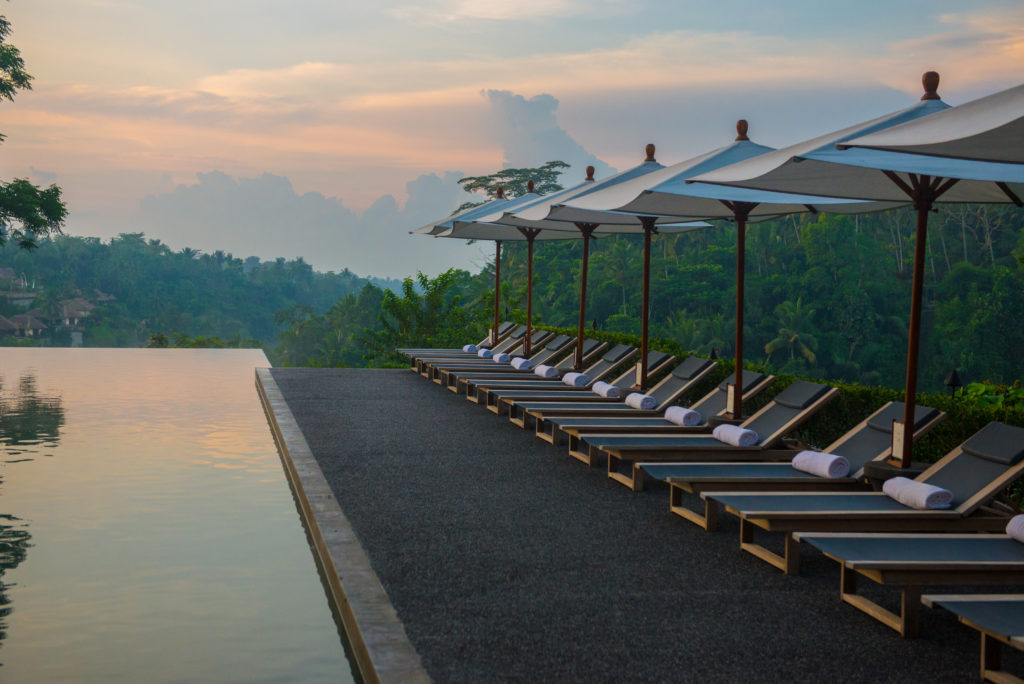 As such, this article will focus on the destination dining experience at Bale Bengong instead – a secluded "dinner-for-two" in the jungle. "Bale" refers to the structure (like a Thai-sala) which is commonly found in the middle of a padi field to offer shade to the farmers. "Bengong", loosely-translated means "to daydream". Put them together, along with lots of candles, a cool breeze and plenty of mosquito spray and you have one of the "Ten Most Romantic Dining Destinations".
A specially-curated three-course menu by Executive Chef Gusti starts with a gorgeous tuna salad, topped with shallots, chilli, basil and garlic and tossed in coconut oil. Alongside is a dish reserved only for the most special of occasions – Lawar (meaning thinly-sliced). This version features a mix of young jackfruit, long beans, red beans and grilled grated coconut.
Next, Australian Barramundi on a bed of water spinach and topped with Balinese sambal. This is paired with half-and-half rice; coconut and turmeric rice – making the little "mound" visually pleasing with its dual colour.
The meal ends with another rice dish – Bubur Ingin. "Babur" means "porridge" and this black-rice version is sweetened with palm sugar and topped with grated coconut. A little rich to finish off but a sweet end nonetheless.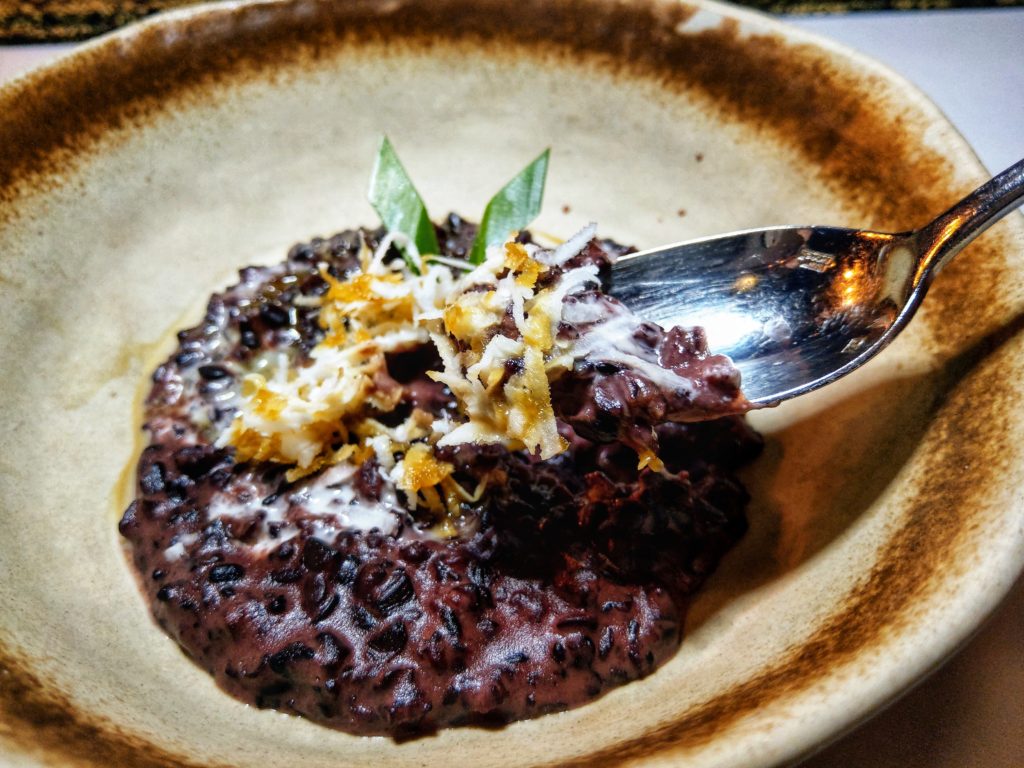 All in; the atmosphere surpassed the meal itself and jungle-dining presented itself as a new environment to get "one with nature" and escape from the urban habitat and intensity of city life. A definite must-do on the dining list.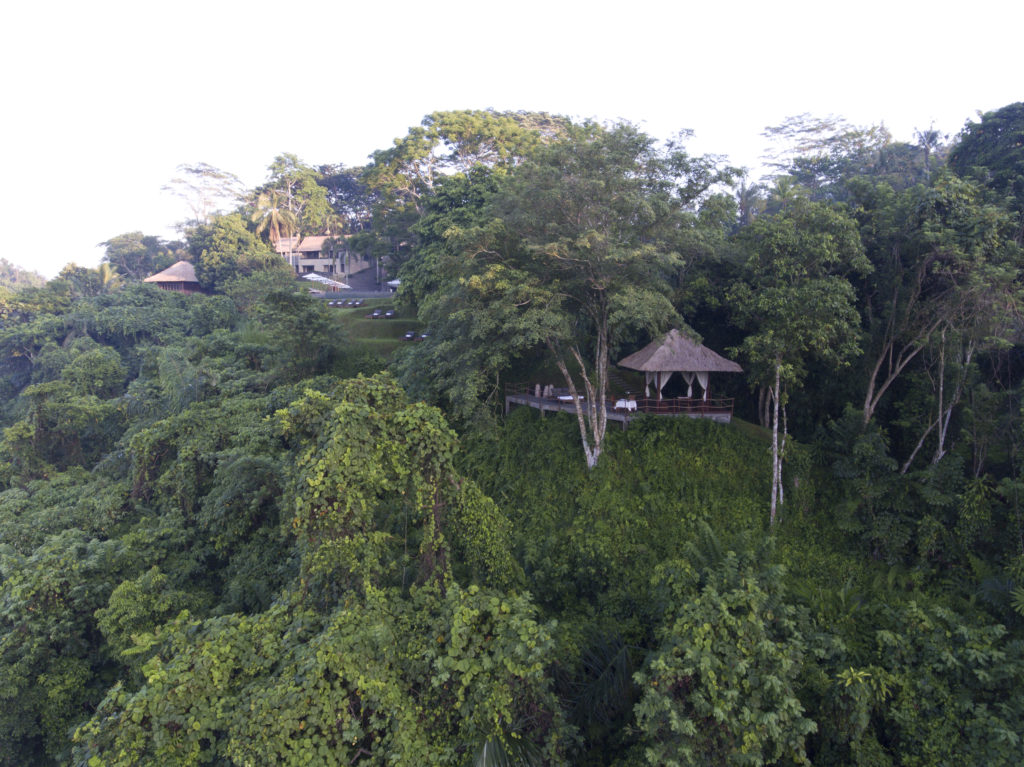 The second of the Alila properties at 14 years old and owes it's architectural inspiration to classic Balinese village life. With a total of 64 rooms (including 8 villas), most have views of the valley. The best accommodation for an immersive experience would be the Valley Villas that are perched on stilts on the hillside, with wraparound balconies that perch over the gorge. Perfect for forgetting where you are. Or rather, where you came from.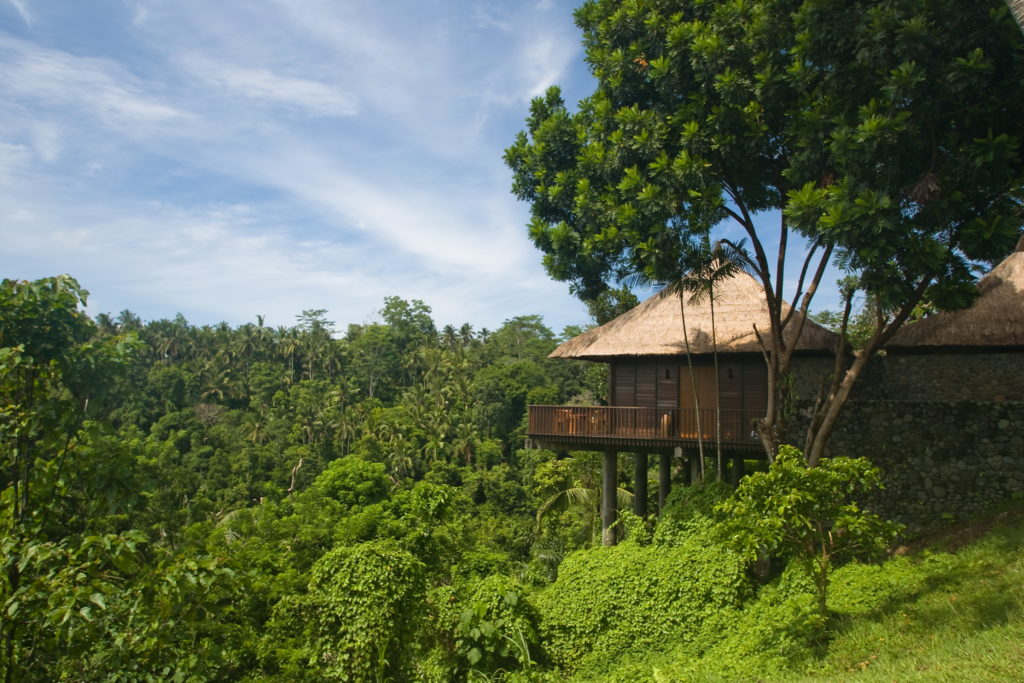 With two Alila Bali locations done, it's now off to number three and what must be the most-photographed Alila in Bali.
Alila Villas Uluwatu is the next stop. The area is well-known for it's temples, limestones cliffs and for possessing one of the best surfs in the area(3).
Miles away (literally and figuratively), the south-western tip of the Bukit Peninsula offers yet another gorgeous aspect of the island. "Ulu" means "lands end" and "watu" translates into "rock".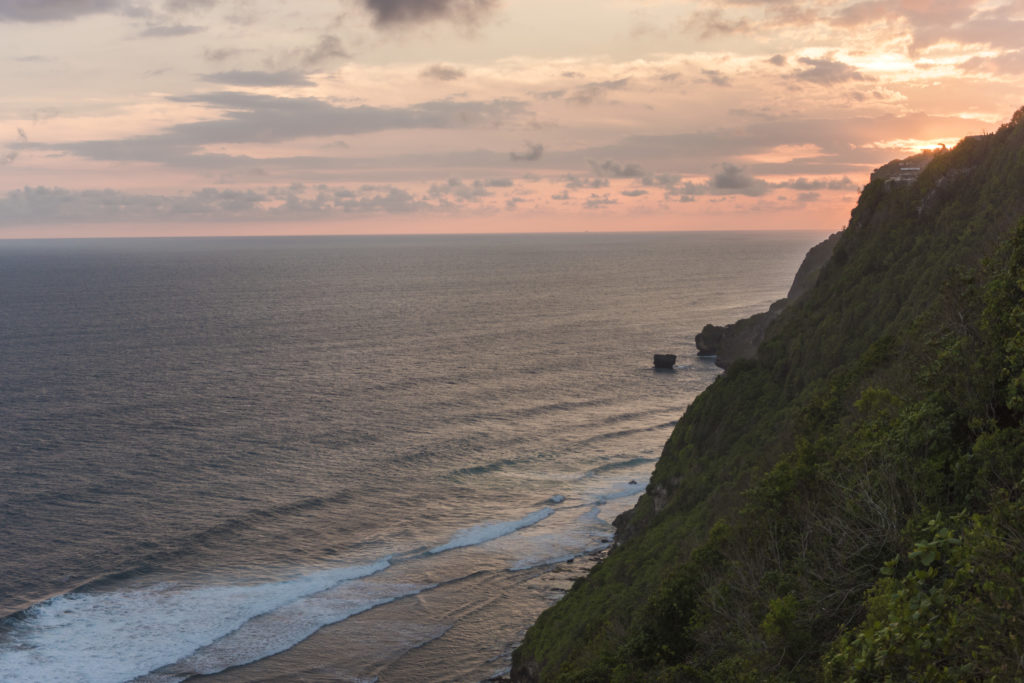 And it is here, at the edge of the Sunset Cabana where one can only imagine what a simple life must be like – to be able to just BE. Without any noise. Any worries. Any responsilbilities.
Each one of the 61 villas offers pools with one-to-three bedroom choices. Each one boasts clean designs with well-thought out interiors and amenities.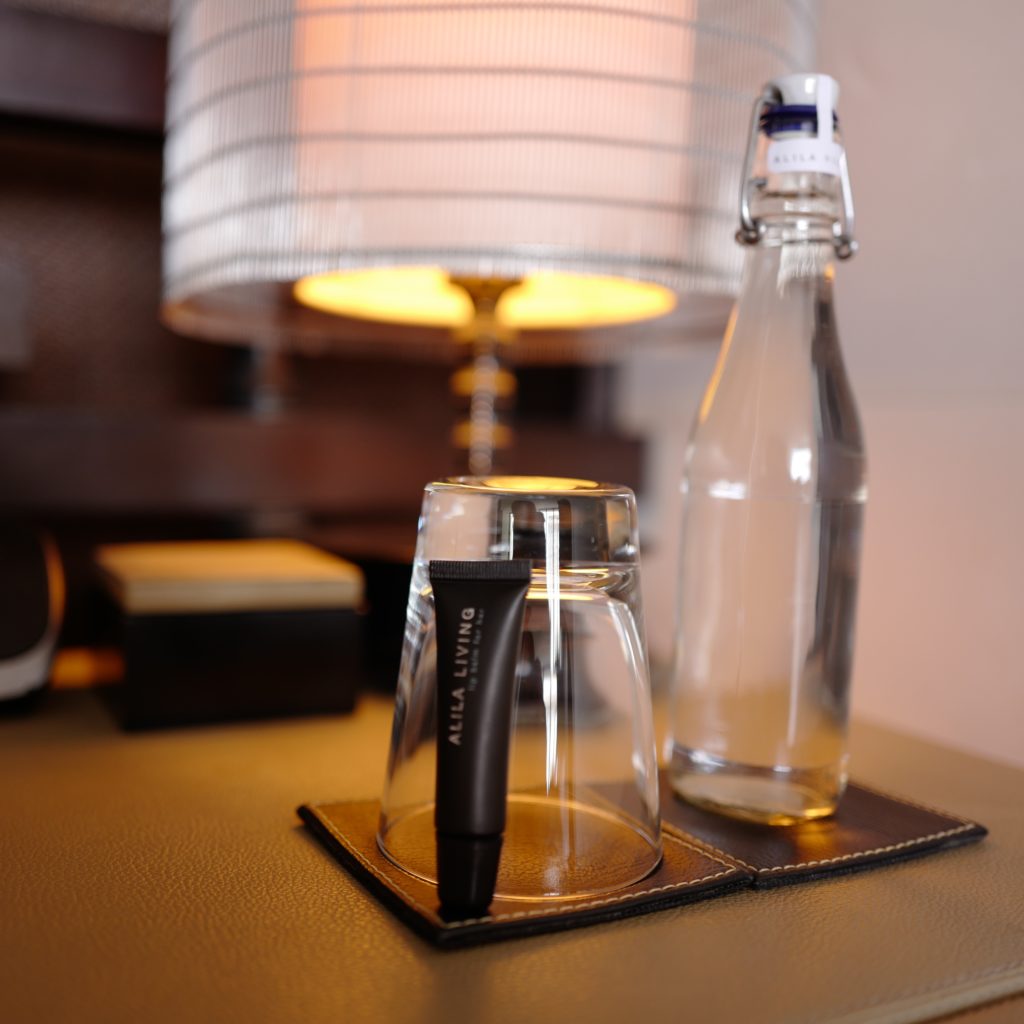 His and Her sinks – each with their own set of toiletries. A box (under the bathtub) filled with "stuff" you may have "conveniently" left at home – a purifying face mask, sunblock, sun-tan oil, insect repellant and after-sun cooling gel. On the bedside tables, his and her lip-balms. And glass-bottled water everywhere. A beach bag for if you want to head down to the beach, containing two sarongs/mats.
WARNING for those with acrophobia – this aforementioned beach is an arduous 600 stairs (steep ones at that) down from beyond the pool. Irregular stairs that hold no promise to keep you safe or be perfectly levelled. Some narrow. Some wide. Some flat. Some not. But each one scarier than the one before it.
Needless to say – not everyone makes it down. There are stops along the way and a kind "warning" sign before you start your journey. Heed what it says.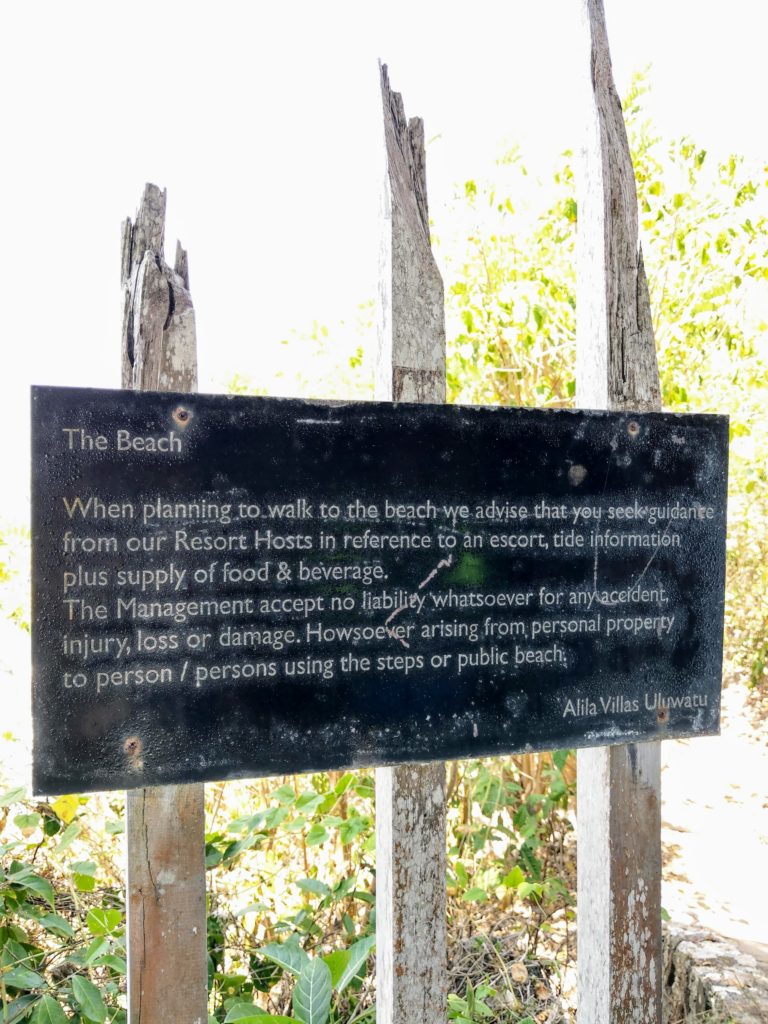 Even the sign looks weary at the thought of conquering the descent. Let's not even speak of coming back up.
Alila Villas Uluwatu was impeccably designed by Singapore design-firm WOHA with architecture that flows seamlessly to and fro its surroundings – offering spectacular views 100m above sea-level with azure waters, crisp white foam crashing into the rocks and sunsets to remember.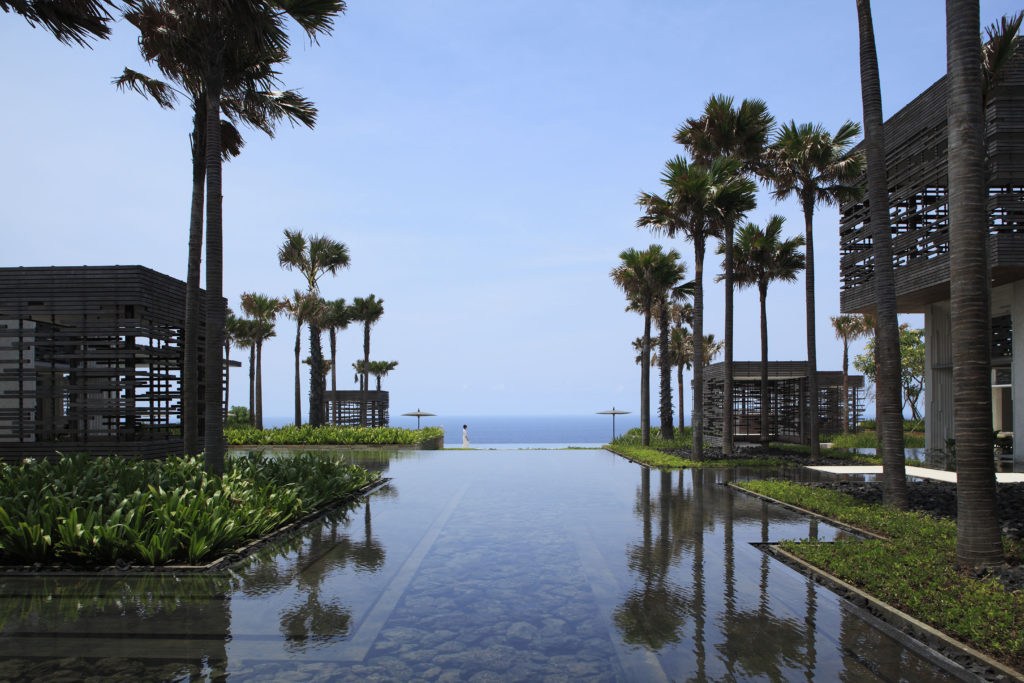 From dreamy seaside town to the hills of Central Bali and down to the stunning cliffs along the peninsula, Alila Bali has every kind of traveller covered. Throw in their newest baby of Alila Seminyak and even the sunset-chasing party goers have an Alila to call their own.
(1) There is a temple near the lagoon, with a statue of the fertility goddess Hariti surrounded by a group of children, and cilidasa translates from Balinese as "ten children", so many Balinese who want to have children go on pilgrimage to this place. The modern name is thought to be a corruption of this older name.
(2) The town was originally important as a source of medicinal herbs and plants; Ubud gets its name from the Balinese word ubad (medicine).
(3) Uluwatu was "discovered" as a surfing destination in 1972, due to the making of a 1971 classic surf film. After a few days of shooting around Kuta beach, they found Uluwatu. To get there required descending down the temple and emerging through the two rocks at the base of the cave, at the beach of Uluwatu. At the time, there were no roads leading to the beach, which meant that surfers had to bring all the supplies they would need. Steve Cooney surfed the first wave in Uluwatu history, capturing it on film for the movie Morning of the Earth at age 15.
Couple of traveller tips:
Bring your own toothbrush and toothpaste when travelling. Single-use amenities provided by hotels are becoming history and terribly uncool.
Alila Bali resorts do not use plastic straws, opting for paper ones and refillable glass water bottles for the rooms. As a matter of social responsibility, bring your own stainless steel straw and drinking bottle when travelling. Any where.
Coming Soon –
Alila Villas Koh Russey in Cambodia
Alila Wuzhen in China
Follow Alila Hotels